LGBTQ Ukrainians weigh in on Russian aggression
Several activists bluntly categorized crisis as 'Biden's war'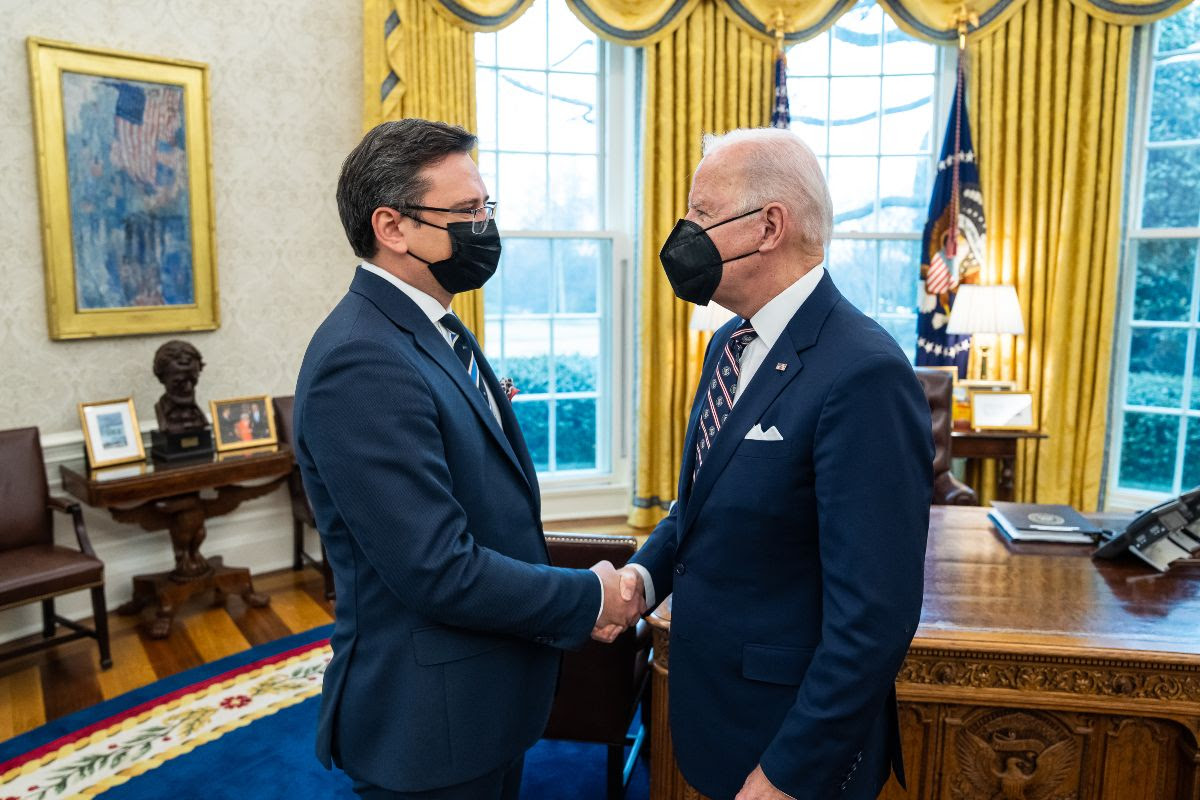 As Western efforts to defuse the crisis in Ukraine over the naked aggressive military moves taken by Russian President Vladimir Putin intensify, Ukrainian President Volodymyr Zelensky announced Tuesday night that he was calling up the country's military reservists after the Russian Parliament signed off on approving Putin's decision to send combat troops into Eastern Ukraine.
Western media and governments, particularly the U.S. and its NATO partners, have painted a grim picture of the state of affairs along Ukraine's borders with President Biden declaring in a White House East Room press conference Tuesday that the U.S. would impose immediate sanctions after Putin ordered Russian troops deployed across the frontier.
Speaking with reporters afterwards, a senior administration official said; "Russia's long-previewed invasion of Ukraine has now begun, and our response has also begun. Today, we responded swiftly and in a united fashion with our allies and partners. The speed and coordination of the response was historic. We announced our first tranche of sanctions in less than a day with allies and partners from the European Union, from the United Kingdom, Canada, Japan and Australia."
The official added, "And let me be totally clear: No Russian financial institution is safe if this invasion proceeds. We are ready to press a button to take further action on the very largest Russian financial institutions, including Sperbank and VTB, which collectively hold almost $750 billion in assets — or more than half the total in Russia as a whole.
Third, together with our allies, we've also cut off the Russian government, the Russian Central Bank, and its sovereign wealth funds from U.S. financing. Europe has taken a very similar measure. That means the Kremlin can no longer raise money from the U.S. and Europe, and its new debt can no longer trade in U.S. or European markets."
A spokesperson for Ukraine's National Security and Defense Council said that in addition to calling up reservists, Zelensky will also enact a 30-day state of emergency which would impose curfews and restrict mass gatherings in certain regions and cities to include the second largest city in the country, Kharkiv, which lies 26 miles from the Russian border in Eastern Ukraine, "if necessary."
Human rights activists and Western governments are also alarmed at the prospects of a Russian invasion. In a letter sent this week to the U.N. Office of the High Commissioner for Human Rights in Geneva, Amb. Bathsheba Nell Crocker, the U.S. Representative to the Office of the U.N. and other international organizations in Geneva wrote, in part:
"I would like to bring to your attention disturbing information recently obtained by the United States that indicates that human rights violations and abuses in the aftermath of a further invasion are being planned.
"These acts, which in past Russian operations have included targeted killings, kidnappings/forced disappearances, unjust detentions, and the use of torture, would likely target those who oppose Russian actions, including Russian and Belarusian dissidents in exile in Ukraine, journalists and anti-corruption activists, and vulnerable populations such as religious and ethnic minorities and LGBTQI+ persons."
Americans officials have stated that the Russian governmental security and intelligence agencies have come up with "kill lists" of Ukrainians to be killed or detained as indicated in Crocker's letter.
A spokesperson for the office of the Director of Information and Press Department of Ministry of Foreign Affairs of the Russian Federation, Maria Vladimirovna Zakharova, denied these claims in a phone call with the Washington Blade, labeling it propaganda Tuesday.
The majority of Ukrainians seem nonplussed at Western reaction to what they are terming "Biden's war." However, many of the LGBTQ activists are not fazed by the claims alleged in the ambassador's letter and are prepared to defend their homeland, some of them also disputing that they would be facing arrest and 'mortal danger.'
Taras Karasiichuk, a leader of the Ukrainian LGBTQ community in Kyiv, spoke with the Blade by phone Monday. Karasiichuk in 2012 had been viciously attacked by anti-LGBTQ Ukrainians opposed to his efforts as an activist for LGBTQ rights organization Gay Alliance Ukraine and also as the head of the Kiev Pride 2012 organizing committee. He had granted an interview to the Daily Beast in 2015 after unrelenting attacks and death threats caused him to flee to the U.S. seeking asylum.
"Right now I don't see any possibility to come back because of security — all the threats we get because of our international campaign," he said. "We get threats sent to our LGBT rights website, promises to punish us with Kalashnikovs. It's difficult to say if they are really serious about the threats but after all the times I've been attacked I can't really be sure."
"I also get threats on social networks. My colleagues and I at the rights organization will even get threats sent to our personal cell phone. And on June 19 there was an attempt to attack me on my way home from the office — it was around 7 p.m. and I had to call a taxi and leave quickly," Karasiichuk said to the Daily Beast at the time.
He later returned to Ukraine after spending a few years in the U.S., returning to an active role in LGBTQ advocacy to push for greater equity and rights for his fellow LGBTQ citizens.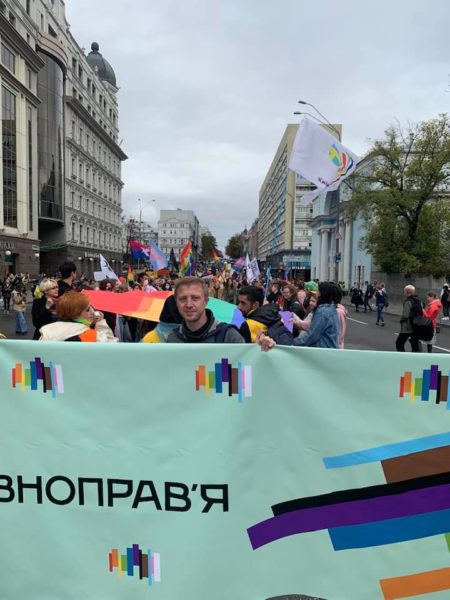 In Monday's phone call with the Blade, Karasiichuk strongly emphasized that there was no fear among the LGBTQ community in fact far from that. He said that he and every other LGBTQ Ukrainian would defend their homeland, their cities, and that they would support the armed forces.
Like many of his fellow citizens that the Blade spoke with, he execrated the Western response to the Russian actions, characterizing it as hyperbolic interference without merit. Several other Ukrainian LGBTQ activists put it more bluntly as "hashtag Biden's War." Karasiichuk said that Western people were not well informed as to the reality of life in Ukraine and especially in regards to the LGBTQ community in the country "should not impose their ideas of values."
Another LGBTQ activist living in Poltava, a city in central Ukraine, which is also the capital city of the Poltava Oblast (province), who asked that he and his partner only be identified by their first names, told the Blade over this past weekend that the strength of his culture and country would defend against any Russian aggression.
Sergeii told the Blade that he and his partner Mykhailo felt safe and would defend their home, their city and their fellow Ukrainians. "Our flag is blue and yellow — not divided into many colors in this example," he said. "We are all united in this effort. If we need fight then we will fight."
His partner Mykhailo said that one only needed to see the progress LGBTQ people are making in Ukraine. "We showed strength as in September, over 6,000 people gathered to Kyiv for the March for Equality. This is our message."
"This is made-up crisis: Biden's and Putin's wanting to finish the situation in Donbas," Sergeii said referring to the ongoing war in Eastern Ukraine by Russian-backed separatists. "Everyone needs peace, to be peaceful in this manner and not provoke more fear, but still be willing to defend our homes," he added.
Russian separatist forces of Donbas are the military formations affiliated with the pro-Russian breakaway regions in Ukraine called the Donetsk People's Republic and Luhansk People's Republic which Putin has now officially recognized. Those forces are designated as terrorist groups by the government of Zelensky.
Mykhailo pointed out that a vast majority of Ukrainian families were made of both Russian and Ukrainian parents or heritage but that above all was loyalty to Ukraine.
While there is a sense of anxiety among the Ukrainian LGBTQ community there is also quiet unified determination to defend the nation. Almost all also expressed hope that the NATO partners and others would find a peaceful solution to the crisis but without a continuing sense of exaggerated claims and allegations that would further inflame tensions.
Late Wednesday, the Kyiv Post reported that Zelensky, Polish President Andrzej Duda and Lithuanian President Gitanas Nausėda have signed a joint statement calling upon the international community to take resolute and far-reaching steps in response to yet another act of aggression committed by Russia against the sovereignty and territorial integrity of Ukraine.
"The presidents of Lithuania and Poland stand by Ukraine and fully commend and support its efforts to solve Russian-Ukrainian conflict by diplomatic and peaceful means. Ukraine deserves our strongest support of its European and Euro-Atlantic aspirations, which goes in line with the free will and choice of the Ukrainian nation," reads the statement.
Transgender journalist who enlisted in Ukrainian military returns to D.C.
Sarah Ashton-Cirillo wounded on battlefield in February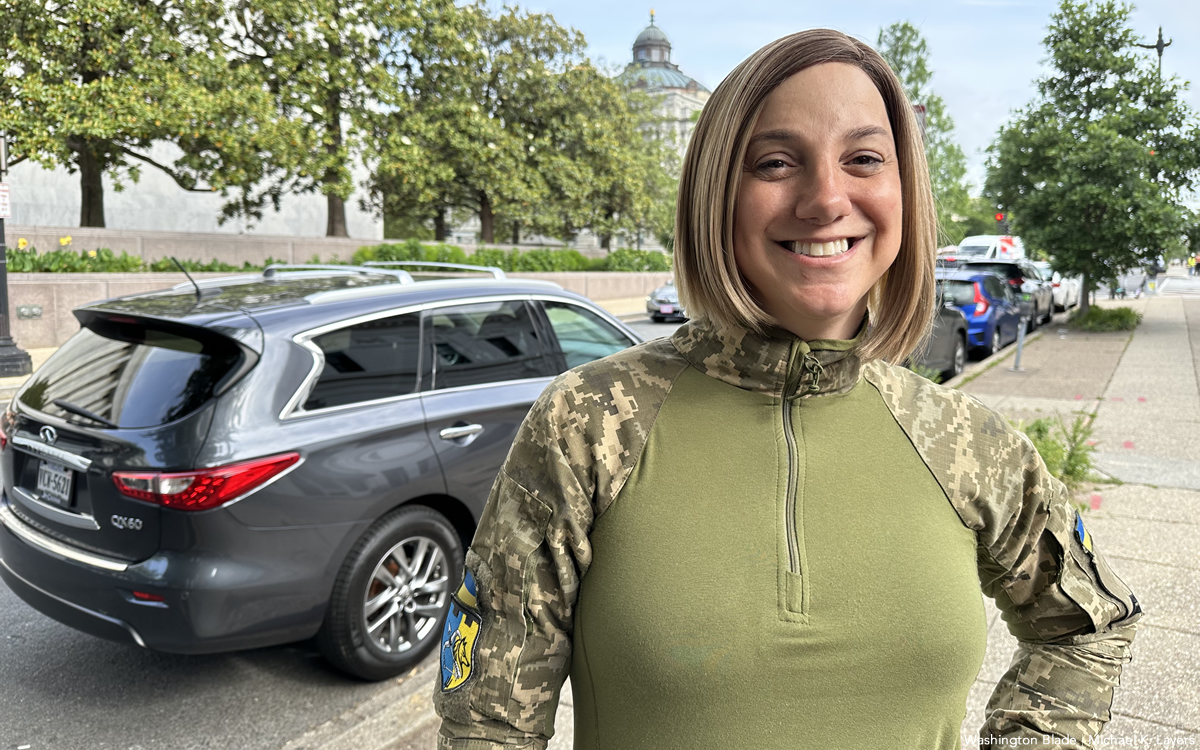 Sarah Ashton-Cirillo was a journalist when she began to cover the Armed Forces of Ukraine's Kharkiv Defense Forces at the beginning of Russia's war against the country. She eventually enlisted, and a commander from the Ukrainian Defense Ministry on Jan. 31 facilitated her transfer to the unit's 209th Batallion of the 113th Brigade.
Ashton-Cirillo, a transgender woman who was born in New York, was working as a senior combat medic in a trench near Kreminna, a Russian-occupied city in eastern Ukraine, on Feb. 23 when shrapnel from an enemy artillery shell wounded her. Ashton-Cirillo suffered injuries to her right hand and to her face, and her fellow soldiers had to wait seven hours to evacuate her. Ashton-Cirillo eventually received treatment for her injuries in Kharkiv, Ukraine's second-largest city that is roughly 130 miles northwest of Kreminna.
"The big key there was I wasn't able to take any painkiller by staying in the trench because I was still technically in battle," she recalled to the Washington Blade on May 19 during an interview that took place at a coffee shop near the U.S. Capitol.
Ashton-Cirillo noted her unit won the battle during which she had been wounded.
"Seven hours after my injury, I finally got to a hospital," she said. "By that point I hadn't taken any antibiotics (because) we didn't have any antibiotics and infection had set in. They took me to a hospital in Kharkiv and they had to clean the wound. They had to wait to make certain that it was healing before they could do surgery."
"I was living with this open wound for eight days," added Ashton-Cirillo, who was in uniform when she spoke with the Blade. "They were able to close my face up on the second day."
Two small scars on her face are visible. She said she has limited mobility in her right hand, and has no feeling from her wrist to her fingers.
"For the most part, I'm so blessed and very lucky," said Ashton-Cirillo.
Ashton-Cirillo now a junior sergeant
The Blade first spoke with Ashton-Cirillo last December while she was in D.C. to speak with lawmakers on behalf of the Ukrainian Defense Ministry about the Armed Forces of Ukraine's medical needs.
Ukrainian President Volodymyr Zelenskyy met with President Joe Biden and spoke to a joint session of Congress less than three weeks after the interview.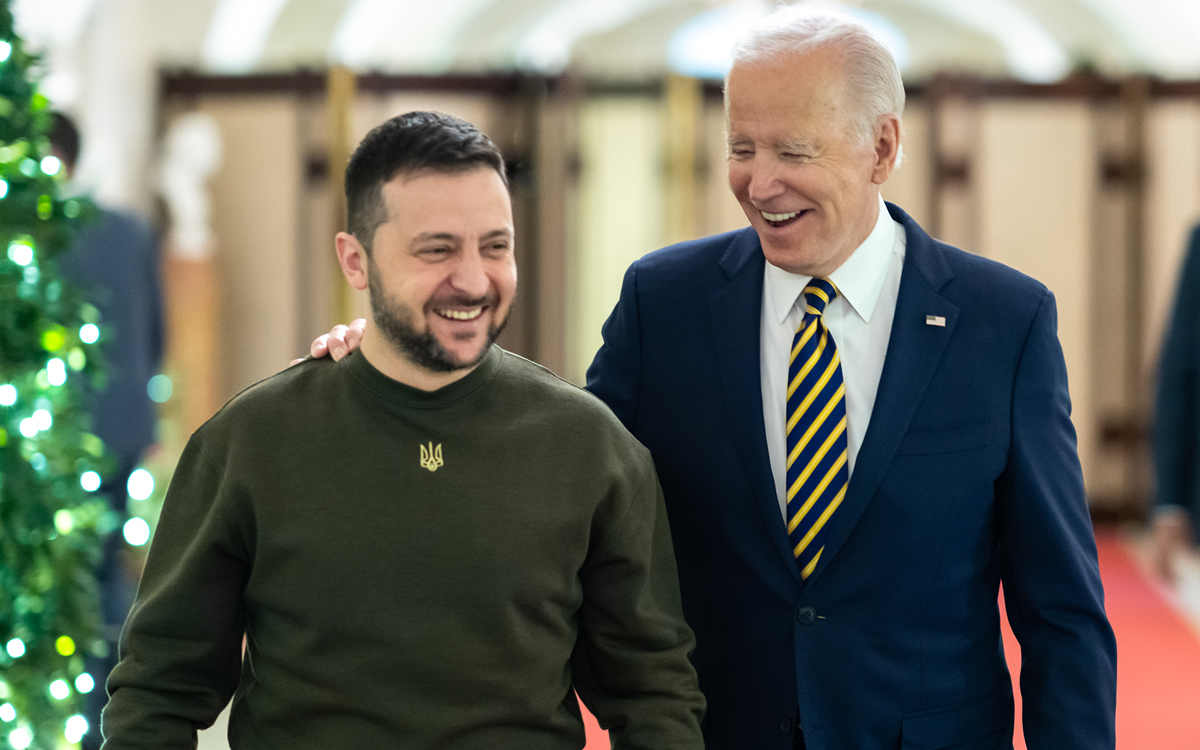 Ashton-Cirillo early last month became a junior sergeant. She returned to D.C. on May 15.
Ashton-Cirillo met with U.S. Reps. Eric Swalwell (D-Calif.), Mike Quigley (D-Ill.) and Steven Horsford (D-Nev.) and aides for U.S. Rep. Michael McCaul (R-Texas) and U.S. Sens. Marco Rubio (R-Fla.) and Jacky Rosen (D-Nev.) before she left the nation's capital on May 19. Ashton-Cirillo also spoke to journalists from the Global South at the National Press Club and met with José Andrés, whose World Central Kitchen continues to operate in Ukraine, and Amnesty International representatives.
"We had some successes on my trip in December," she said. "Members of Congress … in the House and Senate were interested in my experiences regarding my service."
Ashton-Cirillo specifically praised Andrés for his work in Ukraine.
"There is nobody that's done more for our cause," said Ashton-Cirillo. "Nobody has done more to save the Ukrainian people as a foreign civilian than World Central Kitchen and Chef José Andrés."
No timeframe for spring offensive
Ashton-Cirillo sat down with the Blade two days before Zelenskyy met with Biden and other world leaders at the G7 summit in Japan. (Biden met with Zelenskyy in Kyiv, the Ukrainian capital, on Feb. 20.)
Ukrainian officials this week denied Russia's claims that it had captured Bakhmut, a city in Donetsk Oblast. (Ashton-Cirillo last December told the Blade she had previously worked to counter Russian propaganda that claimed Russian troops had captured the city.) The Associated Press reported a group of anti-Kremlin Russian partisans — the Russian government described them as Ukrainian "military sabeteurs" — attacked an area near Belgorod, a Russian city that is roughly 25 miles from the country's border with Ukraine.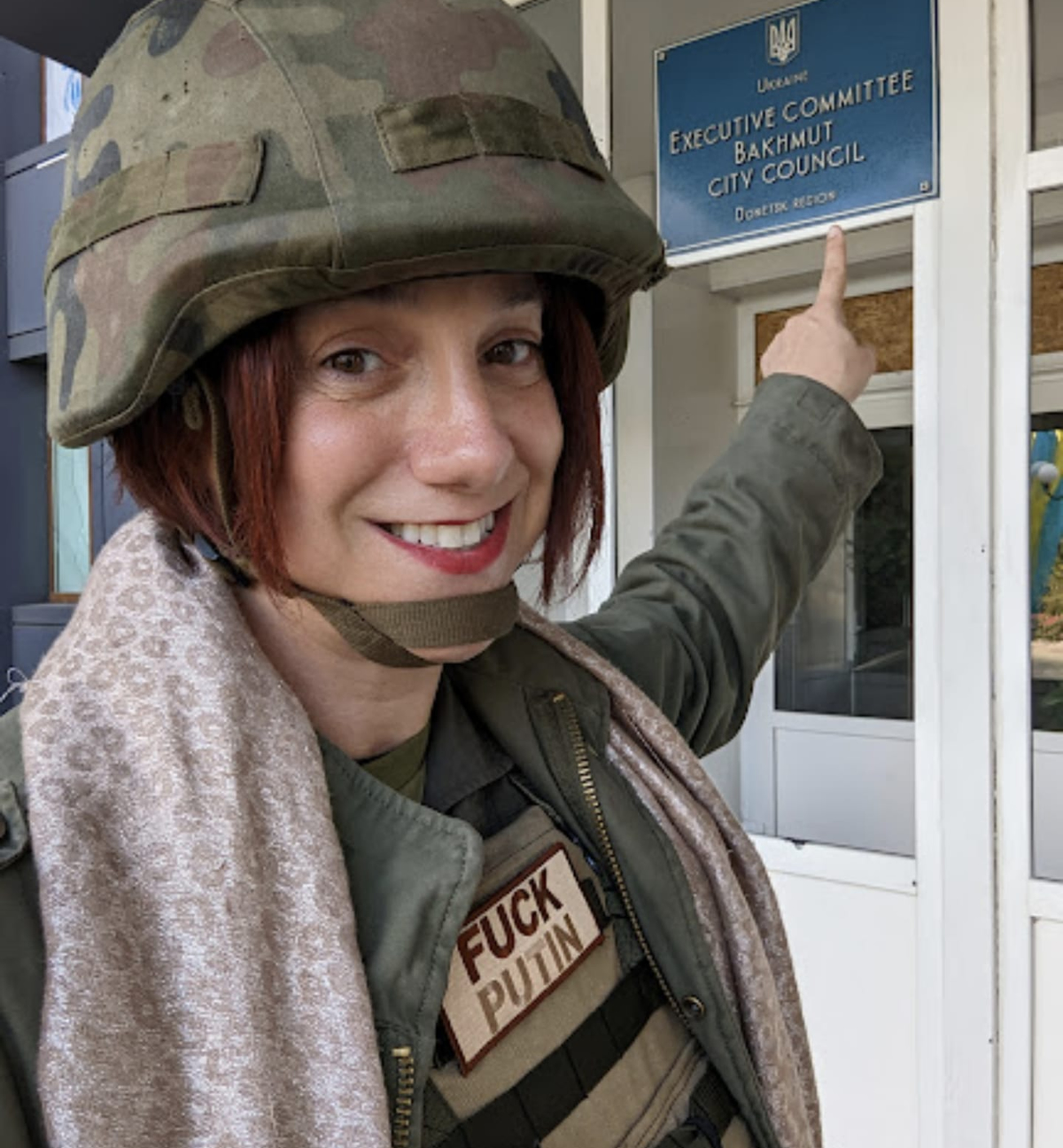 The International Criminal Court in March issued arrest warrants for Russian President Vladimir Putin and Russian Children's Rights Commissioner Maria Lvova-Belova over the abduction of children from Ukraine. Zelenskyy earlier this month visited the ICC while he was in the Netherlands.
Ukraine continues to ask the U.S. and other countries for more weapons as it prepares to launch its long anticipated "spring" offensive.
Patriot missiles on May 16 shot down 29 of the 30 missiles that Russia launched at Kyiv. Ashton-Cirillo said Ukraine specifically needs DPICMs (dual-purpose improved conventional munition), a type of smart munition, "so we can soften up the Russian trench lines."
"I know what these trenches are," she said. "They are going to be absolutely fortified as we attempt our counter attacks and any potential counter offensive."
Ashton-Cirillo said she does not have a "timeframe" for when the offensive to begin.
"We want all the weapons we can get now before launching," she said. "We will beat the Russians under any circumstances and we are we have the history to prove it."
"We're trying to make certain that we're not losing unnecessary Ukrainian lives," added Ashton-Cirillo. "We're not wasting U.S. taxpayer dollars and the best way to do that is have an efficient, effective attack method, and that's why we need some of these more technologically advanced weapons. We can fight with RPGs and our assault rifles, and we'll win, but at high cost, high cost to us, high cost to the American taxpayer. We understand as stewards of the Americans' trust that we have to do everything in a proper way to bring victory as soon as possible."
Gender identity 'less of a spectacle among the international press'
Zelenskyy last summer said he supports a civil partnerships law for same-sex couples. Ukrainian lawmakers later approved a media regulation bill that will ban hate speech and incitement based on sexual orientation and gender identity.
Zelenskyy, a former actor and comedian, in made a broad reference to LGBTQ and intersex rights in a virtual appearance at this year's Golden Globes. Ukrainian Ambassador to the U.S. Oksana Markarova during a Jan. 26 event in D.C. that highlighted Ukrainian LGBTQ servicemembers applauded Kyiv Pride and other LGBTQ and intersex rights groups in her country.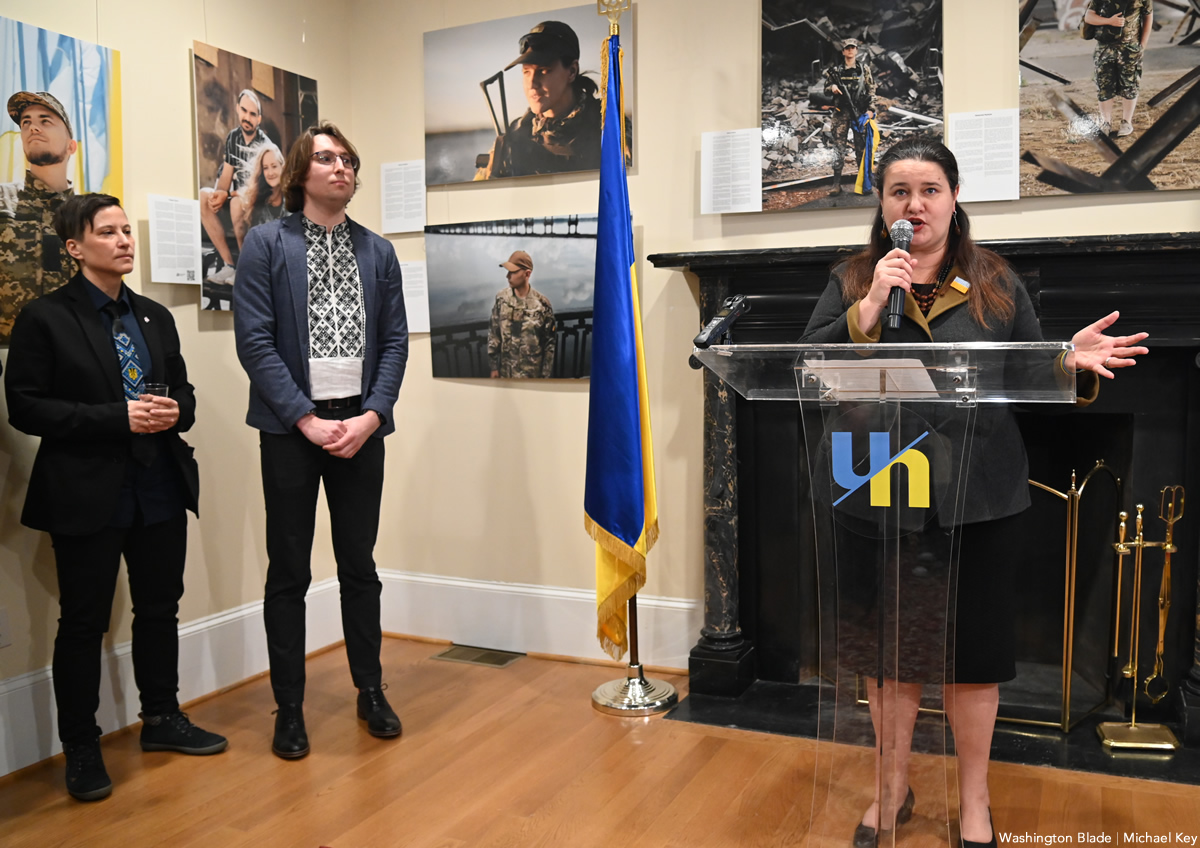 Ashton-Cirillo pointed out the Ukrainian military is creating a group that will work directly with journalists in the country and from around the world. She said the initiative's goals are "to guarantee free speech during war time, to guarantee a clear message based on truth and facts from the journalist standpoint during wartime and also to ensure that we have free speech, and free thought among the press post victory in Ukraine." Ashton-Cirillo also told the Blade that her gender identity is "becoming less of a spectacle among the international press, and that's important to me, too, as well."
"There's no denying I'm trans. I don't hide it," she said. "I'm very proud to be a member of the LGBT community. My work and my focus is on this war, this liberation for Ukrainians and liberty for everyone who cares about freedom, and that includes trans people. That includes Crimean Tatars, that includes any immigrants from the Global South that live in Ukraine."
"This victory will help strengthen the LGBT community around the world because there's going to be one less country that will be able to persecute Ukrainians, LGBTQ members," added Ashton-Cirillo. "We are going to inflict a transformative defeat upon the Russian invaders such that Russia themselves will have to look inward as to the mistakes they've made with human rights … and understand the price that they're paying is very high for things like taking (Wall Street Journal reporter) Evan Gershkovich hostage."
She also said she and her comrades "understand the cascading effect of a Ukrainian a clear transformative Ukrainian victory over Russia will have for human rights around the globe."
Hungarian president vetoes 'snitch on your gay neighbor' law
Katalin Novak differed from nationalist prime minister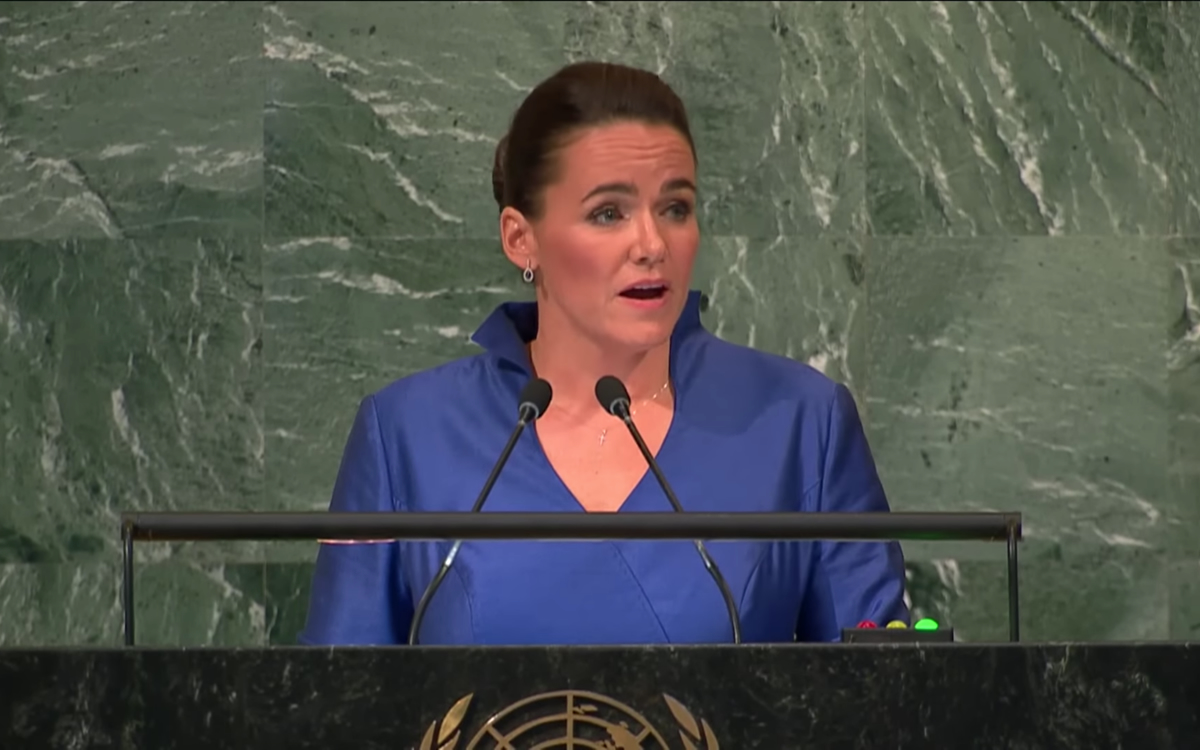 Hungarian President Katalin Novak vetoed legislation that included a provision for citizens to anonymously report on same-sex couples who are raising children. In a rare departure from the policies of Hungary's nationalist prime minister Viktor Orbán whom she generally supports, Novak returned the bill to the parliament telling lawmakers to strike that provision.
While lawmakers can still override her veto, the president's veto letter to lawmakers of the National Assembly of Hungary contained unusually sharp critique from a member of Orbán's inner circle.
The wording of the provision specifies that Hungarians may report those who contest the "constitutionally recognizged role of marriage and the family" and those who contest children's rights "to an identity appropriate to their sex at birth." The latter wording specifically aimed at acknowledging transgender youth.
The country's constitution states that the institution of marriage is "between one man and one woman," and notes that "the mother is a woman, the father a man."
This law's passage last week comes after the country's Constitutional Court issued a ruling in February that will continue to block new applications from trans people for legal gender recognition. The judgment effectively creates two categories of trans people in Hungary: Those who applied early enough to pursue gender recognition and those who did not.
Earlier this month according to a spokesperson for the German government, Germany and France joined with other EU member states in the European Commission lawsuit over a Hungarian law which discriminates against people on the basis of their sexual orientation and gender identity.
The 14 EU member states now joined the lawsuit's proceedings: Belgium, the Netherlands, Luxembourg, Denmark, Portugal, Ireland, Spain, Malta, Austria, Sweden, Slovenia, Finland and now France and Germany.
Orbán has publicly proclaimed he is a "defender of traditional family Catholic values." Orbán has been criticized by international human rights groups as discriminating against LGBTQ people with this law which European Commission President Ursula von der Leyen called a "disgrace."
On June 15, 2021, the Hungarian Law purportedly aiming at taking stricter action against pedophile offenders and amending certain laws to protect children was adopted. Some of the new provisions target and limit the access of minors to content and advertisements that "promotes or portrays" the so-called "divergence from self-identity corresponding to sex at birth, sex change or homosexuality."
Prior to its passage, more than 5,000 people, LGBTQ activists and supporters along with human rights activists demonstrated in front of the Parliament in Budapest, angered by legislation banning any content portraying or promoting homosexuality or sex-reassignment surgery to anyone under 18. 
It was sponsored by Fidesz, Orbán's ruling conservative party and essentially equates sexual and gender diversity people to pedophilia.
Hungary's president Katalin Novak has vetoed a law widely seen as being discriminatory toward LGBTQ+ people.

She's urging parliament to strike a paragraph that would make it legal to anonymously report certain same-sex couples to the government.https://t.co/4hPr2dGKY9

— POLITICOEurope (@POLITICOEurope) April 22, 2023
Ukrainian MP introduces bill to legally recognize same-sex couples
President Volodymyr Zelenskyy backs civil partnership law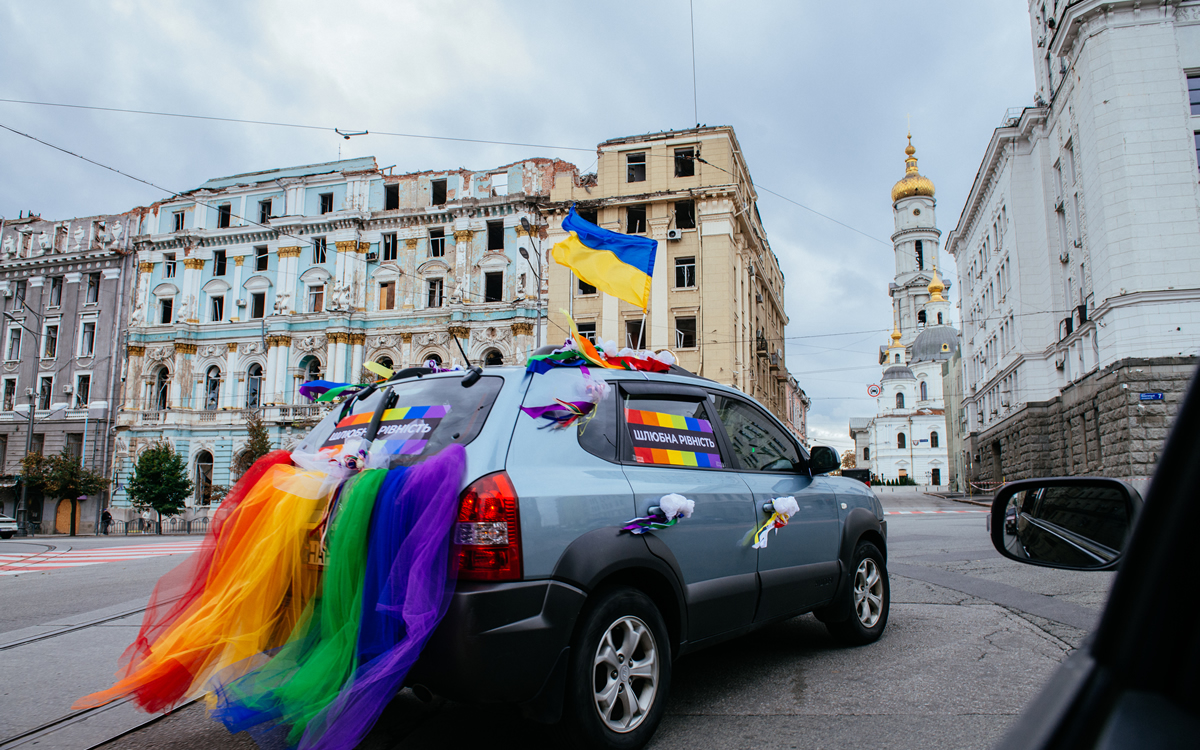 A Ukrainian MP has introduced a bill that would extend legal recognition to same-sex couples.
Inna Sovsun in a series of tweets notes 56 percent of Ukrainians "support same-sex partnerships" and she hopes "the majority of the Parliament, including [President Volodymyr Zelenskyy)'s party will take the lead from the people."
"Ukrainians can no longer wait for equality," said Sovsun. "We must do it immediately. LGBT Ukrainians deserve to have a family. Every day can be their last. Just like for any other Ukrainian. There is no time for hesitation. Let's legalize same-sex partnerships in Ukraine already this year."
Russia on Feb. 24, 2022, launched its war against Ukraine.
"Every day, Ukrainian LGBT military personnel put themselves in danger protecting us," said Sovsun. "Yet if they are in relationships, the state does not recognize those. This means that their partners do not have the same benefits as partner (sic) in heterosexual relationships."
"This includes some very unsettling sitaution (sic)," she added. "If (an) LGBT military person is wounded, his/her partner would not be able to make decisions about his/her medical treatment."
Zelenskyy last summer said he supports a civil partnerships law for same-sex couples.
Ukrainian lawmakers late last year unanimously approved a media regulation bill that bans hate speech and incitement based on sexual orientation and gender identity.
Ukrainian Ambassador to the U.S. Oksana Markarova during a Jan. 26 event in D.C. that highlighted LGBTQ and intersex servicemembers in her country applauded Kyiv Pride and other advocacy groups. Markarova acknowledged "not everything is perfect," but added Ukraine is "moving in the right direction."
"We together will not only fight the external enemy, but also will see equality," she said.
Ruslana Hnatchenko, funding manager of the Sphere Women's Association, a Kharkiv-based group that promotes LGBTQ and intersex rights in Ukraine, last month told the Washington Blade during a Zoom interview from the Hungarian capital of Budapest that conservative politicians, prominent figures within the Ukrainian and Russian Orthodox Churches and many Ukrainians themselves remain opposed to LGBTQ and intersex rights. Hnatchenko said she believes Zelenskyy "believes in human rights," but the landscape to advance LGBTQ and intersex rights in her country remains complex.
"He (Zelenskyy) is kind of between a rock and a hard place in that sense, but I believe that human rights in Ukraine will overcome, especially after our victory," said Hnatchenko. "We will make progress."
🏳️‍🌈🇺🇦Today, I submitted a draft law on the legalization of same-sex partnerships to Ukrainian parliament.

Today 56% of Ukrainians support same-sex partnerships! So, I hope the majority of the parliament, including @ZelenskyyUa party will take the lead from the people! pic.twitter.com/uQnCUAPVjt

— Inna Sovsun (@InnaSovsun) March 7, 2023