British soccer player comes out
Jake Daniels is Blackpool FC forward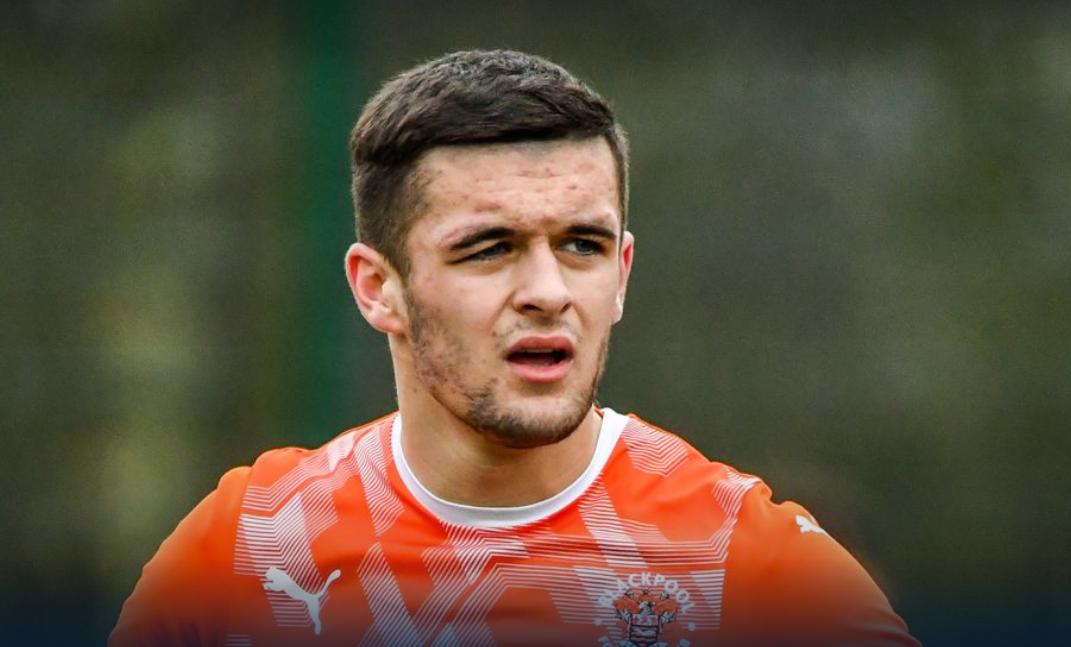 A 17-year-old professional soccer player has made history only the second person in the past 30 years to acknowledge their sexual orientation publicly in the sport in the U.K.
Blackpool FC forward Jake Daniels joins with Justinus Soni "Justin" Fashanu as the only two footballers to declare themselves openly out. Fashanu had come out in an exclusive with The Sun tabloid newspaper on Oct. 22, 1990, and later retired in 1997. He later passed away in London in May 1998.
Daniels made his announcement via a statement released by the team on its webpage:
"This season has been a fantastic one for me on the pitch. I've made my first-team debut, scored 30 goals for the youth team, signed my first professional contract and shared success with my teammates, going on a great run in the FA Youth Cup and lifting the Lancashire FA Pro-Youth Cup.
But off the pitch I've been hiding the real me and who I really am. I've known my whole life that I'm gay, and I now feel that I'm ready to come out and be myself.
It's a step into the unknown being one of the first footballers in this country to reveal my sexuality, but I've been inspired by Josh Cavallo, Matt Morton and athletes from other sports, like Tom Daley, to have the courage and determination to drive change.
In reaching this point, I've had some of the best support and advice from my family, my club, my agent and Stonewall, who have all been incredibly pro-active in putting my interests and welfare first. I have also confided in my team-mates in the youth team here at Blackpool, and they too have embraced the news and supported my decision to open up and tell people.
I've hated lying my whole life and feeling the need to change to fit in. I want to be a role model myself by doing this.
There are people out there in the same space as me that may not feel comfortable revealing their sexuality. I just want to tell them that you don't have to change who you are, or how you should be, just to fit in.
You being you, and being happy, is what matters most.
Jake"
The team itself also noted:
"Blackpool Football Club has worked closely with Stonewall and the relevant footballing organizations to support Jake and is incredibly proud that he has reached a stage where he is empowered to express himself both on-and-off the pitch.
It is vital that we all promote an environment where people feel comfortable to be themselves, and that football leads the way in removing any form of discrimination and prejudice."
The largest LGBTQ advocacy organization in the UK, Stonewall tweeted:
We are proud that Jake has felt able to share his truth with the world. To come out publicly as the first openly gay player in men's professional football in the UK in the last 30 years takes courage. We're honoured to be supporting him! 🏳️‍🌈⚽ https://t.co/4q1j9PSNxD

— Stonewall (@stonewalluk) May 16, 2022
Blackpool Football Club is a professional association football club based in seaside resort of Blackpool on the Irish Sea coast of England.
Gay Games 11 begin in Hong Kong and Mexico
Registrations are reportedly far below expectations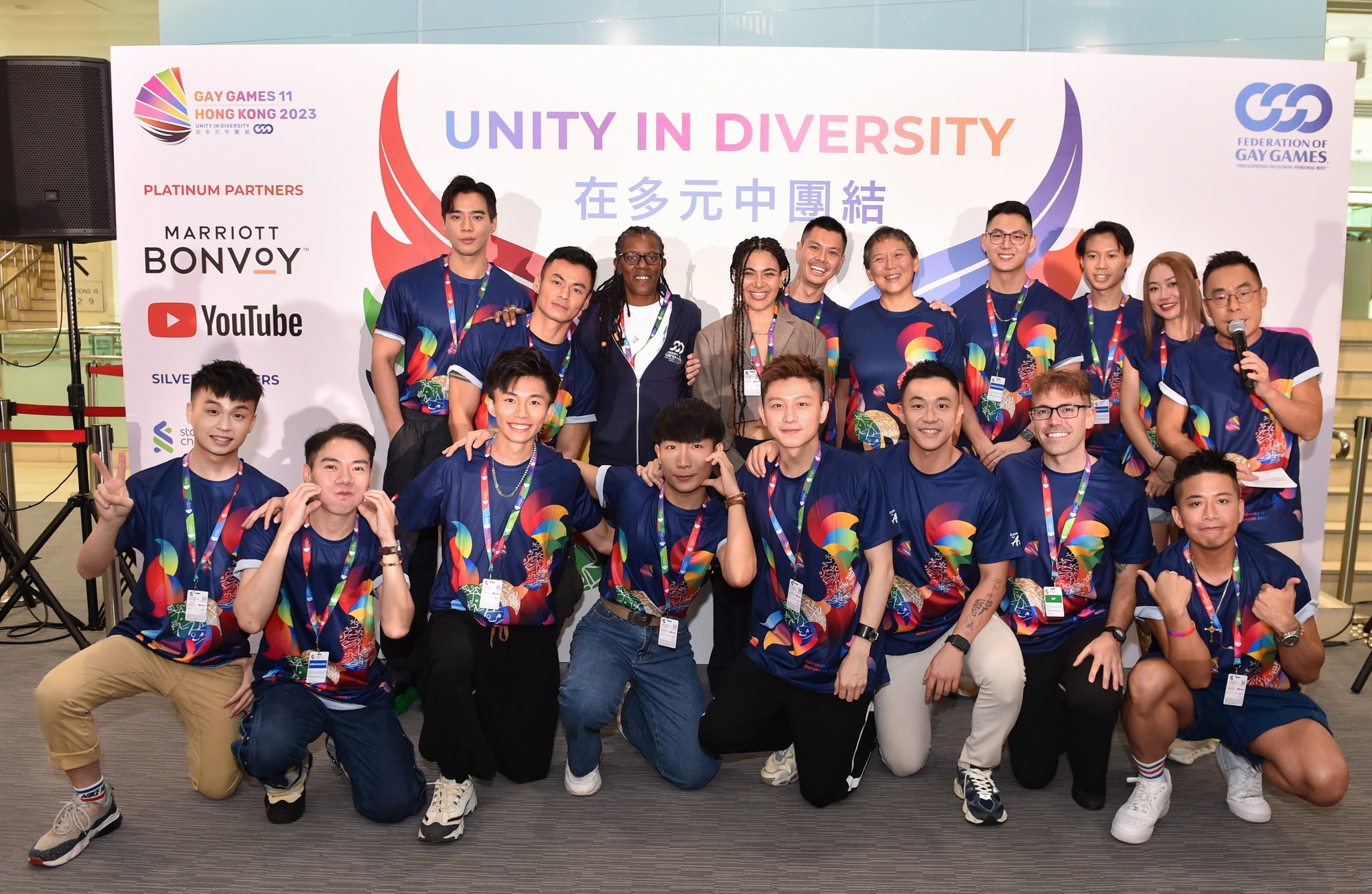 Organizers call it the world's largest inclusive sports, arts and culture event: The 11th Gay Games, delayed by a year and cohosted by the cities of Hong Kong and Guadalajara, Mexico. They got underway Friday, and for the first time in the 40-year history of the games, they are being held in a city in Latin America and another city in Asia.
More than 2,300 athletes from 45 countries, including the U.S, Britain, South Korea and China are expected to take part in the Hong Kong games, according to organizers. Soccer is the main event this weekend.
Dodgeball, soccer, swimming, powerlifting and track-and-field are among the events this weekend in Guadalajara, according to that event's website.
But according to reports, the number of athletes and spectators at both venues is far below the standards set in previous Gay Games.
These games were originally planned for just one city, Hong Kong, this time last year. The intent was for Gay Games 11 to serve as what organizers called "a beacon of hope" for the LGBTQ community in a Chinese-ruled region that challenges restrictions on gay rights. 
While it is legal to be gay in China and many of its major cities have thriving LGBTQ social scenes, same-sex marriage and adoption by gay people are illegal and there are no legal protections against LGBTQ discrimination.
To many Chinese government officials, being gay is "a malign foreign influence that is stopping youth from getting married and having children," Darius Longarino, a senior fellow at the Paul Tsai China Center at Yale Law School, recently told NBC News.
That and the summer shutdown of the Beijing LGBT center by the government in May, affirmed the decision to divide Gay Games 11 across two continents, which was at first driven by Hong Kong's strict COVID-19 protocols, as Reuters reported. Organizers postponed the games for 12 months due to the city's strict COVID-19 protocols, and it was decided to divide the competitions with runner-up bidder Guadalajara in western Mexico.
Despite the locales being more than eight thousand miles apart, organizers have coordinated a series of sporting events under the slogan, "unity in diversity."
"Everyone aged 18/+ is welcome to participate," according to the Hong Kong venue's website, "regardless of sexual orientation, gender identity, ethnicity or even training level." 
Inclusion isn't as much of a problem at this Gay Games as is the lack of participants and spectators.
Original estimates for the 2022 event in Hong Kong was for 12,000 participants, 75,000 spectators and 3,000 volunteers from 100 countries. The 36 events were to include Dragon Boat Racing, Dodgeball and eSports.
But for 2023, Reuters reports registrations fell far below expectations, due in part to ongoing worries about COVID-19 and LGBTQ rights in China and concerns over safety in Guadalajara, where crime and kidnappings are common.
One week ago, organizers in Guadalajara had registered only 2,458 participants, and Hong Kong had under 2,400, for a combined 4,839 athletes. It's unheard of for a Gay Games to have fewer than 8,000 participants.
The games were first held in San Francisco in 1982. Organizers boast this is "one of the largest global events of their kind," according to the Gay Games 11 website, bringing people together" to experience unforgettable moments of joy through a unique combination of sport, community and culture."
But according to Reuters, what is bringing people together in Guadalajara are the criminals who prey upon visitors. The city is located in the state of Jalisco, where drug cartels operate freely.
Wayne Morgan, a senior Australian athlete who has competed in six prior Gay Games, told Reuters he was drugged and robbed last year when he visited Guadalajara for a planning conference related to this year's games. He said he made his way to the police station and found himself in a long queue of other crime victims, where he was told: "This happens a lot."
A spokesperson for the Federation of Gay Games told Reuters the decision to split the event had a "significant impact on registration numbers" but added that the organizers believed the choice of two locations "allows even more people from around the world to celebrate LGBTQ+ sports with us."
But to Morgan, splitting the host cities was "a mistake" and that low numbers could deter corporate sponsorship in the future.
"In my heart of hearts, I wish the whole thing was canceled and we could skip to Valencia in 2026," he said. The next games are planned for Valencia, Spain.
Taiwan's competitors withdrew their registration from the Hong Kong event in August, citing fears their participants could be arrested if they display the island's flag or use its name. Human rights activists called for the games in Hong Kong to be canceled, accusing organizers of aligning themselves with "pro-authoritarian figures responsible for widespread persecution against the people of Hong Kong."
In response to the low registration numbers, Hong Kong organizers canceled several events, including field hockey and Rugby 7s as well as some in the category of track-and-field.
Gay Games 11 runs through Nov. 11.
Republican governors demand 'guaranteed' fairness on trans athletes
Kristi Noem's joint letter filled with lies, inaccuracies and transphobic claims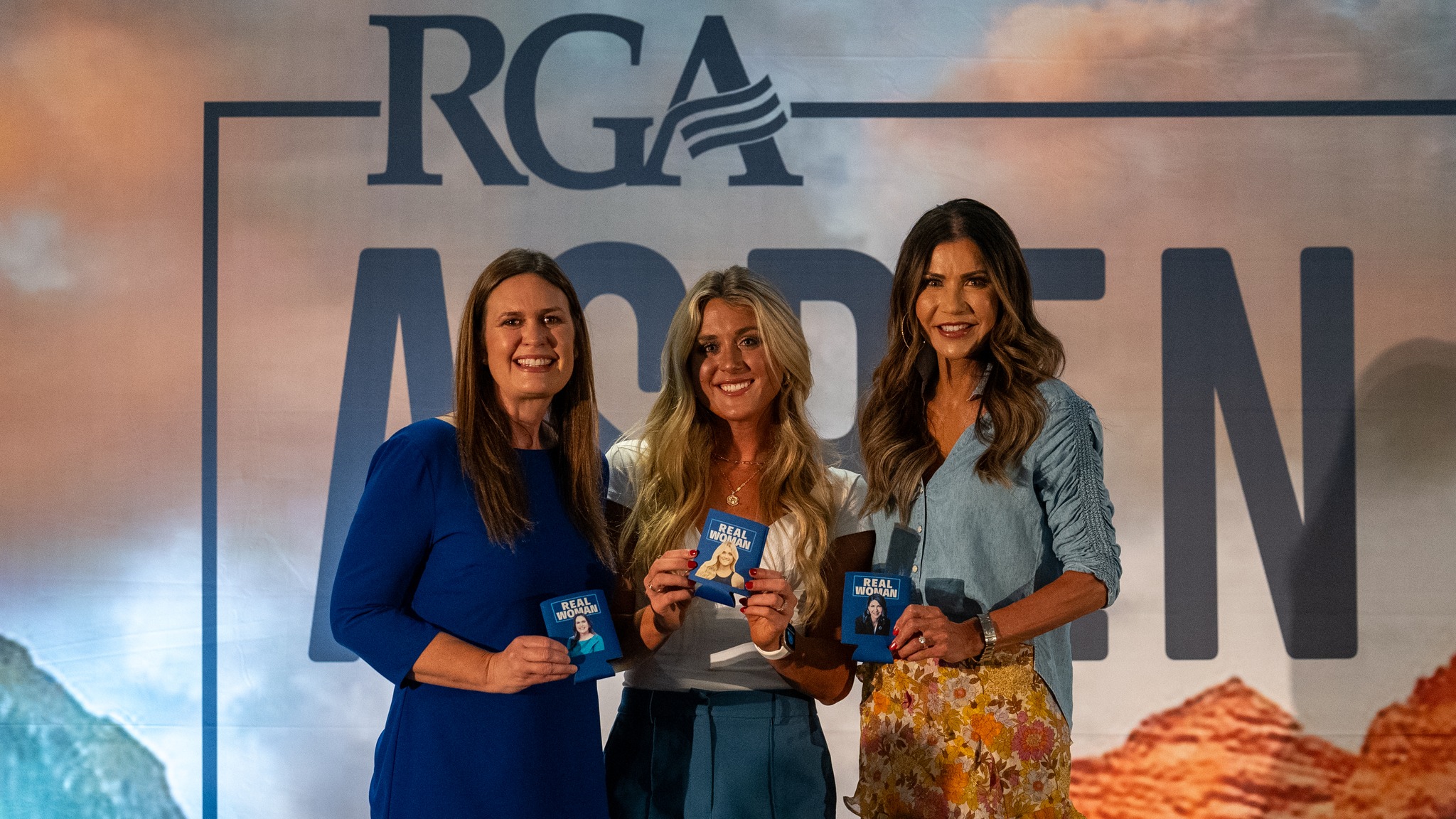 Nine Republican governors, several of whom have signed laws banning transgender student-athletes from competing as their authentic selves, sent a joint letter Monday to the National Collegiate Athletics Association and its Board of Governors about its transgender student-athlete policy.
The first signatory is Gov. Kristi Noem of South Dakota. She and her fellow GOP governors make it clear they are telling the NCAA to abandon its current policy, which changed in 2022 from allowing trans competitors to compete, to putting the onus on individual sports organizations to decide participation rules.
Not good enough, say the governors.
"The NCAA has the chance to guarantee an environment where female college athletes can thrive without the concern of inequities," the wrote. "We trust that you also want to guarantee just such an environment. But this policy allows the NCAA to avoid responsibility for ensuring the fairness of collegiate sports — therefore it must be changed."
In addition to Noem, the letter was signed by Gov. Sarah Huckabee Sanders of Arkansas, Gov. Tate Reeves of Mississippi, Gov. Mike Parson of Missouri, Gov. Greg Gianforte of Montana, Gov. Joe Lomardo of Nevada, Gov. Kevin Stitt of Oklahoma, Gov. Greg Abbott of Texas and Gov. Mark Gordon of Wyoming.
Among the many bogus claims and transphobic statements, including labeling out trans NCAA All-American Lia Thomas a "biological male," the letter misrepresents what happened after Thomas tied with a cisgender competitor, Riley Gaines, at the NCAA Women's Swimming and Diving Championships in Atlanta. In March 2022. The two women tied for fifth place in the 200 freestyle. But the governors' letter claims Gaines was denied posing with "the first-place trophy that she rightfully earned."
Unlike the governors, the Los Angeles Blade was at that event and witnessed the heat, as well as the podium ceremony that followed. Not expecting a tie finish for fifth place, officials handed Gaines a trophy for another event for the photo op following their contest, and chose to give Thomas the fifth place trophy. The NCAA mailed Gaines her trophy at a later date. Gaines never finished first at that event, and has turned her alleged slight at the championships into a national anti-trans media campaign.
The letter goes on to repeat false misogynist claims about Allyson Felix being unable to compete against high school boys, accusations that trans athletes are "average male athletes stealing" the honors due women athletes and falsely claims that the issue of fairness has been determined by science.
The letter was condemned by the American Civil Liberties Union of Wyoming in a statement Tuesday.
"Whatever Gov. Gordon and this letter's cosigners might say, this isn't about leveling the playing field for student athletes or protecting fairness in women's sports. If it were, these governors would be tackling the actual threats to women's sports, such as severe underfunding, lack of media coverage, sexist ideologies that suggest that women and girls are weak, and pay equity for coaches and players," said Libby Skarin, deputy executive director for the ACLU of Wyoming, in a press release.
"This letter to the NCAA is just another attempt to erase transgender people from society while stirring up support from their base of anti-trans activists with fear-mongering tactics and discriminatory rhetoric that harm some of the most vulnerable people in our state," Skarin said.
Ashlyn Harris files for divorce from Ali Krieger
The former U.S. Women's National Team stars have two children and have been married since 2019, Harris, retired from soccer in 2022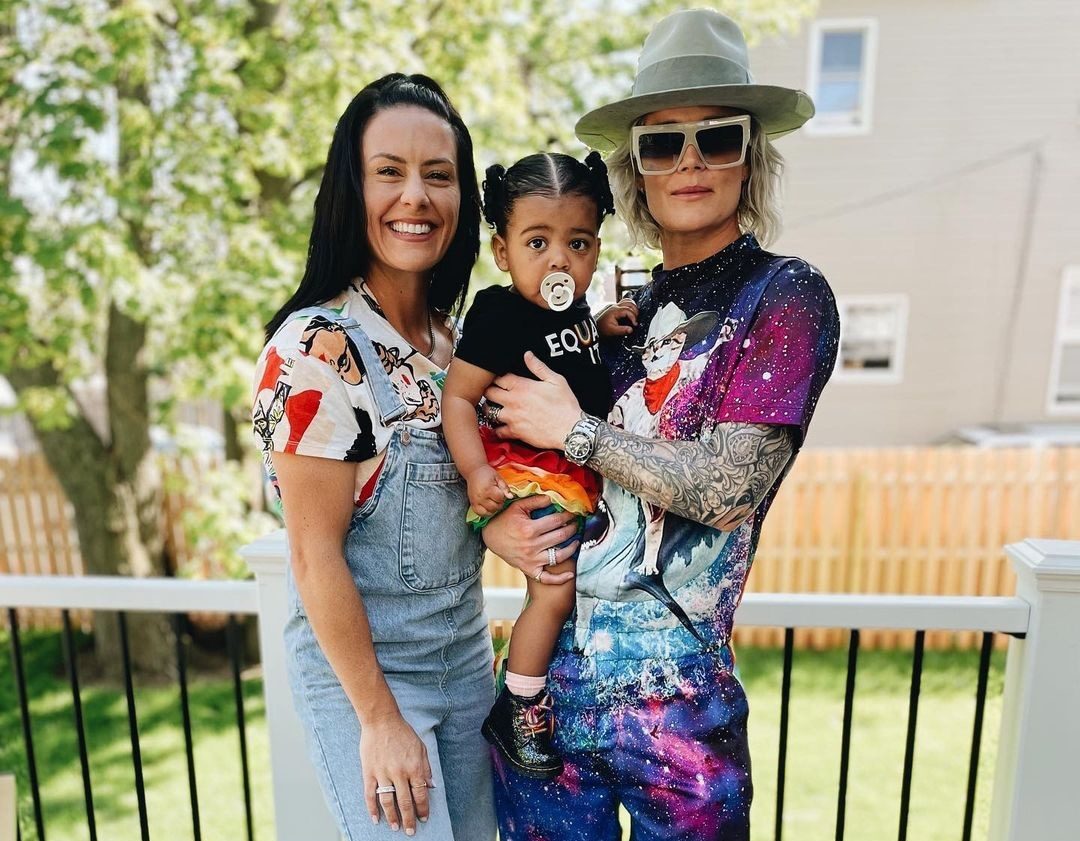 Media reports reveal the former goalkeeper of the U.S. Women's National Team Ashlyn Harris filed for divorce last month from Ali Krieger, the NWSL Gotham FC defender who is set to retire after Sunday's match.
Krieger, 39, and Harris, 37, have been together since 2010 and married in December 2019. They have two children together and according to public court documents filed on Sept. 19 in Seminole County, Fla., they must agree to a parenting plan for Sloane, 2 1/2, and Ocean, 14 months.
Representatives for Harris and Krieger have not responded to press inquiries. The couple haven't been seen in an Instagram post together since July.
They met while playing for the USWNT, where they were both two-time World Cup winners.
Harris, who retired from soccer in 2022, is now the creative director of Gotham FC and part of an all-woman executive leadership team. Krieger, who has played with the club since she and Harris were traded by Orlando Pride in 2021, will be celebrated by the club for her 17 years of dedication to the sport when she retires following Sunday's match against the Kansas City Current.
The couple welcomed their toddler daughter Sloane via adoption just a few months before being traded. In August 2022, they adopted their second baby, their son, Ocean. The Florida court requires Krieger and Harris to agree on child custody, support, non-disparagement and non-harassment terms as well as attend a parenting class for the divorce to proceed.
In addition to her skills on the pitch, Krieger has used her spotlight and platform to serve as an advocate for pay equity and in support of the LGBTQ+ community.
"I want to leave the game better than where I found it," said Krieger upon announcing her plans to retire in March. "I believe we have accomplished a lot since we've started. I want to be remembered as being a good person and a good teammate who worked tirelessly to create a space for everyone to feel safe and seen, for speaking up for things that should be better for the younger generation. That's the legacy I want to leave."