Capital Stonewall Democrats backs Robert White over Bowser
LGBTQ group endorses Erin Palmer over incumbent Mendelson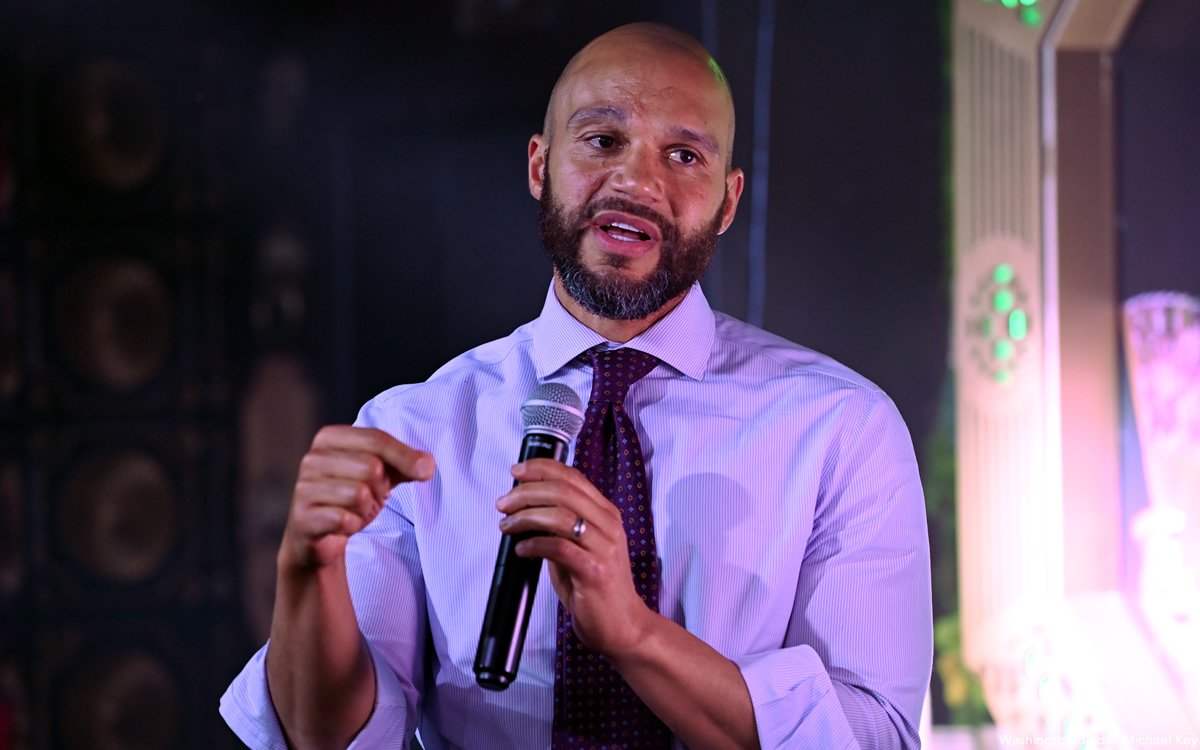 The Capital Stonewall Democrats, the city's largest local LGBTQ political group, announced on May 17 that it has selected D.C. Council member Robert White (D-At-Large) over incumbent Mayor Muriel Bowser and political newcomer Erin Palmer over D.C. Council Chair Phil Mendelson as its endorsed candidates in the city's June 21 Democratic primary.
With Bowser and Mendelson as well as White having longstanding records of support for LGBTQ rights and Palmer expressing strong support for the LGBTQ community, local observers say the LGBTQ Democratic group's 163 voting members appear to have based their endorsement decisions on other pressing issues facing the city rather than only LGBTQ specific issues.
In other races, Capital Stonewall Democrats, formerly known as the Gertrude Stein Democratic Club, which was founded in 1976, voted to endorse incumbent Ward 1 Council member Brianne Nadeau over gay former D.C. police officer Salah Czapary and community activist Sabel Harris who are running against Nadeau.
In the Ward 5 Council race, the group has endorsed gay D.C. Board of Education member Zachary Parker in a five-candidate contest for the seat being vacated by incumbent Council member Kenyan McDuffie, who ran unsuccessfully for the office of D.C. Attorney General.
The group has also endorsed Council member Charles Allen (D-Ward 6), who is running unopposed in the primary; D.C. Congressional Del. Eleanor Holmes Norton (D), who's favored to win re-election against two lesser-known opponents; and D.C. shadow U.S. Rep. Oye Owolewa, who's also favored over a lesser known opponent.
Capital Stonewall Democrats announced it did not make an endorsement in the Ward 3 and At-Large D.C. Council races and in the D.C. Attorney General race because no candidate received a required 60 percent of the vote under the group's longstanding rules for endorsements.
By not endorsing in the At-Large race, the group passed over incumbent At-Large Council member Anita Bonds, a longtime supporter of LGBTQ issues. Bonds is being challenged by Advisory Neighborhood Commissioner Lisa Gore, former D.C. shadow House member Nate Fleming, and former D.C. Council staffer Dexter Williams.
In the hotly contested Ward 3 Council race, nine candidates are competing for the seat being vacated by incumbent Mary Cheh, another longtime LGBTQ rights supporter.
In the race for attorney general, three prominent local attorneys — Brian Schwalb, Ryan Jones, and Bruce Spiva — are competing for the AG position being vacated by incumbent Karl Racine, who chose not to run for re-election.
Capital Stonewall Democrats' endorsements follow a series of five LGBTQ candidate forums the group held virtually in which most of the candidates running in the various races attended.
In the group's mayoral form, Bowser was the only one of the four mayoral contenders that did not attend. Her supporters said she had a conflicting event organized by gay Democratic activist Kurt Vorndran that prevented her from attending the Stonewall event.
Those who attended the mayoral forum were Robert White, D.C. Council member and mayoral candidate Trayon White (D-Ward 8), and former attorney and community activist James Butler.
A detailed vote tally released by Capital Stonewall Democrats shows the vote count for each of the endorsed candidates as well as candidates in the races for which the group did not make an endorsement.
In the mayoral race, Robert White received 120 votes, or 74.5 percent. Bowser came in second place with 37 votes or 23.0 percent; Trayon White received just two votes or 1.2 percent, with Butler receiving just 1 vote at 0.6 percent. One vote was cast for no endorsement.
In the D.C. Council Chair race, Palmer received 89 votes or 60.1 percent, just surpassing the 60 percent threshold needed for an endorsement. Mendelson received 48 votes or 32.4 percent. Eleven votes were cast for no endorsement.
In the Ward 1 Council race, Nadeau received 100 votes or 69.4 percent compared to gay candidate Czapary, who came in second place with 23 votes or 16.0 percent. Candidate Sabel Harris came in third place with 9 votes or 6.3 percent, with a no endorsement selection receiving 12 votes or 8.3 percent.
In the Ward 5 contest, gay school board member Parker received 91 votes or 64.5 percent. Candidate Faith Hubbard came in second with 31 votes or 22.0 percent. The remaining candidates received fewer than 10 votes each, including former At-Large and former Ward 5 Council member Vincent Orange, who received 5 votes or 3.5 percent.
"Since Capital Stonewall Democrats has only 221 members, and only 163 bothered to vote, this is clearly not representative of the LGBTQ+ community in the District," said gay Democratic activist Peter Rosenstein, who is supporting Bowser for mayor.
But longtime D.C. LGBTQ rights advocate A. Billy S. Jones-Hennin is among the local activists who view the Capital Stonewall Democrats' endorsement of lesser-known challengers – most of whom have progressive, left-leaning views – as a reflection of changes in the demographics of the LGBTQ community and the Stonewall group's members.
"At the forefront for voters is who they feel can address core problems like crime, open drug transactions, and increased homeless populations," Jones-Hennin told the Blade. "Just asking voters for support based on their support of the LGBTQ+ community in the past does not cut it," he said. "We are multi-faceted voters looking for new, more progressive and aggressive leadership."
The Capital Stonewall Democrats list of endorsements as well as races with no endorsement can be viewed below:
• Mayor: Robert White, with 74.5% of the round one vote
• DC Attorney General: No Endorsement
• DC Council Chair: Erin Palmer, with 60.1% of the round one vote
• Ward 1 Council: Brianne K. Nadeau, with 69.4% of the round one vote
• Ward 3 Council: No Endorsement
• Ward 5 Council: Zachary Parker, with 64.5% of the round one vote
• Ward 6 Council: Charles Allen, with 83.2% of the round one vote
• At-Large Council: No Endorsement
• Delegate to U.S. House of Representatives: Eleanor Holmes Norton, with 69.7% of the round one vote
• U.S. Representative: Oye Owolewa, with 66.1% of the round one vote
Matthew Shepard portrait dedicated at National Cathedral
Gay Wyoming student killed in 1998 hate crime honored in daylong ceremony
Matthew Shepard, the gay University of Wyoming student who was murdered in a 1998 anti-gay hate crime while tied to a fence outside Laramie, Wyo., was honored at a ceremony on Thursday, Dec. 1, at Washington National Cathedral dedicating a newly commissioned portrait of Shepard.
Officials at the cathedral said the portrait by artist Kelly Latimore and commissioned by LGBTQ members of the Cathedral staff, is the only artistic image of Matthew Shepard created in collaboration with Shepard's parents, Dennis and Judy Shepard, who were present during the ceremony.
Matthew Shepard's ashes were interred at the Washington National Cathedral in 2018, 20 years after his death. The Cathedral announced in a statement this week that the Dec. 1 dedication of the Shepard portrait would also take place on what would have been Shepard's 46th birthday.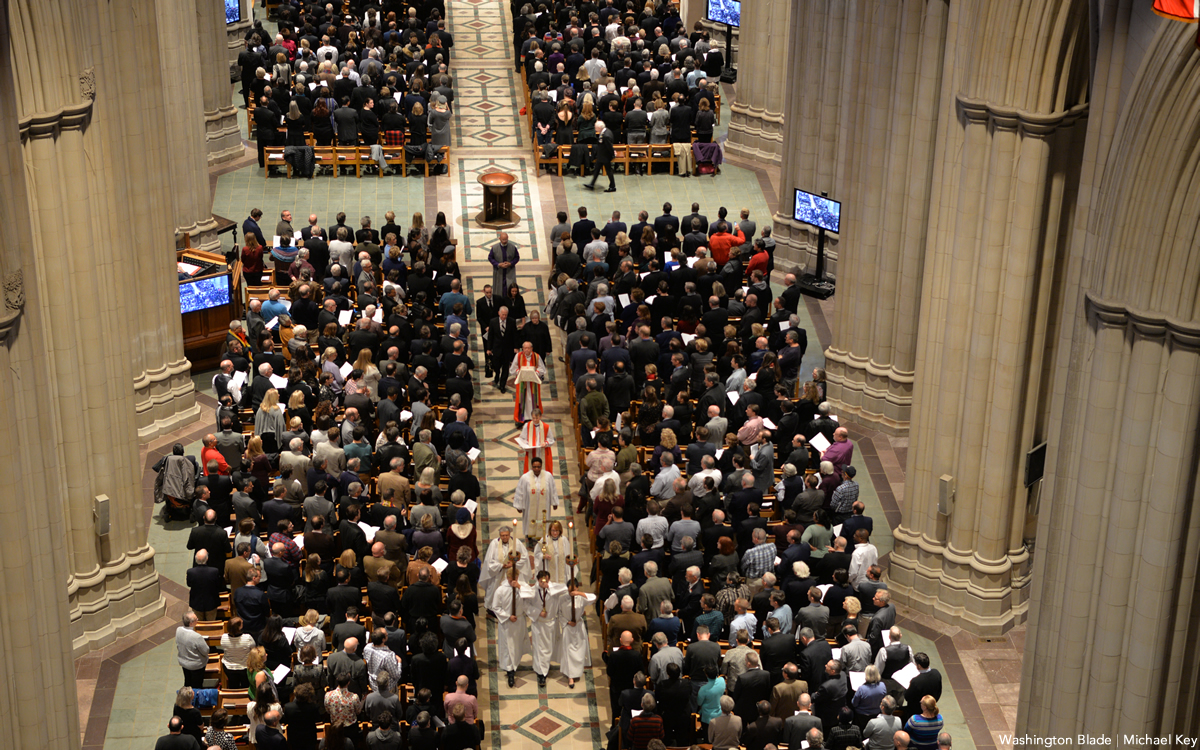 "The horrific murders at Club Q in Colorado Springs are a tragic reminder that our LGBTQ friends and family continue to be targeted for who they love, and Matthew Shepard's legacy reminds us of the urgency to confront bigotry and embrace people of all backgrounds, gender identities and sexual orientations," said The Very Rev. Randolph Marshall Hollerith, dean of Washington National Cathedral, in a statement.
Events surrounding the portrait dedication began with a 7 a.m. online prayer service "to celebrate and recall Matthew Shepard's life," the statement released by the Cathedral says. The service was led by Right Rev. V. Gene Robinson, the first openly gay priest to be consecrated as a bishop in the Episcopal Church.
The Cathedral next hosted a preview of the portrait for the news media at 10:30 a.m., where Dennis and Judy Shepard talked about the portrait and their son's life and the impact his death had on the nation's understanding of hate crimes.
"It's amazing how similar and what a great job that Kelly [Latimore] has done to make it look like Matt and showing the essence of Matt," Dennis Shepard told the Washington Blade while viewing the portrait in the Cathedral's St. Joseph's Chapel, where the portrait was on display.
Artist Latimore, who also spoke to reporters during the morning briefing at the chapel, said he was moved in his discussions with Judy and Dennis Shepard while getting ready to begin work on the painting by copies of dozens of letters they sent him that had been sent to the Shepards by people across the country after their son's death.
Latimore included written excerpts from dozens of those letters as the background to his portrait of Matthew Shepard, which can be seen and read when standing close to the portrait.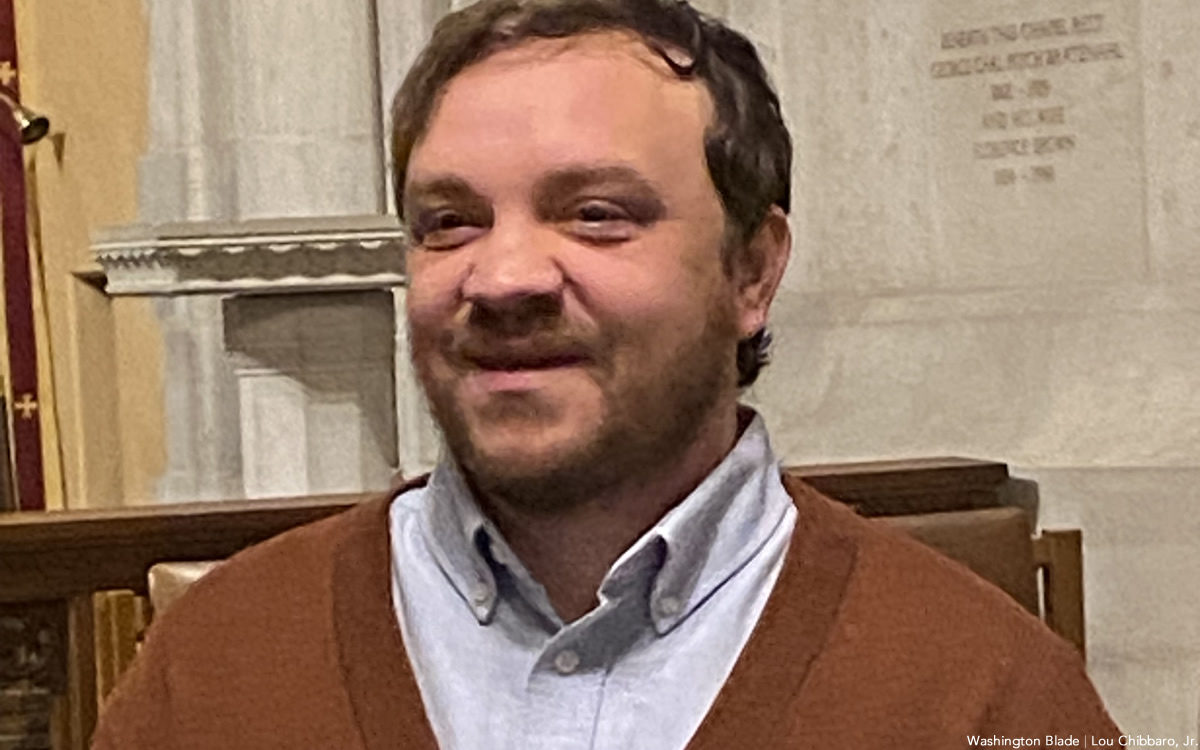 "Matthew will not be forgotten," an excerpt from one of the letters on the portrait says.
Dennis and Judy Shepard created the Matthew Shepard Foundation shortly after Matthew's death, which has been credited with playing a lead role in advocating for the passage by Congress in 2009 of the Matthew Shepard and James Byrd Jr. Hate Crimes Prevention Act. The measure was the first federal hate crime statute that expanded the coverage of the federal hate crimes law to include a victim's sexual orientation and gender identity as a protected class.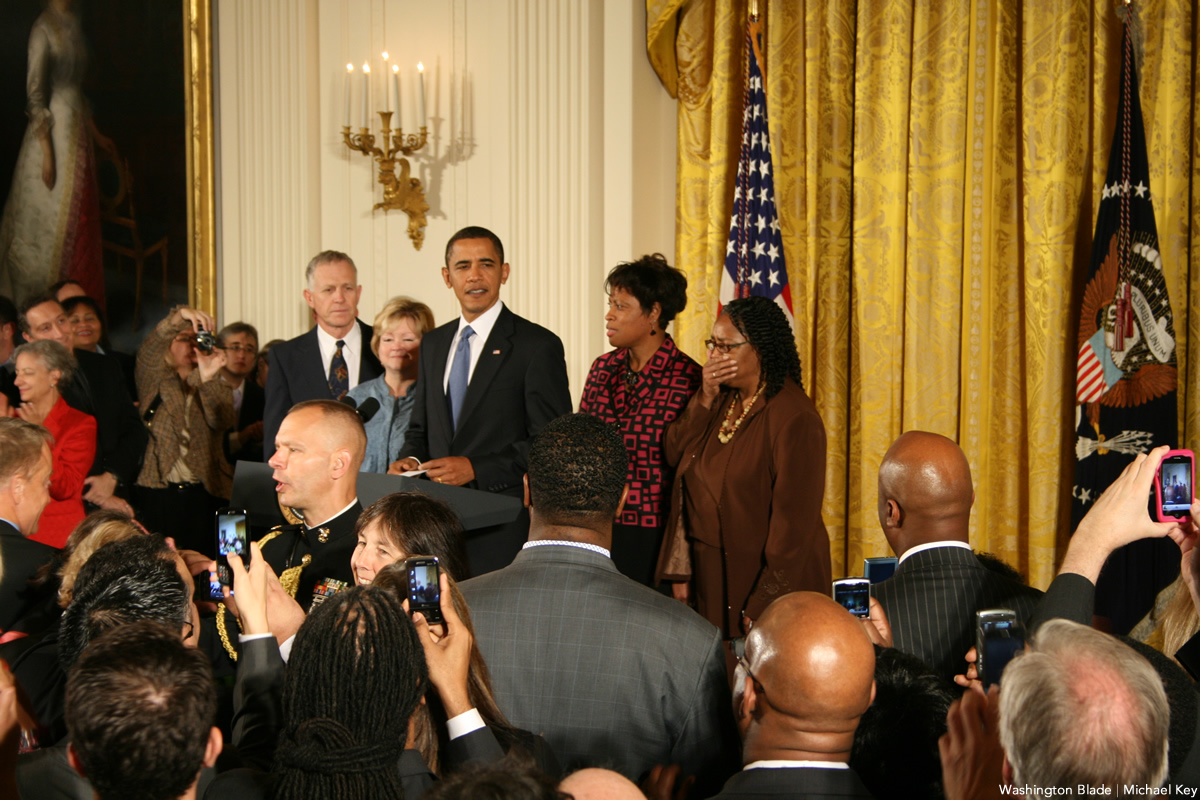 The Cathedral was to open its St. Joseph's Chapel from 2-5 p.m. on Thursday to visitors where the Matthew Shepard portrait was on display. Dennis and Judy Shepard were scheduled to be present to greet visitors.
According to the statement released by the Cathedral, later in the evening at 7 p.m., the portrait was to be officially dedicated in a private service in the Cathedral's crypt near the site where Shepard's ashes were interred.
"A longtime supporter of the full inclusion of lesbian, gay, bisexual and transgender people in the life of the church, the Cathedral considers LGBTQ equality one of the great civil rights issues of the 21st century," the statement released by the Cathedral says.
One of the two men charged with Matthew Shepard's murder, Russell Henderson, pleaded guilty to a murder charge in exchange for an agreement by prosecutors not to seek a death sentence. He was sentenced to life in prison.
The other man charged in the murder, Aaron McKinney, pleaded not guilty and went to trial, where he was convicted of murder by a jury. In a dramatic statement before the judge at the conclusion of the trial, Dennis Shepard announced he and his wife had asked prosecutors and the judge to spare McKinney from being sentenced to death, something he said McKinney did not do while fatally striking his son in the head multiple times with the barrel of a gun after the two men tied him to a fence post in a remote field outside Laramie.
The judge sentenced McKinney to two consecutive life terms in prison without the possibility of parole.
Three more LGBTQ ANC candidates declared winners
At least 38 LGBTQ hopefuls elected; outcome for two more uncertain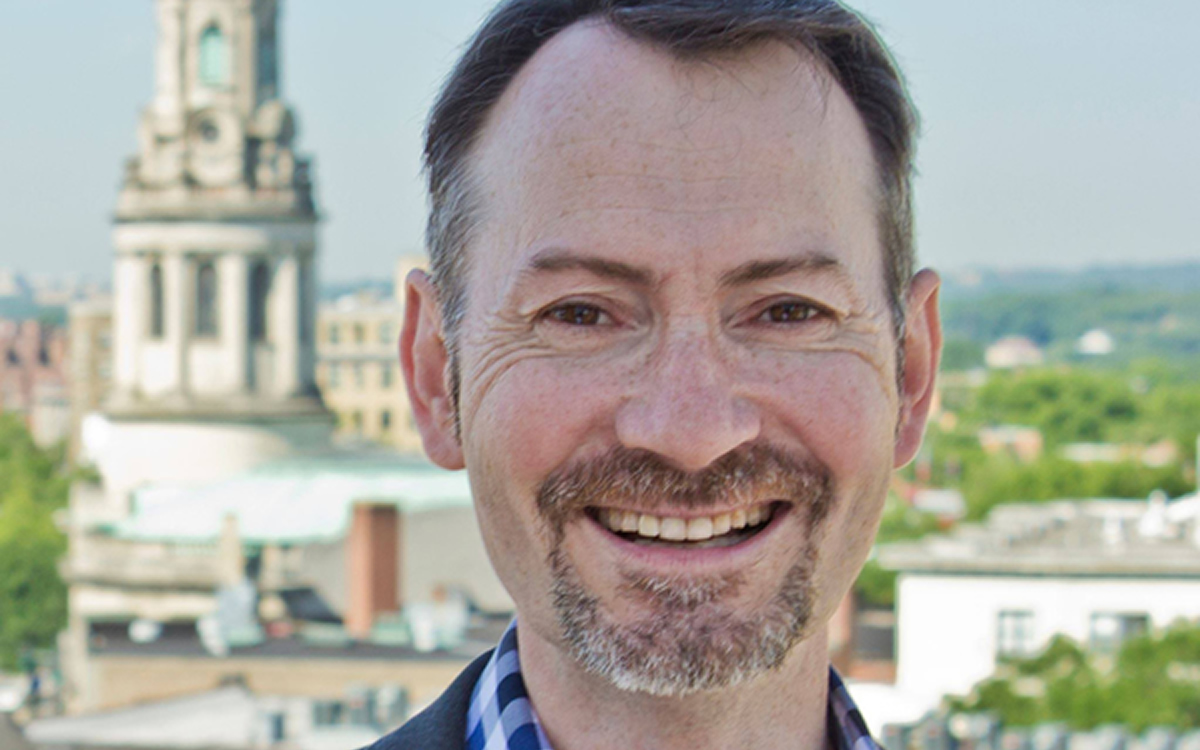 The number of known LGBTQ candidates who won election to Advisory Neighborhood Commission seats rose from 35 to 38 as the D.C. Board of Elections this week released its final, certified vote count for the Nov. 8 D.C. election.
The 38 winners were among 44 known LGBTQ candidates who ran for ANC seats this year. One of the candidates who emerged as a winner, incumbent James Tandaric of ANC 3F05 in the city's Van Ness neighborhood, was trailing opponent Andrew Koval by just eight votes when the early vote count was released in the days following the election.
The final vote count that emerged this week shows Tandaric beat Koval by a vote of 258 to 250.
When the early vote count was released in the week after the election, the outcome of four LGBTQ ANC write-in candidates along with all write-in candidates could not be determined until the Board of Elections received a required affidavit of candidacy from the write-in candidates, which was due by Nov. 15.
When the final write-in candidate results were released earlier this week along with the names of the write-in candidates, two of the four LGBTQ write-in candidates emerged as winners, both from the Logan Circle ANC. The two are Christopher Dyer of ANC 2F05 and Matt Fouracre of ANC 2F06.
Another one of the LGBTQ write-in candidates, Charles Panfil of ANC 6E02 in the Mount Vernon Square neighborhood, finished in a tie with another write-in candidate. A spokesperson for the Board of Elections said tie votes in ANC elections are resolved by the drawing of lots. The spokesperson, Nicholas Jacobs, said he couldn't immediately say when a drawing of the lot would take place.
The race for the fourth LGBTQ write-in candidate, Bradley Gallagher of ANC 1E01 in the city's Park View neighborhood, could not be determined and a special election for that seat will have to be held, according to the Board of Election. The reason, the elections board said, is longtime gay ANC member Kent Boese, who withdrew his candidacy after it was too late to remove his name from the ballot, received the most votes. "As such, there is no winner for this contest" under the city's election law, the Board of Elections said.
Elections board spokesperson Jacobs said a special election for that ANC seat will be called, with Gallagher and others who obtain the required number of ballot petition signatures will be allowed to run in the special election.
Boese withdrew his candidacy after he was nominated and subsequently approved by the D.C. Council to become director of the D.C. Office of Advisory Neighborhood Commissions.
If Gallagher were to win in the special election and should Panfil win the drawing of the lot following the tie vote in his race, the total number of known LGBTQ candidates elected to ANC seats would rise to 40, a record number compared to past ANC elections.
There were 33 known LGBTQ ANC candidates who won election in 2020, which was the first year the Washington Blade kept track of the known LGBTQ ANC candidates who ran and won.
A list of the 35 winning LGBTQ ANC candidates known during the week following the Nov. 8 election can be seen here.
Ruby Corado withdrew $400,000 of Casa Ruby funds: D.C. att'y gen'l
Complaint says she transferred money to banks in El Salvador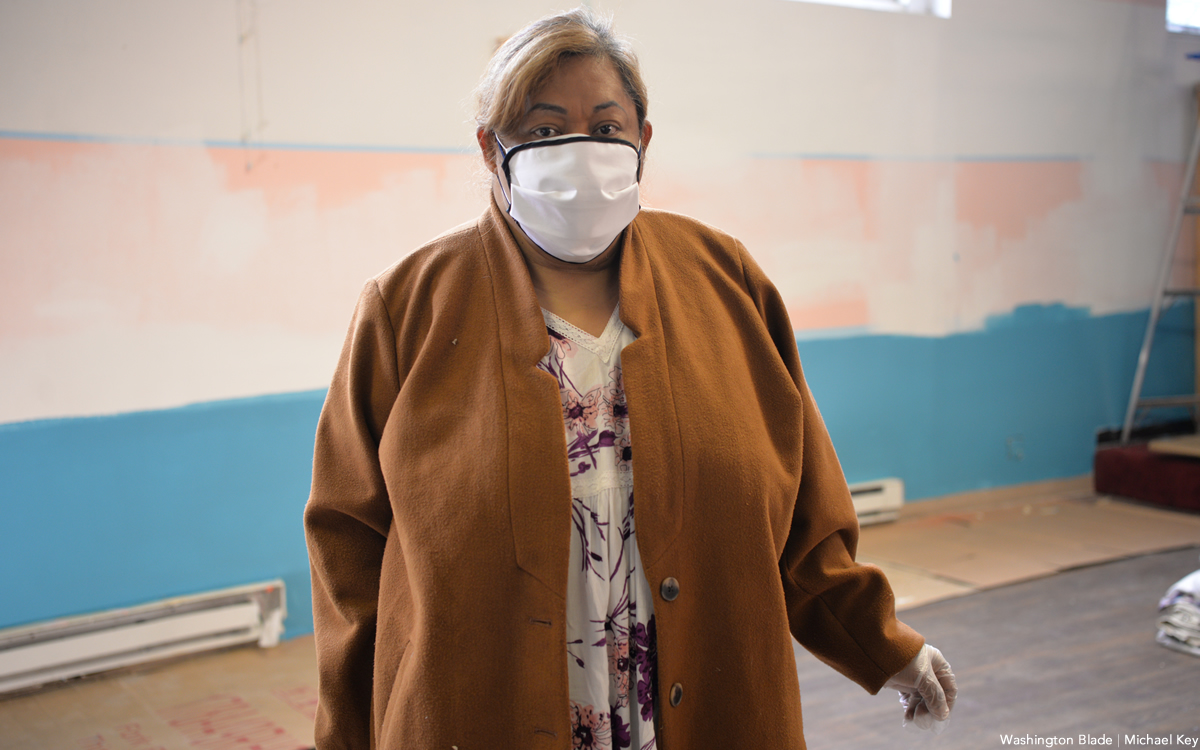 The Office of the D.C. Attorney General on Monday filed an amended civil complaint in D.C. Superior Court against Casa Ruby and its founder and former executive director Ruby Corado that includes new allegations, including claims that Corado withdrew more than $400,000 of Casa Ruby funds for unauthorized use in El Salvador.
The 25-page amended complaint adds multiple new allegations to the Attorney General office's original complaint against Casa Ruby filed on July 29. That complaint, among other things, charged the nonprofit LGBTQ community services organization and Corado with violating the D.C. Nonprofit Corporations Act in connection with its financial dealings.
The amended complaint also follows the approval by D.C. Superior Court Judge Danya Dayson of a request in August by the Attorney General's office to place Casa Ruby under receivership and to appoint the Wanda Alston Foundation as the receiver. The D.C.-based Alston Foundation provides housing services for homeless LGBTQ youth.
On Oct. 28, the Alston Foundation released its Receiver's Second Interim Report on its findings related to Casa Ruby's finances. The report points to some of the same unexplained and unauthorized expenditures and transfers of Casa Ruby's funds by Corado that are included in the AG office's amended complaint.
The Alston Foundation had been scheduled to release its Receiver's Third Interim Report also on Monday, Nov. 28. But Alston Foundation Executive Director June Crenshaw told the Washington Blade the foundation requested an extension of that deadline to give it a chance to review the new allegations in the AG office's amended complaint.
Among other things, the AG office's amended complaint adds three new defendants to what legal observers say is the equivalent of a lawsuit by the D.C. government against Corado and Casa Ruby. The new defendants named in the complaint are limited liability companies created and controlled by Corado to purportedly perform services in support of Casa Ruby.
They include a new version of Casa Ruby called Casa Ruby LLC doing business as Moxie Health; Pneuma Behavioral Health LLC; and Tigloballogistics LLC doing business as Casa Ruby Pharmacy.
The amended complaint notes that Corado, who claimed the new companies, especially the pharmacy, were part of Casa Ruby's mission, never received approval to create the companies from the Casa Ruby board of directors, which the AG's office has said rarely met and failed to provide any oversight of Corado's actions.
According to the amended complaint, Corado transferred large sums of money from the original Casa Ruby to these companies and at some point, transferred funds from the new companies to her own personal bank account.
Both the earlier complaint filed in July and the amended complaint allege that Corado transferred as much as $500,000 of Casa Ruby's funds to create what she said was a new Casa Ruby in El Salvador approved by the Casa Ruby board. But the earlier and amended complaints allege that the board never authorized the El Salvador operation.
Between April 2021 and September 2022, the amended complaint says, Corado transferred over $400,000 from two Casa Ruby related accounts "to accounts she held under her birth name in two El Salvador banks." It says the Casa Ruby board "never authorized any of these transfers."
In addition to the financial related allegations, the amended complaint charges Casa Ruby and Corado with violating D.C.'s Wage Payment and Collection Law and the D.C. Minimum Wage Revision Act by failing to pay Casa Ruby employees all the wages they earned for their work several months before Casa Ruby closed its operations in July 2022.
"At various times between July 2021 and July 2022, while Corado was freely supplementing her $260,000 salary with additional funds drawn from Casa Ruby's bank accounts, many of Casa Ruby's employees were paid only $15.00 per hour, less than the minimum wage in the District of Columbia as of July 1, 2021," the amended complaint says. "None of these employees received the full wages they earned," it says.
One of the former employees told the Washington Blade most of the remaining employees during Casa Ruby's final months before its shutdown were paid late or not paid at all. Under the two labor related laws the amended complaint has charged Casa Ruby and Corado with violating, an employer could be required to pay the employees any lost or missing wages.
But the Receiver's Second Interim Report filed in October by the Alston Foundation says among other improper financial dealings, Casa Ruby failed to pay the U.S. Internal Revenue Service payroll taxes withheld from its employees. The AG office's amended complaint says that as of June of this year, Casa Ruby owed the IRS $127,435 in employment taxes, not including interest and penalties.
The receiver's report points out that under federal law, employers that owe back taxes to the IRS must pay those claims first. "Thus, after all outstanding payroll taxes have been paid off, there is little chance that there will be anything left for any other debts or obligations like past rent or wages," the report says.
The amended complaint filed by the AG's office says a copy of the amended complaint was sent to Corado through an email address, which has been the only known way of reaching Corado. Former Casa Ruby employees have said she had been spending most of her time over the past year or longer in El Salvador. The complaint says that as of October, Corado still had not retained an attorney to represent her and was representing herself in a process known as pro se representation.
The Blade couldn't immediately reach Corado for comment on the amended complaint through the same email address.
During a virtual court hearing in September, Corado denied any improper or illegal financial practices and blamed the D.C. government for Casa Ruby's collapse, saying city agencies cut off funding for Casa Ruby without a legitimate reason. However, the D.C. Department of Human Services, which provided much of Casa Ruby's funding through grants, has said the funding was stopped after Casa Ruby failed to submit financial reports required for all grant recipients that account for how the grant money is spent.