Russia again seeks to reassure IOC over Olympics
Russian Deputy Prime Minister Dmitry Kozak said everyone welcome at games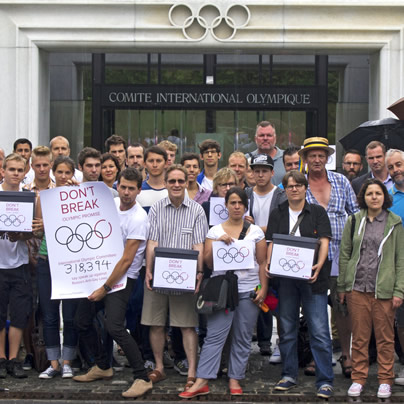 The International Olympic Committee on Thursday said it had received additional assurances from the Russian government that gay people would be welcome to attend the 2014 Winter Olympics in Sochi, Russia.
The IOC said in a statement Russian Deputy Prime Minister Dmitry Kozak wrote in a letter to the Olympic body that his country "has committed itself to comply strictly with the provisions of the Olympic Charter and its fundamental principles, according to item 6 of which 'any form of discrimination with regard to a country or a person on grounds of race, religion, politics, gender or otherwise is incompatible with belonging to the Olympic movement."
"The Russian Federation guarantees the fulfillment of its obligations before the International Olympic Committee in its entirety," Kozak added, according to the IOC.
Kozak's letter to the IOC comes eight days after the Olympic body reiterated to the Washington Blade its previous statements that said it has "received assurances" from the Kremlin the broadly-worded law that President Vladimir Putin signed in June that bans gay propaganda to minors will "not affect those attending or taking part" in the Sochi games.
The Russian Interior Ministry in an August 12 statement said it would enforce the statute during the Olympics. Russian Sports Minister Vitaly Mutko earlier this week again defended the law.
"We want to protect our children whose psyches have not formed from the propaganda of drug use, drunkenness and non-traditional sexual relations," he told reporters during a Moscow press conference as the Associated Press reported.
Athletes speak out against anti-gay law
Russian chess champion Gary Kasparov and gay playwright Harvey Fierstein are among those who have called for a boycott of the Sochi games that will take place in February. Author Dan Savage, LGBT rights advocate Cleve Jones and others have called for a boycott of Russian vodka.
President Obama, retired tennis champion Martina Navratilova, gay Olympic diver Greg Louganis and several LGBT advocacy groups that include Athlete Ally are among those who feel the U.S. should compete in Sochi.
American runner Nick Symmonds criticized Russia's gay propaganda ban last week in an interview with the Russian news agency RIA Novosti after he competed in the World Athletic Championships in Moscow. Figure skater Johnny Weir, whose husband is of Russian descent, told CBS News earlier this month he is "not afraid of being arrested" while at the Olympics.
High jumper Emma Green Tregaro and sprinter Mao Hjelmer, who are from Sweden, painted their fingernails in rainbow colors as they competed in the World Athletic Championships. The AP reported Green Tregaro wore red fingernail polish during an August 17 high jump competition at the same event because Swedish athletic officials reportedly asked her to change their color.
Yelena Isinbayeva, a Russian Olympic pole vault champion, defended the gay propaganda law as she criticized Green Tregaro and Hjelmer during an August 15 press conference after she won her third title at the World Athletic Championships. Russian sprinter Kseniya Ryzhova earlier this week dismissed suggestions she and teammate Tatyana Firova challenged the statute when they kissed on the medal podium after they won the women's 4 x 400 meter rally at the event.
The IOC on August 14 reaffirmed to the Blade it will not allow athletes who compete in Sochi to publicly challenge Russia's gay propaganda ban. The Olympic Charter states anyone who violates the rule could face potential disqualification or loss of their accreditation to the games, although the IOC it would "always treat cases individually and take a sensible approach depending on what was said or done."
An IOC spokesperson declined to provide the Blade a copy of the letter it said Kozak wrote to the Olympic body.
The AP reported Kozak wrote in his letter he addressed to French IOC member Jean-Claude Killy the gay propaganda law is about the "restriction of information that promotes non-traditional sexual relationships among children." The news agency said Kozak further defended the statute.
"These legislations apply equally to all persons, irrespective of their race, religion, gender or sexual orientation and cannot be regarded as discrimination based on sexual orientation," he reportedly wrote.
Cyd Zeigler, Jr., co-founder of Outsports.com, again criticized the gay propaganda law in response to Kozak's letter to the IOC.
"The problem with this law has always been interpretation," Zeigler told the Blade. "It's the same 'love the sinner, hate the sin' mantra we've heard so many times before. Russia can say they will welcome anyone, but they won't allow any action. They won't allow fans to wave rainbow flags in the streets or hold hands and kiss in public."
Zeigler also described the IOC as "problematic."
"Now they're pressuring national Olympic committees to stop athletes from painting their fingernails in rainbow colors," he said. "Russia is only part of the problem here, the IOC itself is the other piece."
Victory Fund honors gay Guatemalan congressman at D.C. conference
Aldo Dávila a vocal critic of country's government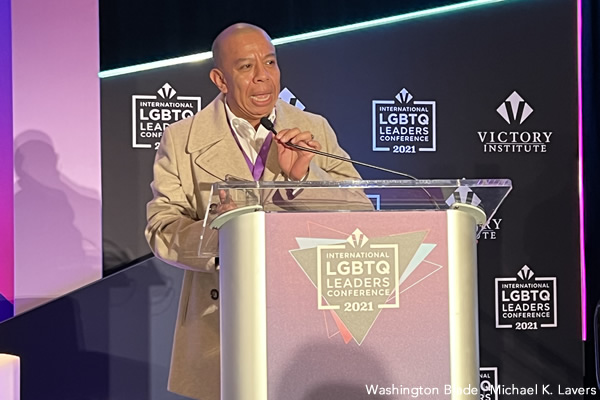 The Victory Fund on Friday honored an openly gay Guatemalan congressman who has faced death threats because of his efforts to fight corruption in his country.
Dávila — a member of the Winaq movement, a leftist party founded by Rigoberta Menchú, an indigenous human rights activist and Nobel Peace Prize winner — in 2019 became the first openly gay man elected to Guatemala's congress. Dávila, who also lives with HIV, had previously been the executive director of Asociación Gente Positiva, a Guatemala City-based HIV/AIDS service organization.
Supporters of President Alejandro Giammattei have lodged several formal complaints against Dávila after he publicly criticized the government over corruption, its response to the pandemic and other issues.
Three men on April 19 approached Dávila's vehicle near Guatemala's National Library and tried to rob him. One of Dávila's bodyguards shot one of the men, but the two other assailants fled the scene before police officers and passersby arrived.
Dávila told the Washington Blade in September during an interview at a Guatemala City hotel that he and his partner installed cameras in their apartment after someone killed their dog.
Two female police officers who arrived at the hotel with Dávila sat in the lobby while he spoke with the Blade. The government a few weeks later reduced his security detail.
"Guatemala is living through the worst democratic crisis in the last 40 years," said Dávila after he accepted the Victory Fund's Global Trailblazer Award at its 2021 International LGBTQ Leaders Conference that is taking place in-person at the JW Marriott in downtown D.C. "Guatemala right now is being paralyzed by corruption and impunity and my voice is uncomfortable because of this."
Dávila became emotional at the end of his remarks.
"I will keep fighting for our rights," he said.
Openly gay man elected to Honduran congress
Víctor Grajeda will serve as Congresswoman-elect Silvia Ayala's substitute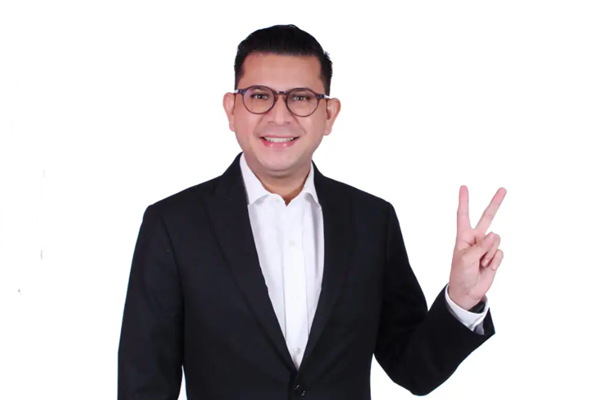 An openly gay man in Honduras made history on Sunday when he won a seat in the country's Congress.
Grajeda will serve alongside Congresswoman-elect Silvia Ayala of the leftist Free Party (Partido Libre), who represents Cortés department in which the city of San Pedro Sula is located, as her substitute.
Reportar sin Miedo, the Washington Blade's media partner in Honduras, and Agencia Presentes, reported Grajeda received more than 100,000 votes. Grajeda is one of five openly LGBTQ candidates who ran for Congress.
"I am looking to open spaces and eliminate discrimination based on sexual orientation or identity," said Grajeda.
Tegucigalpa Mayor Nasry Asfura, a member of outgoing President Juan Orlando Hernández's ruling National Party (Partido Nacional), on Tuesday conceded defeat to President-elect Xiomara Castro of the Free Party.
Castro's husband, former President Manuel Zelaya, was ousted from power in a 2009 coup.
Activists with whom the Blade has spoken say LGBTQ Hondurans continue to flee the country and migrate to the U.S. in order to escape rampant violence and discrimination and a lack of employment and educational opportunities. Castro, among other things, has publicly endorsed marriage rights for same-sex couples in Honduras.
Canadian government introduces bill to ban conversion therapy
Prime minister says discredited practice as 'discriminatory and degrading'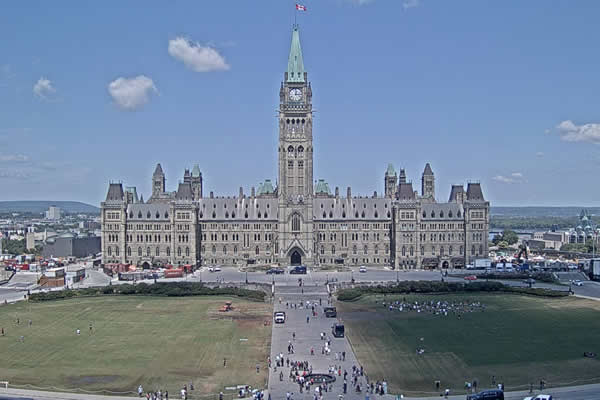 The Canadian government on Monday introduced a bill that would ban so-called conversion therapy in the country.
The bill that Attorney General David Lametti and Women and Gender Equality and Youth Minister Marci Ien introduced would amend Canada's Criminal Code to specifically ban:
Causing another person to undergo conversion therapy
Removing a minor from Canada to subject them to conversion therapy abroad
Profiting from providing conversion therapy
Advertising or promoting conversion therapy
A press release the Canadian government issued said the bill would allow courts "to order the seizure of conversion therapy advertisements or to order their removal from computer systems or the internet."
"The pain and trauma caused by conversion therapy practices continue to have a devastating impact on LGBTQ2 communities across Canada," said Ien. "Our government is focused on promoting equality rights and tackling discrimination against lesbian, gay, bisexual, transgender, queer and two-spirit people. Criminalizing this practice upholds basic human rights, while also ensuring that every Canadian is free to live their authentic lives."
Prime Minister Justin Trudeau in a tweet said conversion therapy "is discriminatory and degrading, and has had devastating impacts on LGBTQ2 Canadians."
"It has no place in our country," he said.
Conversion therapy is discriminatory and degrading, and has had devastating impacts on LGBTQ2 Canadians. It has no place in our country – and that's why, today, @DavidLametti and @MarciIen introduced legislation to ban it once and for all. More details: https://t.co/28jSblDPyR https://t.co/hLhzT1nJbD

— Justin Trudeau (@JustinTrudeau) November 30, 2021
Tourism Minister Randy Boissonnault, who previously advised Trudeau on LGBTQ issues, also applauded the bill's introduction.
"Conversion 'therapy' is akin to torture," said Boissonnault. "I encourage all of my colleagues in the House (of Commons), to support this bill that will move to criminalize conversion therapy in Canada once and for all."
I've said it before, and I will say it again. Conversion "therapy" is akin to torture. I encourage all of my colleagues in the House, to support this bill that will move to criminalize conversion therapy in Canada once and for all. 🏳️🌈 pic.twitter.com/AbCwaMf30w

— Randy Boissonnault 🏳️🌈 (@R_Boissonnault) November 29, 2021
Trudeau, who won re-election in September, has previously called for a prohibition of the widely discredited practice. The Canadian Senate earlier this year tabled a separate conversion therapy ban bill.
The House of Commons on Wednesday unanimously approved the recently introduced bill. It now goes to the Senate.
Canada would join Malta and a handful of countries that ban conversion therapy.