Olympic athletes urged to speak out against Russia LGBT record
IOC charter restricts participants' ability to protest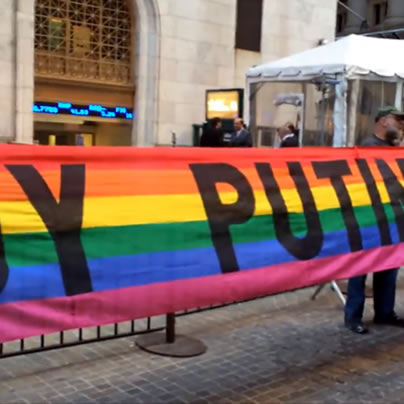 With less than a month until the 2014 Winter Olympics begin in Sochi, Russia, LGBT activists hope athletes who take part in the games will speak out against the Kremlin's gay rights record.
"It's important for the athletes to speak out, in Russia, about their belief that the way the Russian government is treating its gay and lesbian citizens is unacceptable," said Andrew Miller of Queer Nation NY, which has held a number of protests in New York over the last few months to highlight Russia's LGBT crackdown.
Speaking out against Russia's gay propaganda to minors law and other anti-LGBT measures while in Sochi could prove easier said than done.
The Olympic Charter that the International Olympic Committee adopted in 2001 states "no form of publicity or propaganda, commercial or otherwise, may appear on persons, on sportswear, accessories or, more generally, on any article of clothing or equipment whatsoever worn or used by the athletes or other participants in the Olympic games" outside of a manufacturer's logo. Any athlete who violates this rule could face disqualification or a loss of their accreditation at the Sochi games.
"I am very reluctant to call on athletes to do anything that would explicitly jeopardize their ability to compete in the games or jeopardize their ability to win a medal," Hudson Taylor, a former University of Maryland wrestler who founded Athlete Ally in 2010 to combat homophobia and transphobia in sports, told the Washington Blade on Tuesday.
Taylor, who is currently an assistant wrestling coach at Columbia University, described the Sochi games as "an enormous moment where international attention is going to focus on sport." He also told the Blade the athletes who compete in the Olympics will have a platform they could potentially use to highlight LGBT rights abuses in Russia.
"I would like athletes if they are asked about their opinions on these laws, to give their opinion on the laws or give their opinion around support for the LGBT community," said Taylor.
Ty Cobb, director of global engagement for the Human Rights Campaign, made a similar point.
"A lot's on the line for athletes who may speak out in ways that the IOC does not like, such as losing their medal," said Cobb. "I would never want to advocate for someone to put themselves in a situation to lose their medal or be chastised by the IOC, but at the same time we would support any athlete in their effort to really highlight what's going on with LGBT Russians and to show solidarity with their fight."
Retired tennis champion Billie Jean King, whom President Obama last month tapped alongside gay figure skater Brian Boitano and others to join the U.S. delegation to the Sochi games, discussed the issue on Tuesday during an appearance on "The Colbert Report."
"I probably won't protest," King told Stephen Colbert. "But if the media asks me a question, I'm going to answer it."
Doubts about enforcement of law remain
Russian President Vladimir Putin told reporters during an October press conference in Sochi with IOC President Thomas Bach that gays and lesbians will not suffer discrimination during the games. The IOC maintains it has received repeated assurances from the Kremlin the gay propaganda ban will not affect athletes and others who plan to travel to Sochi, even though Russian officials have previously said the statute will apply to those who attend the Olympics.
Taylor acknowledged it is highly unlikely Russia will repeal the gay propaganda law and other anti-LGBT statutes before the Sochi games begin.
"At this stage of things I think the most that we can hope for is to make sure these laws are not being enforced for the duration of the games," he said, noting Russian officials have created specific areas where they say people can gather and protest. "I'm not convinced those same people protesting will be safe once they leave the protest zones."
Miller told the Blade he would like to see the U.S. Olympic Committee, along with Coke and other Olympic sponsors pressure the Russian government to overturn the country's anti-LGBT laws. He said members of Queer Nation NY will continue to hold protests and other actions during and after the Sochi games to highlight Putin's LGBT rights record.
"He may be counting on the world's attention focusing elsewhere after the Olympics," said Miller. "It's important to pressure them."
He also said NBC, which will broadcast the Sochi games, can "cover what's going on in Russia beyond the Olympics."
Gay MSNBC anchor Thomas Roberts criticized Russia's gay propaganda law in a series of interviews he gave before he co-hosted the Miss Universe 2013 pageant in Moscow last November with singer Mel B. Neither he, nor pageant participants discussed the Kremlin's LGBT rights record during the broadcast of the event that NBC Universal co-owns with Donald Trump.
"They've done little to nothing about speaking out against the anti-gay laws and have done little to nothing about covering them or their effect," said Miller.
Bob Costas, who will anchor the network's prime time coverage of the Sochi games, told the Associated Press in November he welcomes the opportunity to directly ask Putin about the gay propaganda ban as opposed to offering his own commentary about it. He sought to clarify his comments during a Jan. 7 press conference in New York with NBC executives.
"If Putin doesn't drag his butt into the studio, then we'll talk about it without him," said Costas as the Huffington Post reported. "But if he shows up, we'd rather talk to him. Wouldn't you rather hear it from the horse's mouth? I would. That's what I was trying to say."
State Department issues Sochi travel alert
The U.S. State Department on Jan. 10 issued a travel alert to Americans planning to travel to Sochi following two suicide bombings in the city of Volgograd late last month that killed 34 people. The advisory also highlighted the vagueness of Russia's gay propaganda law.
"The U.S. government understands that this law applies to both Russian citizens and foreigners in Russia," reads the State Department alert. "Russian authorities have indicated a broad interpretation of what constitutes 'LGBT propaganda' and provided vague guidance as to which actions will be interpreted by authorities as 'LGBT propaganda.'"
Cobb acknowledged security remains a serious concern ahead of the Sochi games. He stressed, however, those who plan to travel to the Olympics need to know about the Kremlin's ongoing crackdown of LGBT rights and other issues that include freedom of speech.
"It's important for the State Department to be very clear with people traveling to Sochi about what the laws are in Russia," Cobb told the Blade.
Hudson also said those who plan to attend the games should be "mindful of" the ongoing security concerns.
"We have to be careful and measured in how we are speaking out or how someone is protesting," he said. "I don't want somebody to expose themselves to potential physical harm. However, I think that there will be opportunities to speak your mind, to show support for the LGBT community without exposing yourself to those risks."
Gay man shot to death on NYC subway train
Police say shooting was random and unprovoked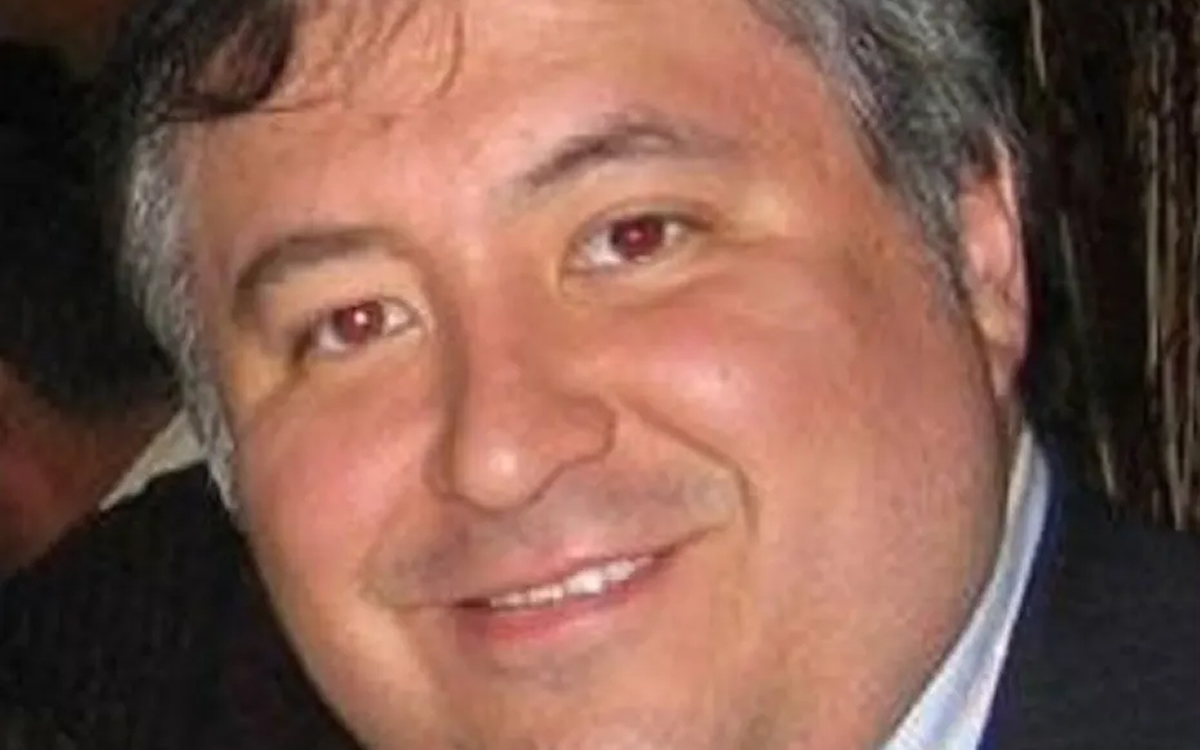 A gay man became the latest victim of a New York City subway shooting on Sunday when police say a male suspect shot Daniel Enriquez, 48, in the chest in an unprovoked random act inside a subway car traveling from Brooklyn to Manhattan.
Police on Tuesday arrested Andrew Abdullah, 25, who they identified as the sole suspect in the shooting, after attorneys representing him from the Legal Aid Society attempted to arrange for his surrender, according to a report by NBC 4 News in New York.
Police said the shooting occurred around 11:42 a.m. while the train was traveling over the Manhattan Bridge. The then unidentified suspect walked off the train and disappeared into a crowd of people when the train stopped at the Canal Street station minutes after Enriquez lay dying on the floor on the train car, police said.
Possibly based on the viewing of images from video surveillance cameras, police sources told the New York Times that investigators identified the suspect as Abdullah whose last known residence was in Manhattan, as a suspect in the fatal shooting. NYPD officials released two photos of Abdullah and appealed to the public for help in finding him.
Adam Pollack, Enriquez's partner of 18 years, told both the Times and the New York Post that Enriquez took the subway to meet his brother for brunch. According to Pollack, Enriquez previously had taken Ubers into Manhattan, where he worked and socialized, from the couple's home in the Park Slope section of Brooklyn. But in recent weeks the cost of taking an Uber rose dramatically to more than $80 for the round-trip fare, prompting Enriquez to begin taking the subway, Pollack told the Times and Post.
"I don't love the subway," the Post quoted Pollack as saying. "I know how dangerous New York is. It took me two years to get back on the subway. I don't feel safe on the subway," he said.
The fatal shooting of Enriquez took place six weeks after another gunman identified as Frank R. James began shooting inside a crowded rush-hour subway car in Brooklyn, injuring at least 23 people.
Pollack told the Times his partner was a native New Yorker who worked as a researcher for the Goldman Sachs investment bank in Manhattan. Enriquez was the eldest of five children and a beloved uncle known for taking his nieces and nephews for ice cream in local parks and out to amusement parks when he visited them, Pollack told the Times.
When asked by the Washington Blade if any evidence has surfaced to indicate suspect Abdullah targeted Enriquez because he thought Enriquez was gay, a police public information officer said the investigation into the incident was continuing.
"There's nothing on that now," the officer said. "Everything, the motive, and all of that stuff, is part of the investigation and that is still ongoing. So, there's no comment on that yet."
The Times reports that court records show Abdullah, who is now in police custody, was charged along with others in 2017 in an 83-count indictment for alleged gang related activity. The following year he pleaded guilty to criminal possession of weapons and other charges in 2018 and was sentenced the following year to a prison term and released on parole several months later.
According to the Times, he faced new gun charges in 2020, was charged in 2021 with assault and endangering a child, and in April of this year was charged with possession of stolen property and unauthorized use of a vehicle.
"We are devastated by this senseless tragedy and our deepest sympathies are with Dan's family at this difficult time," Goldman Sachs CEO David Solomon said in a statement.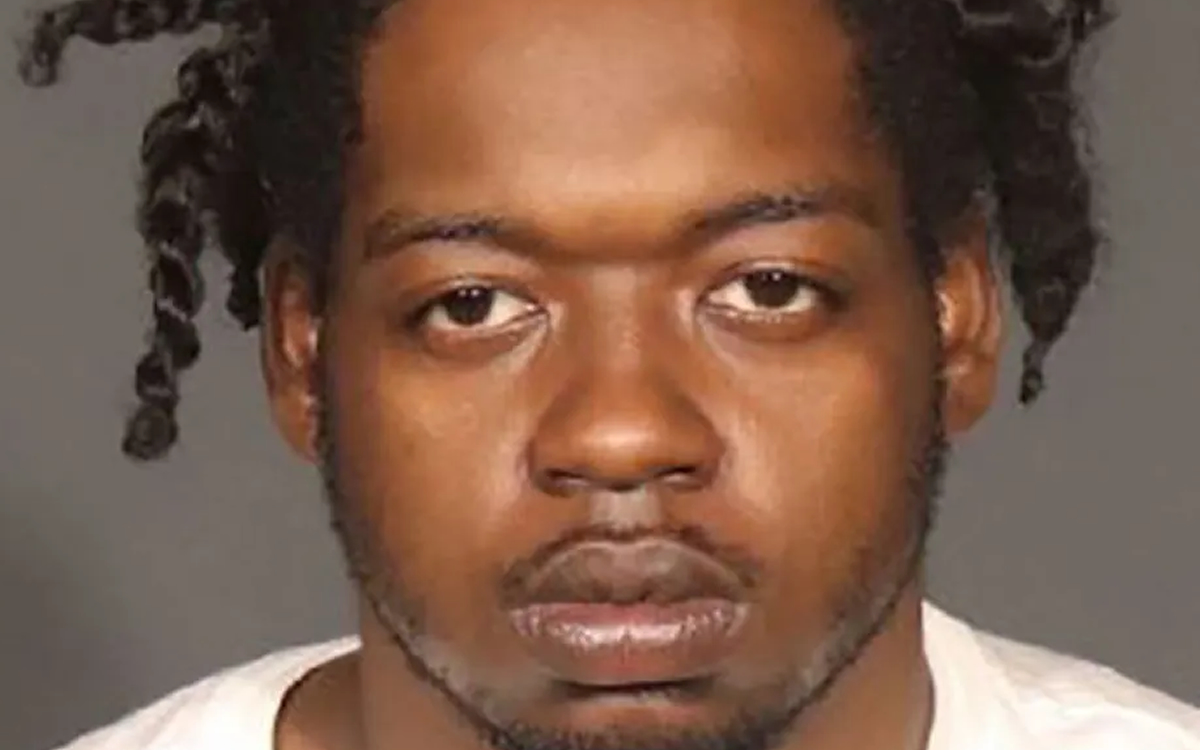 Vandals target 2 Rehoboth Beach LGBTQ-owned businesses
Staff discovers graffiti on walls, doors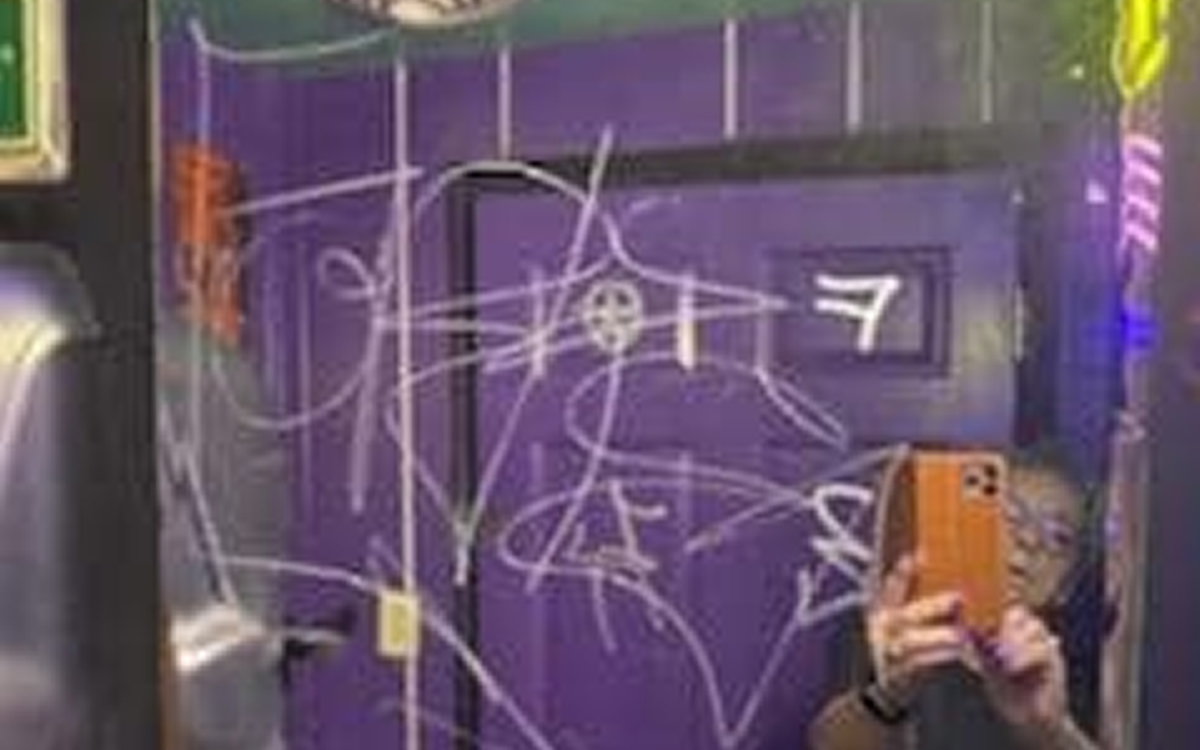 Freddie's Beach Bar and the Purple Parrot — two LGBTQ+ bars and restaurants in Rehoboth Beach — discovered that their establishments had been vandalized on Monday, according to a series of posts to the Purple Parrot's Facebook page made by Hugh Fuller, the restaurant's owner.
The vandal, whose identity remains unknown, painted on the walls and carved graffiti into the mirrors of the Purple Parrot's bathroom, and painted graffiti on the front door of Freddie's Beach Bar, the posts recounted. The establishments have since filed police reports with the Rehoboth Police Department.
Tony Rivenbark, a manager at Freddie's, said that a staff member first noticed the vandalism around 10:30 a.m. on Monday, and that it was dry to the touch, leading restaurant management to believe it was painted early in the day. Upon discovering the graffiti, restaurant staff reported it to local police and were told that other nearby locations had similarly been vandalized, he said.
Between its Rehoboth and Arlington, Va. locations, Rivenbark has worked at the establishment for almost two decades, and added that this was the first instance of vandalism at the Rehoboth venue, which has been open for less than one year. He noted that Freddie's management is currently reviewing security footage for further information, and is likely to soon install additional security cameras.
At the establishment's Arlington, Va., location, "we've had some minor spray painting done, we've had some rocks thrown at windows," he recounted. "Mostly I have attributed it to drunken antics, not so much hate. Hopefully that's the case here as well."
Rivenbark added that Freddie's staff remains positive despite the circumstances. "It doesn't seem like a huge issue. It's something we'll probably just paint over tomorrow," Rivenbark said. "I'd much rather it be some kid that's got a new little airbrush … than it being somebody that's targeting LGBT businesses."
The Rehoboth Beach Police Department declined to comment or to confirm details of the reports filed.
Pride Run returns after two-year hiatus
1,500 participants to join 10th annual event on June 10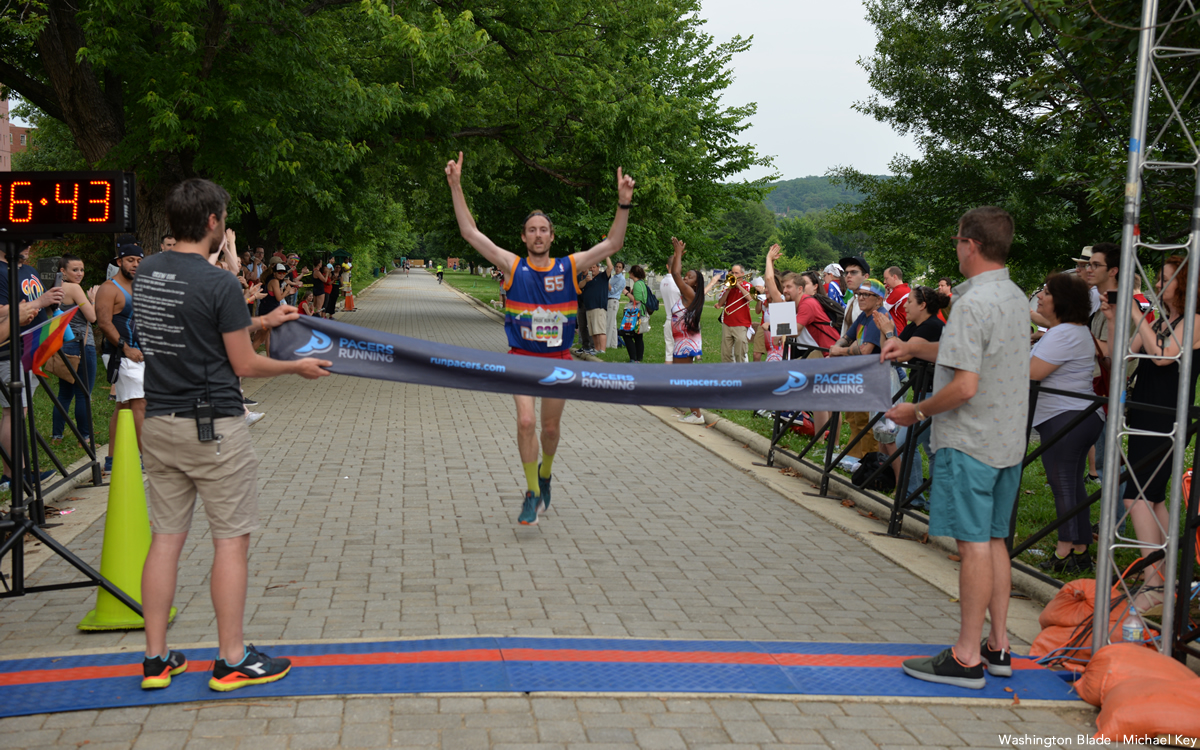 After a two-year pandemic hiatus that saw the Pride Run go mostly virtual, the DC Front Runners Pride Run 5K is elated to once again welcome nearly 1,500 runners, walkers, volunteers, and spectators back to the Historic Congressional Cemetery for their Tenth Anniversary Race on Friday, June 10.
As an official Capital Pride Partner Event, the Pride Run 5K kicks off Capital Pride weekend with a bang. Well perhaps more of a "On your mark, get set, GO!"
Join us as we run, walk, skip, shantay, and sashay on a course that starts near the cemetery's "Gay Corner" where many LGBTQ rights activists, such as Leonard Matlovich, are interred. The race then winds along the Anacostia Riverwalk Trail to finish where you started.
Gates open at 5 p.m. for packet pickup with the race beginning at 7 p.m. The post-race party includes beer and hard seltzer provided by DC Brau along with a DJ playing music until 9 p.m. Be sure to check out the return of the DCFR dance troupe performing to a hyped-up crowd.
Race proceeds benefit the following local LGBTQ and youth-supporting organizations via the Pride Run Foundation: Ainsley's Angels (National Capital Region), Casa Ruby, Team DC Student-Athlete Scholarship, SMYAL, The Wanda Alston Foundation, The Blade Foundation, and Teens Run DC. You can help support these amazing charities by registering for the race or donate directly at DCPrideRun.com.
A special thanks to the presenting sponsors, Capital One Café, Choice Hotels, KNEAD Hospitality + Design, Shake Shack, and Wegmans Food Market to the premier sponsors DC Brau, Pacers Running, and Wilkinson Barker Knauer, LLP, and our elite sponsors, AHF Healthcare Centers, Avalon Bay Communities, Casey Trees, Endorphin Fitness, and Starbucks, and of course our special partner the Historic Congressional Cemetery. Last, but not least, a big thank you to all individual donors who contribute via the race website directly to our incredible charity partners. Together, we proudly celebrate who we are in a festive, safe, and inclusive event.