March 17, 2016 at 5:01 pm EDT | by Mark Lee
Both political parties dumb down discourse
We're guilty of being smug in the nation's capital.
If not mocking Americans living in the hinterland languishing between the country's coasts or outside one of a dozen or so urban population centers, we're self-righteously shock-appalled at the lack of nuanced consideration of political issues by the masses.
We tend to think they're just not as smart or savvy or sophisticated as we are. And they know it.
Yet we overlook how both political parties have downwardly devolved discourse to a point that our national discussion is nothing more than an endless stream of ridiculous pandering.
Donald Trump is going to build a great big huge wall to stop illegal entry into the country and says he'll somehow deport the approximately 12 million people without proper papers already here. He seems to think the latter is feasible. He wants to "make America great again" but the country isn't ready for a president whose descriptors include only four or five less-than-great adjectives. That would grow very tiresome really fast.
Bernie Sanders, bless his socialist heart, apparently believes "it'll rain money … and whiskey'll flow in the streams" same as at Brokeback Mountain if only he can pickpocket more of everyone's earnings – including those with modest incomes. His claim he only wants "millionaires and billionaires" to "pay their fair share" is really more invective than inspiration. His first act in office would have to be ordering the Agriculture Department to immediately plant magic money trees to pay for all the free stuff.
Ted Cruz is so busy worrying about people violating his version of moral preferences that he must feel more potential appointee to lead an obscure religious sect than candidate to hold the highest public office. He's the guy everyone makes sure not to invite to the office party but always comes anyway. If he could drop all the morality claptrap and concentrate on bread-and-butter issues he might have a chance.
Hillary Clinton, the candidate with the worst reputation for honesty and trustworthiness among voters, is only one speech away from suddenly shifting her stance.
A few days ago, for example, Clinton stood in front of several thousand labor union activists at the Javits Center in Manhattan and surprisingly pledged to end bar and restaurant tipping as we know it, ultimately and inevitably reducing server and bartender incomes to minimum wage or close to it. Hospitality employees were stunned to hear their livelihoods and the lucrative tip wage system called "shameful" by Clinton. They're expected to presume she was merely trolling for votes by sucking up to union scheming and shouldn't worry she'll really try to wreak such economic havoc.
Clinton is being dragged so far further to the left by the challenge from Sanders and a shrinking party base no longer capable of finding its way back to the center without being catapulted there that it's conceivable she doesn't recognize herself in the mirror anymore. Her more moderate supporters cling to the notion she doesn't really mean much of it. In Clinton's case, it's not a bad bet.
Keep in mind that the two parties are now fueled by record-low numbers of affiliated voters, barely one-quarter of the populace each. Is it any wonder that the mad-as-hell people outside the wildly extreme-right and kooky far-left cartoonish caricatures the parties have become are alienated?
The Washington Post penned editorials last week under banners of "The Democratic debate was full of over-the-top promises" and "The GOP's debate was full of ignorant stereotyping." Are we to simply pick our poison?
There's a relatively good chance the Republican nominee might not be a current candidate, although Democrats aren't likely to be so lucky. Either winning or losing should prompt serious soul-searching about where on the political spectrum each party has ended up.
The only thing certain is that the process will continue to be unpredictable.
Except that voting is not usually so damn distasteful.
Mark Lee is a long-time entrepreneur and community business advocate. Follow on Twitter: @MarkLeeDC. Reach him at OurBusinessMatters@gmail.com.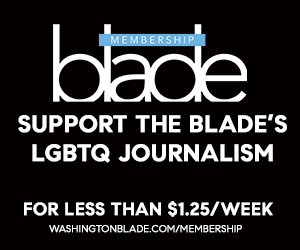 Sign Up for Blade eBlasts