October 17, 2016 at 10:16 am EDT | by Richard J. Rosendall
Overcoming Election Madness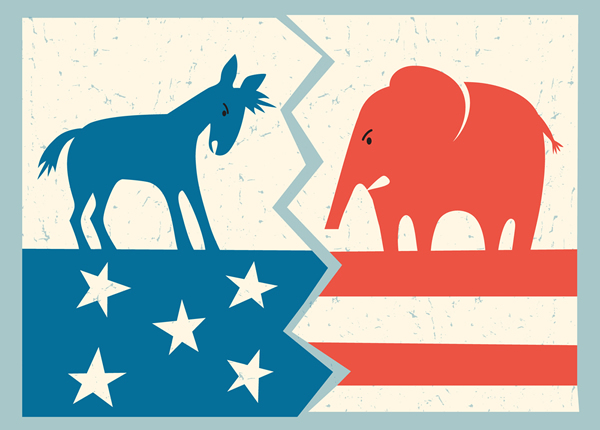 The nastiness of this year's presidential campaign makes it hard to stay on an even keel between now and Election Day.
The Republican presidential nominee, exposed as a sexual predator by his own mouth, resorts to unhinged rants and escalating accusations. He blames a media conspiracy, Mexican billionaire Carlos Slim, and the Jews. He accuses Hillary Clinton of using performance-enhancing drugs and demands a drug test before the final debate. He critiques her backside. He baselessly claims the election is rigged. His supporters threaten armed insurrection. It all comes at us too rapidly to absorb.
On October 14, he denied all charges of sexual assault and said of accuser Jessica Leeds, "Believe me, she would not be my first choice." Actually, decades after the alleged incident, I think she is still beautiful. But wait: he would rather have molested someone else? His compulsion to strike back against every critic betrayed him. His witness against Ms. Leeds, Anthony Gilberthorpe, has a history of making unproven claims, such as that he provided underage rent boys to Tory cabinet officers.
The Republican nominee lives in an alternate reality with gold toilets and adoring nincompoops who cheer every blast of his verbal diarrhea. He mocked Oscar-winner Marlee Matlin as if her deafness made her mentally challenged. He threatens press freedoms. He acts as a Kremlin mouthpiece, dramatically waving around hacked Democratic emails that only crude doctoring or wild misrepresentation can render scandalous. He treats charitable giving the way he treats contractors: just his name or good word is payment enough. This is in the great American tradition of taking what you want (Latin motto for his coins: "Cape quod vis").
That said, he did not reach the top of the ticket without help. For example, Republican legislators, spotting an opportunity to demagogue against trans people, rushed to beat back a nonexistent spate of molestations in bathrooms rather than deal with real problems facing their states. In ironic symmetry, their presidential nominee ogles teenage girls in beauty pageant dressing rooms and hits on ten-year-olds.
It will do us no good if we respond to an opportunist's drive-by political shooting with ill-focused blame of our own. Slamming the establishment in general for GOP obstruction is like responding to a broken leg by breaking your other leg. The intolerance, know-nothingism, and gridlock plaguing America have a Republican address.
The destructive resentment the GOP candidate stokes is the impulse of a mob, not a solution to any problem. We cannot solve today's challenges by retreating into the past. Immigrants are not leaving, lost industrial jobs are not returning, and women are not going back to the Mad Men era of groping and demeaning that their mothers and grandmothers endured.
At a rally in New Hampshire on October 13, Michelle Obama gave a strong, stirring speech that was a master class in political discourse. She not only turned a withering gaze on the adolescent bully who is the Republican nominee, she gave an exhortation: "On November 8th, we can show our children that here in America, we reject hatred and fear, and in difficult times, we don't discard our highest ideals. No, we rise up to meet them. We rise up to perfect our union. We rise up to defend our blessings of liberty."
We must pace ourselves to get through this ugly season. We can turn off the television, turn away from the flood of bile on social media, take in the autumn air, relax with friends. But we cannot forget our civic duty. We have to assume that those whom Trump has rallied to pull our country apart out of misdirected anger will vote. We dare not let them win by default.
A self-described feminist gadfly in Houston named Andrea lifts my spirits. Responding to Trump's claim that "a global power structure" is out to stop him, she tweeted, "We are, but most people just call us women."
The First Lady summons our better selves. Decades of progress in achieving America's ideals are at risk of being reversed, and our constitution subverted. As President Obama said, "Democracy itself is on the ballot." We don't have perfect choices, but we have clear choices. It is time to rise.
This piece originally appeared in the Washington Blade and Bay Windows.
Richard J. Rosendall is a writer and activist. He can be reached at rrosendall@starpower.net.
Copyright © 2016 by Richard J. Rosendall. All rights reserved.