Expanded edition of 'Purple Rain' is mind-blowing yet flawed
Long-delayed deluxe re-release finally finds Warner Bros. prying open the Prince vaults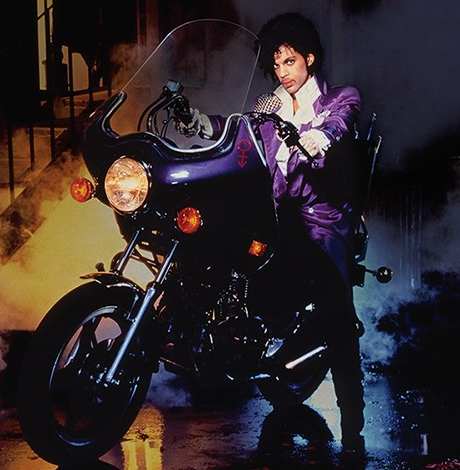 Of course it sucks beyond comprehension that Prince is dead, but if there's any silver lining to that colossally mammoth black cloud, it's that finally — finally! — the long-delayed deluxe reissue of "Purple Rain," first announced in the spring of 2014, is finally here.
So the big question remains: is it everything fans had hoped? Well … no. Of course, it was never going to be possible to please everybody. The album itself remains a masterpiece, a blistering collection of rock and funk that represents Prince and his most famous backing band, the Revolution at their peak. The album and accompanying film dominated the cultural landscape of 1984, yielding dual chart-toppers in the brooding masterpiece of minimalist tension, "When Doves Cry," and the kinetic electro-charged rocker "Let's Go Crazy," known for its jaw-dropping guitar freak-out finale.
And of course it's the title song, a rock anthem for the ages, that still gets the tears flowing all these years later. Every track is a classic, from the scalding funk of "Computer Blue," "I Would Die 4 U" and "Baby I'm a Star," the brazenly sexual "Darling Nikki," the perfect pop euphoria of "Take Me With U," to the scorchingly bitter ballad "The Beautiful Ones."
The remaster itself was engineered by Josh Welton under the supervision of Prince in 2015, and while it sounds louder and a bit brighter, it's so compressed that it loses dynamic range. The vinyl pressing, when compared to the prior 2009 reissue or even the 1984 original, shows no real discernible improvement. The deluxe two-CD set is still worth getting, though, if only for the remarkable second disc, a full 80 minutes of previously unreleased material from the "Purple Rain" era. Highlights are the stunning full 12-minute take on "Computer Blue," searing funk workouts like the 11-minute "Dance Electric," "Love and Sex" and "Possessed," and the wonderfully salacious "We Can Fuck." The shimmering instrumental "Father's Song," based around a piano melody that recurs throughout the film, is chill-inducing. There are a couple throwaways ("Velvet Kitty Cat" and "Katrina's Paper Dolls") whose inclusion is questionable given the amount of better material available and still unreleased, but by and large the disc is a revelation.
A three-CD/one-DVD set is also available, but is mostly for completists. The third disc contains all the album's single edits, 12" extended mixes and b-sides (like the essential "17 Days" and "Erotic City"), and is a nice addition that offers a more complete picture of the era's releases. The set also includes the first DVD release of a performance from March 30, 1985 in Syracuse previously released on VHS and laserdisc as "Prince And the Revolution: Live." The video is a bit grainy, but the sound is quite nice. The liner notes include fascinating commentary by Prince's long-time engineer Susan Rogers and members of the Revolution commenting on each of the album tracks.
Though flawed and non-comprehensive, this release is a nice stop-gap until, hopefully, someday a more complete and carefully curated set will see the light of day.
Janet Jackson doc premieres this weekend
Remembering 10 times iconic singer was there for LGBTQ community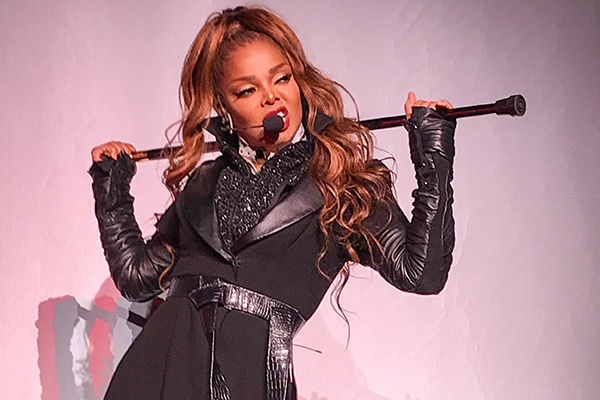 Iconic singer Janet Jackson, a longtime LGBTQ ally, unveils her long-awaited documentary simply titled "Janet" on Friday, Jan. 28. It concludes the following night; each installment is two hours long.
Jackson has said she spent five years compiling footage and creating the documentary, which airs at 8 p.m. both nights on A&E and Lifetime networks. It was produced by Jackson and her brother Randy Jackson and it's timed to commemorate the 40th anniversary of her 1982 debut album.
An extended trailer for the film reveals Jackson will talk candidly about her brother Michael and the 2004 Super Bowl incident, including the news that Justin Timberlake reached out and asked her to join him during his widely panned 2018 Super Bowl return performance.
Prior to the pandemic, Jackson announced a new studio album and tour titled "Black Diamond," but both were postponed due to COVID. No official word about the status of either, but speculation is rampant that she will finally release the new album once the documentary airs.
"Musically, what I've done, like doing 'Rhythm Nation' or doing 'New Agenda' or doing 'Skin Game,' creating those bodies of work with Jimmy and Terry, I feel like I've laid a certain foundation," Jackson tells Allure magazine in a new cover story this month. "I would hope that I'd be able to continue if I choose to. You know what I mean? But only time will tell."
As Jackson's legion of queer fans awaits this weekend's premiere, the Blade takes a look back at 10 times Janet was there for the LGBTQ community.
1. "The Velvet Rope" project. In 1997, Jackson released her critically acclaimed sixth studio album "The Velvet Rope," an introspective and deeply personal collection of songs that touched on her depression, but also tackled LGBTQ issues. On the track "Free Xone," she spoke out forcefully against anti-LGBT bias. She also covered Rod Stewart's "Tonight's the Night," without changing the pronouns in the love song, prompting speculation about her sexual orientation. But it was her international No. 1 hit "Together Again" that continues to resonate with LGBTQ fans. An upbeat, joyful dance song, it was conceived as a tribute to Jackson's friends who died of AIDS.
2. GLAAD award. In 2008, Ellen DeGeneres presented Jackson with the Vanguard Award at the 19th annual GLAAD Media Awards. GLAAD's president said, "We are delighted to honor Janet Jackson at the 19th annual GLAAD Media Awards in Los Angeles as such a visible, welcoming and inclusive ally of the lesbian, gay, bisexual and transgender community. Ms. Jackson has a tremendous following inside the LGBT community and out, and having her stand with us against the defamation that LGBT people still face in our country is extremely significant."
3. Ebony magazine interview about her sexuality. In 2001, Jackson gave an interview to Ebony magazine in which she was asked about her sexual orientation. "I don't mind people thinking that I'm gay or calling me gay," she said. "People are going to believe whatever they want. Yes, I hang out at gay clubs … I go where the music is good. I love people regardless of sexual preference, regardless of race. No, I am not bisexual. I have been linked with dancers in our group because we are so close. I grew up in a big family. I love being affectionate. I love intimacy and I am not afraid to show it."
4. Video support for It Gets Better, Trevor Project. In 2010, Jackson recorded a video for the Trevor Project and later appeared on CNN's "Larry King Live" to promote awareness of youth suicide. "If you're LGBT you're probably thinking you're all alone, but you're not," she said in the video. "I can relate because I was one of those kids who internalized everything."
5. "State of the World Tour." Jackson's LGBTQ support continued in 2017. Her tour's opening sequence highlighted a range of problems facing the world, from famine and war to police brutality and included a call for justice and for LGBTQ rights.
6. "The Kids." Jackson has always employed a diverse crew of professional dancers for her videos and tours. Some of her closest friends and collaborators over the years have been prominent out gay and lesbian choreographers, singers, dancers, makeup artists and designers. She lovingly refers to her backup dancers as "the Kids."
7. NYC Pride performance. In 2004, Jackson performed for a packed audience at Pride Dance NYC at Pier 54.
8. "Will & Grace" cameo. In 2004, Jackson made a memorable cameo on "Will & Grace," judging a dance-off between Jack and another dancer.
9. HRC, AIDS Project Los Angeles awards. In 2005, Jackson was honored by both the Human Rights Campaign and AIDS Project Los Angeles for her work raising money for AIDS charities.
10. Janet's Blade interview. In 2006, Jackson granted an exclusive interview to the Washington Blade. It was one of the rare times she touched on the Super Bowl controversy and her brother Michael's acquittal on child molestation charges, telling Blade Editor Kevin Naff, "I got all of that out of my system, that's not what I'm feeling right now. I wrote about [those controversies] but I didn't choose to put it out there on the album." In the interview, Jackson also reiterated her support for marriage equality, said she'd never had a sexual relationship with a woman and revealed that she'd never met Madonna.
BETTY holiday show rocks D.C.
Queer band returns home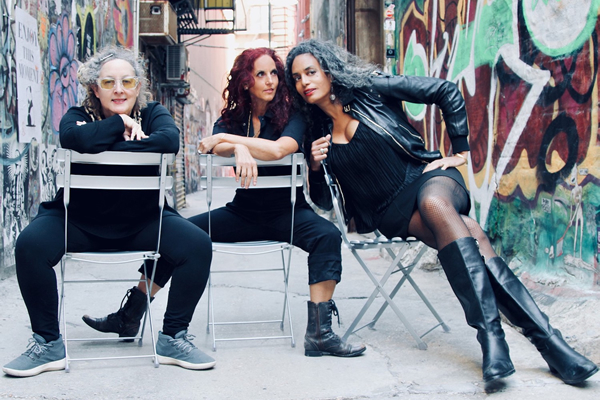 D.C. native band BETTY kicked off its "Holly Jollypocalypse" tour with a show at City Winery on Dec. 5.
The trio, including ally Alyson Palmer and queer sisters Elizabeth and Amy Ziff, debuted several new songs at the show like "Snow," "Choose You" and "Mistletoe."
"Half this set is brand new for you people. You know why? Because we knew we were coming home," Palmer said at the show.
The group also played long-loved songs by their fans, like "Xmas Ain't Coming This Year" and "Miracles Can Happen." After many requests from the audience, the band played one of their most famous songs — the theme song from the show "The L Word" — as an encore number.
Throughout the show, the group expressed their gratitude to be able to perform live again, and recognized the loss so many have experienced over the past two years due to the ongoing coronavirus pandemic.
"This really has been an unbelievably challenging time, so challenging that we can't even really wrap our brains around the PTSD," Palmer told the audience. "A lot of us have lost a lot. In the past two years, we've lost all kinds of things. We've lost a lot of people. And that's a horrible, horrible thing. But hopefully those people are somehow still connected to us."
There was a familial feel to the night — Amy brought her daughter onstage throughout the show and the band performed the song "Saylor," which is about her daughter.
"She's pretty lucky to see a couple of great goddess moms," Amy told the audience.
The band also welcomed local queer artist Be Steadwell to perform a mashup of a an original blues tune and "Silent Night." Steadwell will be performing her show Drummer Bois: Queer Caroling with Be Steadwell at the Black Cat this Friday. To learn more, visit besteadwell.com.
The members of BETTY, who proudly label themselves as "rule breakers" and "equality rockers" have been touring, writing, and advocating for social change through their music since 1986.
"We've been together for 35 years as independent artists, which is pretty miraculous when you consider that with a capitalist system and how hard it is to exist as independent musicians and artists," Elizabeth said in an interview. "We're really grateful to our audiences, in particular to our queer community, that has really supported us forever and still does."
BETTY's first show was at the 9:30 club, and the band was excited to return to their home, the trio said in an interview.
"D.C. was a great place to be to come together as feminists and as queer people and as political allies," Amy said.
Coming back and seeing the same work done by the same people in LGBTQ and feminist spaces in the District is "wonderful," Palmer said.
"We've been politically engaged for so long and socially active for so long," Palmer said. "We grew up playing for protests and playing for those huge Gay Pride marches and pro-choice marches. I mean, that kind of thing just stays with you forever."
The band has been featured in shows like "Encyclopedia," and created their own off-Broadway show "BETTY RULES." The group also launched a podcast in 2019 where they discuss how their band came to be, LGBTQ life and current events. BETTY is slated to release a new album in spring 2022 in honor of the band's 36th anniversary.
Next, the band will travel to New York City, Cincinnati, Ohio, and New Hope, Pa. for the tour. Getting back in the swing of touring has been "incredible" but a physical marathon.
"You forget that it's very physical kind of show … so it's really been funny getting back into shape in that way as well."
Forget streaming, the holiday classics return to area stages
Bring your proof of vaccination and check out a local production this season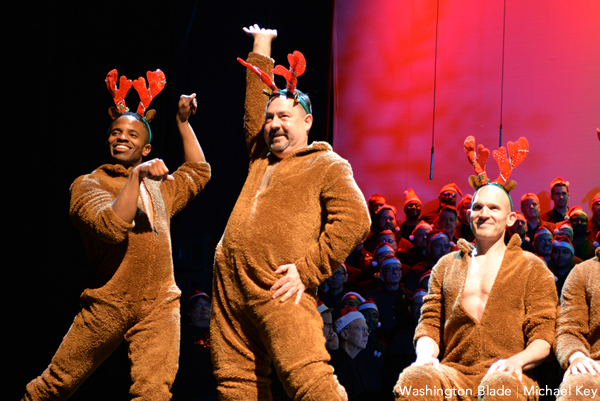 A year ago, the holiday season was streamed. But now, thanks to various protocols including masks and proof of vaccination, DMV theatergoers can come together and experience – live and in-person — both beloved classics and some promising new works. Here's a smattering of what's out there.
At Olney Theatre, Paul Morello is thrilled to bring back "A Christmas Carol 2021" (through Dec. 26), his solo adaptation of Dickens' ghost story. Concerning returning to a live audience, Morello says, "While this is technically a one-person show, it's really about the connection and collaboration with an audience, being in the same room, breathing in unison. I can't do this without an audience and for a story that thrives on redemption, mortality, isolation, the need for community and connection, and the things that matter most, the timing couldn't be better."
Olney also presents "Disney's Beauty and the Beast" through Jan. 2. This musical "tale as old as time" stars out actor Jade Jones as Belle and Evan Ruggiero plays the Beast. olneytheatre.org
For the holidays, Synetic Theater at Crystal City is reworking "Cinderella" (Nov. 27-Dec. 26). Led by an all-female team of creators, this festive take on the classic fairytale is inspired by Afro-Latino music and dance. Directed and adapted by Maria Simpkins who also plays the title role. synetictheater.org
Last year, because of COVID-19, Ford's Theatre presented "A Christmas Carol" as a radio broadcast, but now the fully produced play returns to the venue's historic stage through Dec. 27. A popular Washington tradition for more than 30 years, the thoroughly enjoyable and topnotch take on the Dickens' classic features Craig Wallace reprising the part of Scrooge, the miser who after a night of ghostly visits, rediscovers Christmas joy. fords.org
Another D.C. tradition guaranteed to put audiences in a holiday mood is the Washington Ballet's "Nutcracker," playing at the Warner Theatre through Dec. 26. Set to Tchaikovsky's enchanted score, this charming and superbly executed offering takes place in Georgetown circa 1882 and features a retinue of historic figures along with children, rats, fairies and a mysterious godfather. Choreography is by Septime Webre. washingtonballet.org
The Folger Consort, the superb early music ensemble in residence at the Folger, will be performing seven concerts of "A Medieval Christmas" (Dec. 10-18) at St. Mark's Church on Capitol Hill. A streaming version of the concert will also be available to view on-demand. folger.edu
At Lincoln Theatre, the Gay Men's Chorus of Washington, D.C. presents "The Holiday Show" (Dec. 4, 11, and 12) replete with tap-dancing elves, a dancing Christmas tree, snow, and a lot more. The fun and festive program's song list includes "Let It Snow! Let It Snow! Let It Snow!", "The 12 Rockin' Days of Christmas," and "Boogie Woogie Frosty." Featured performances range from the full Chorus, soloists, all GMCW ensembles, and the GenOUT Youth Chorus. gmcw.org
Arena Stage is marking the season with August Wilson's "Seven Guitars" (through Dec. 26), a drama about a small group of friends who gather following the untimely death of their friend, a blues guitarist on the edge of stardom. Directed by Tazewell Thompson, the production features an exciting cast that includes local actors Dane Figueroa Edidi and Roz White. arenastage.org
Creative Cauldron is serving up some holiday magic with "The Christmas Angel" (Dec. 9-19). Based on a little-known 1910 novel by Abbey Farwell Brown, it's the story of a lonely and bitter spinster who returns to happiness through a box of old toys. The commissioned new holiday musical is a collaboration of longtime musical collaborators and married couple Matt Conner and Stephen Gregory Smith (lyrics and book). creativecauldron.org
In keeping with the Yuletide spirit, the National Theatre presents two feel-good national tour musicals. First, it's "How the Grinch Stole Christmas!" (through Dec. 5), a musical take on Dr. Seuss' classic holiday tale featuring the hit songs "You're A Mean One, Mr. Grinch" and "Welcome Christmas."
Next up is "Tootsie" (Dec. 7-12), the hit musical based on the 1982 gender-bending film starring Dustin Hoffman as an out-of-work actor who disguises himself as a woman to land a role on a popular soap opera. The show boasts a Tony-winning book by Robert Horn and a score by Tony winner David Yazbek (The Band's Visit). thenationaldc.com
Keegan Theatre presents its annual holiday offering, "An Irish Carol" (Dec. 10-31). Set in a modern Dublin pub, the funny yet poignant original work (a nod to Dickens) tracks the changes in the life of a rich but miserable publican over the course of one Christmas Eve. keegantheatre.org
At Theater J, it's the Kinsey Sicks' "Oy Vey in a Manger" (Dec. 17-25). Blending drag, four-part harmony, and political humor, the "dragapella beautyshop quartet" brings its own hilariously irreverent view on the holidays. theaterj.org
And through Jan. 2, Signature Theatre continues to brighten the season with its production of Jonathan Larson's "Rent" directed by the company's out artistic director Matthew Gardiner and featuring out actor David Merino as Angel, a preternaturally energetic drag queen and percussionist. sigtheare.org
The Music Center at Strathmore, also in Bethesda, is presenting a wide range of musical holiday offerings including "Manheim Steamroller Christmas" (Dec. 3 and 4), a multimedia holiday tradition; Sarah Brightman in "A Christmas Symphony" (Dec. 6 and 7); "A Celtic Christmas with Séan Heely Celtic Band" (Dec. 11); Washington Bach Consort's "Bach's Epic Christmas Oratorio" (Dec. 11); the beloved "The Washington Chorus: A Candlelight Christmas" (Dec. 16 and 17); and last but not least "The Hip Hop Nutcracker" (Dec. 20), Tchaikovsky's classic reimagined with MC Kurtis Blow ("White Lines"). strathmore.org
And finally, something strictly for the kids: Imagination Stage presents "Corduroy" (Dec. 11-Jan. 24). Based on the beloved children's books by Don Freeman, it's the heartwarming story of a girl and her perfectly imperfect Teddy Bear. Best for ages 3-9. imaginationstage.org