June 7, 2019 at 9:09 am EDT | by Lou Chibbaro Jr.
Dyke March leaders deny anti-Semitism allegation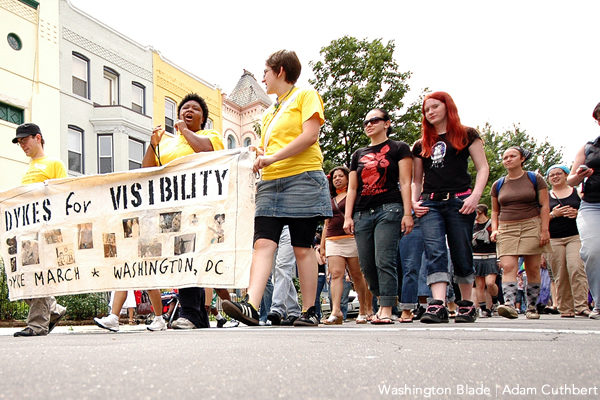 Organizers of the Dyke March scheduled to take place in D.C. today are disputing allegations by self-described "Jewish Dykes" that a decision to ban march participants from displaying Israeli flags or other symbols of Zionism, which reflect support for the nation of Israel, is a form of anti-Semitism.
In a commentary submitted to the Washington Blade and published by the Blade on Thursday, Dyke March organizers Yael Horowitz and Rae Gaines, who describe themselves as "Jewish Dykes and Dyke-ish Jews," say the restriction on the Israeli flag and Zionist symbols is part of a larger policy to ban all nationalist symbols and flags from the march.
The two say in their commentary that, "violent nationalism does not fit with our vision of queer liberation." They point out that the Dyke March, which is scheduled to kick off at 5:30 p.m. June 7 at McPherson Square and end with a rally in Dupont Circle, welcomes Jewish women and other supporters of its cause to march with them.
"We welcome yarmulkes, tallitot, rainbow pomegranates, Lions of Judah, Hamsas, chai, a menorah and anything that doesn't directly replicate nationalist images and symbols," they said.
However, Horowitz told the Washington Post that some flags, including the Palestinian flag, would be permitted for the Dyke March.
Those who object to the Dyke March restrictions on Zionist symbols say the organizers went too far by also not allowing the Jewish Pride flag, which they say represents Jewish LGBT pride. The Jewish Pride flag consists of a Star of David superimposed over a Rainbow flag.
Dyke March organizers, including Horowitz, have said the Jewish Pride flag closely resembles the Israeli flag and is a symbol of nationalism that, among other things, would make "Palestinian dykes" uncomfortable.
Organizers of the D.C. Dyke March have said one of its aims is to draw attention to and boost efforts to curtail the displacement of vulnerable D.C. residents, including LGBT residents, through gentrification and the skyrocketing cost of housing in the District that is forcing them to leave the city.
The organizers have declined to disclose the route of the march and have intentionally not obtained a permit from D.C. police for access to the streets on which they intend to march during the height of the city's rush-hour traffic. Doing so, organizers have said in statements, is a form of protest embraced by Dyke marches in cities across the country.
In an opposing column also published by the Blade on Friday, Jewish lesbian activist Julie Tagen argues that allowing some Jewish symbols to be displayed at the Dyke March but not others, such as the Israeli flag or the Star of David, is a form of discrimination against peoples' identities that the Dyke March should be opposing.
"I am an LGBTQ American," Tagen states in her commentary. "I am also a Jewish American. I don't agree with the policies of the current Israeli government, just like I don't agree with the policies of the current American government," she said. "But my Jewish faith and my LGBTQ identity are essential parts of who I am as a human being. To discriminate against one part of my identity is to discriminate against all of me." She has called on march organizers to rescind their ban on such symbols or flags.
The D.C. LGBT synagogue Bet Mishpachah also issued a statement calling on the Dyke March to reverse its ban on participants displaying the Star of David superimposed over the Rainbow flag.