Holiday haulers
Honda Passport, Lincoln Nautilus among crossover standouts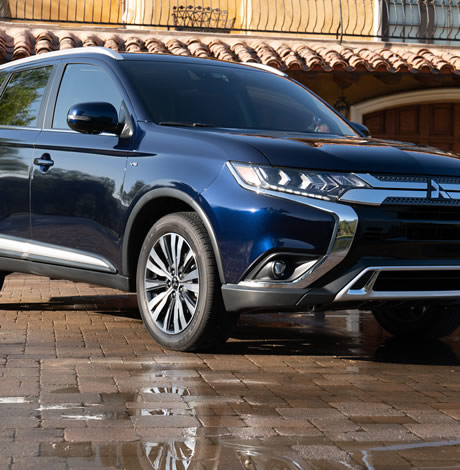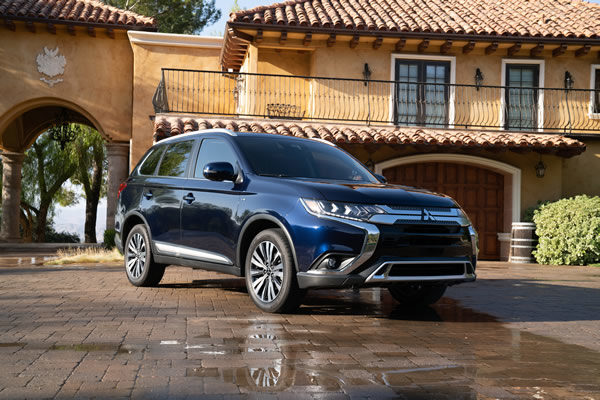 Dashing through the snow just got a lot more fun with some smartly designed midsized crossovers. Sure, each has a blemish or two (just like so many of us), but none is a deal-breaker. Most offer plenty of spunk, from decked-out cabins to engines that can haul ass. While holiday crowds and congestion can bring out the Scrooge in me, driving each of these rides turned out to be an ode to joy.
HONDA PASSPORT
$32,000
MPG: 19 city/24 highway
Zero-60 mph: 6.2 seconds
As if there weren't enough crossovers to choose from on dealer lots, Honda decided to shoehorn in another one. Slotted between the compact CR-V and full-size Pilot, the Passport is the best of both worlds. This ride is roomier than the CR-V, with a raised suspension and acres of cargo space for suitcases and holiday presents. And though it's built on the same chassis as the heftier Pilot, the Passport is six inches shorter and about 100 pounds lighter.
This means decent fuel mileage and easier parking. My test vehicle was surprisingly quiet and came in the top-of-the-line Elite trim level, which is $12,000 more than the base model. Goodies included heated/ventilated seats, heated steering wheel, LED interior lighting, auto-dimming side mirrors, wireless smartphone charging pad and all-wheel drive. But I could have done without the push-button shifter on the console. Pushing a button to change gears is just not intuitive, so give me a stick shift any day.
While there's no 360-degree camera, I did appreciate all the other safety features, like automatic high beams, forward collision warning, blind-spot monitor, parking sensors and more. The hands-free liftgate and integrated voice controls came in handy on a few shopping treks to Tysons.While this is no speed racer, accelerating from a standing start was much better than expected. So was the precise steering and nimble cornering. And the cabin, with its ample amenities and soft-touch materials, was akin to riding in an upscale Acura.
LINCOLN NAUTILUS
$42,000
MPG: 19 city/26 highway
Zero-60 mph: 6.8 seconds
Perhaps Lincoln renamed its top-selling MKX crossover the Nautlius because of the sea of luxury features. All the usual creature comforts are here, plus optional surround-view camera, massaging seats and a sparkling 19-speaker Revel stereo. There's also the swanky Black Label trim level, where — for a $15,000 premium — you enter a world of free carwashes, annual detailing and a concierge to run your errands. Yes, seriously.
Think of it as having your own personal Santa. Of course, even entry-level Lincoln owners get pampered, with free pickup and delivery for regular maintenance, as well as a limited-time membership in Clear—the service that lets you bypass long security lines at airports. Compared to the dated MKX, the Nautilus has a stylish new front, glitzy grille and five-tier headlights. While the angled liftgate with sporty rear spoiler brings to mind a sexy Porsche Cayenne, the overall design seems more like a sculpted land yacht — in a good way. Despite the old-school cool, there's plenty of today's tech: rear entertainment system and wireless charging for smartphones and such.
Along with the typical safety gear, Lincoln threw in a nifty system for hands-free driving. There are some downsides, though, like the dated console and hard plastic interior trim. As with the Honda Passport, you have to push buttons to shift gears instead of using a good ole shifter. And beware: A fully loaded Nautilus can easily top $60,000. Still, the power, handling and fuel economy are just as good as the competition. And for anyone who geeks out on retro chic, this ride is hard to beat.
MITSUBISHI OUTLANDER PHEV GT
$42,000
MPG: 74 (gas-electric mode)
Zero-60 mph: 9.2 seconds
If you're looking to be naughty and nice, there's the Mitsubishi Outlander PHEV GT. It's naughty, because buying a Mitsubishi will brand you a rebel. After all, the automaker isn't known for producing vehicles that push the design envelope. The cabins are often more practical than posh.
And for many four-wheel Mitsu products, so-so reliability ratings haven't exactly been a plus. Yet this crossover really is nice, with refreshed styling, updated seats and a sleeker center console for 2019. Plus, the Outlander PHEV is now the world's best-selling plug-in hybrid. I wanted to test it because a completely redesigned 2021 Outlander is in the works and will likely cost more when it arrives in showrooms. This Outlander can go up to 22 miles in all-electric mode, before switching to gas-electric mode.
The base model is chock full of features, but the GT trim level is the one to pick. It offers keyless entry, surround-view camera and numerous safety features. There's also a premium 710-watt Rockford Fosgate stereo with super-thumpin' subwoofer in the back. Listening to it helped channel my frustration one afternoon when I got stuck trailing a granny for 20 minutes.
Cornering isn't as tight as I would like, but the all-wheel drive is plenty grippy on slick roads. Another plus: This is perhaps the only plug-in hybrid that can actually tow anything. And while hybrids usually are more expensive than traditional gas-engine models, there are certain federal, state and local tax rebates/incentives to help lower the price. Oh yes, the 10-year/100,000-mile powertrain warranty is another nice touch, too.
Pride rides
Two models offer strong, confident, inspiring styling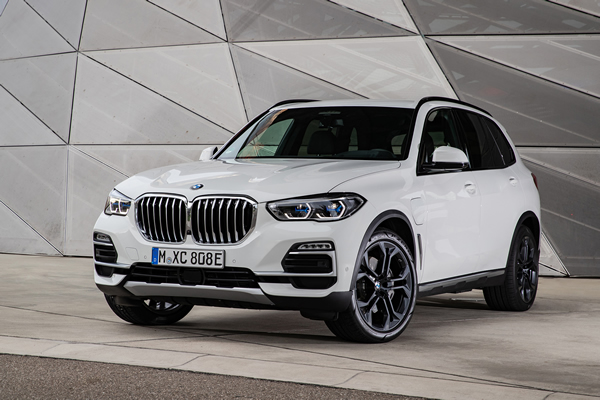 As usual, June is bustin' out all over, with Vice President Kamala Harris making history by joining in the festivities. But the fun doesn't have to end there. Two fine crossover SUVs show how easy it is to keep the party going indefinitely. I call them Pride rides—strong, confident and inspiring.
BMW X5 XDRIVE 45E
$66,000
Mpg: 20 mpg (gas only), 50 mpg (electric and gas)
0 to 60 mph: 4.7 seconds
In 2015, back when Gus Kenworthy and Caitlin Jenner came charging out of the closet, BMW was making its own hoopla with the X5 xDrive 40e. This was the automaker's first plug-in hybrid, an engineering marvel that could shift seamlessly between EV and gas-engine mode. Ride and handling were as good as any traditional SUV. And despite a hefty curb weight, acceleration to 60 mph was a decent 6.2 seconds.
Fast forward to the X5 xDrive 45e, the next-gen model rolling into showrooms this year. Thanks to the pandemic, this debut has been more subtle. But the enhancements are quite substantial. The new engine—stronger and quieter than the previous model—helps this midsize SUV blast to 60 mph in just 4.7 seconds. Despite being over 400 pounds heavier, the updated X5 is actually nimbler. And the electric-only range is 31 miles, or twice as far as the old model. That's a good thing, because overall fuel economy is now 20 mpg versus 24 mpg. Luckily, most motorists drive only about 30 miles each day anyway. (Or at least they did prior to the pandemic.)
Inside, the cockpit design is minimalist chic, but with lots of standard features: faux-leather seats, panoramic roof, two 12.3-inch digital screens, and smartphone integration for both Android Auto and Apple CarPlay. All-wheel drive also is standard, even in electric-only mode. Along with all the latest safety gear, there's active cruise control with a stop-and-go function that can be used at speeds up to 130 mph (yo, for autobahn drivers, not those of us stateside). And during a much-needed weekend getaway with some freeway backups, the traffic-jam-assist feature worked its magic: I was able take my hands off the wheel and relieve a lot of driver fatigue and frustration as the vehicle drove itself. This also was a blessing for my partner, who didn't have to listen to me swear like a New York City taxi driver.
MERCEDES GLS 450
$76,000
Mpg: 20 city/24 highway
0 to 60 mph: 5.8 seconds
For a few more bells and whistles, there's the Mercedes GLS 450. This full-size SUV has acres of cargo room and can easily seat seven passengers. For a sportier vibe, you can swap out the second-row bench seat for two captain's chairs.
A robust six-cylinder engine comes standard and provides plenty of punch. The entry-level GLS handles just as effortlessly as the higher-end V8 model, which adds another $23,000 to the price tag. Both vehicles are smooth operators, with all-wheel drive and a sophisticated suspension that raises and lowers the chassis. There's even a clever pothole-sensing system to neutralize nasty bumps and enhance the feeling that this hulking SUV is floating on air. As with many BMWs and Mercedes, the GLS now comes with two huge 12.3-inch screens: one for the digital gauges and the other for the infotainment system.
Various pricey options abound, including five-zone climate control, a tablet to operate the infotainment system, and front and rear massaging seats that can be programmed to apply soothing relief to your back, tush or both. As if such amenities weren't enough, you can toss in heated and cooled cupholders, as well as a cabin fragrance system with choice of four aromas. Both Mercedes and BMW offer vibrant ambient lighting, with thin strips of interior lights illuminating the foot wells, door panels, dashboard trim, climate control vents, cupholders, speaker rims, center console and more. To tap into your inner rainbow, the GLS has a digital color wheel where you can choose from 64 lustrous hues. You can customize the lighting even further, selecting different colors to illuminate various parts of the interior at the same time. For me, calling up some funky mood lighting and a few rockin' Pride songs on the stereo is the perfect way to get the party started.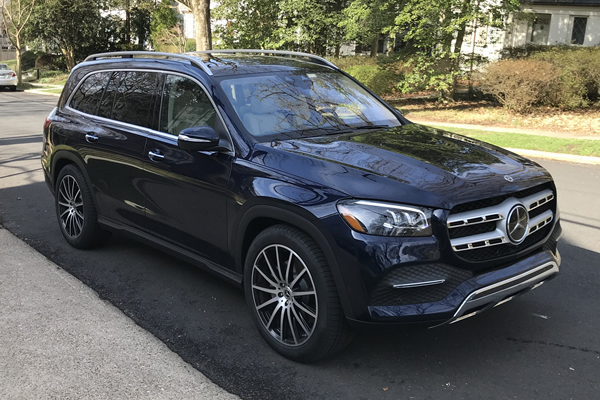 Smart rides for trying times
Two affordable options as supply dwindles and demand soars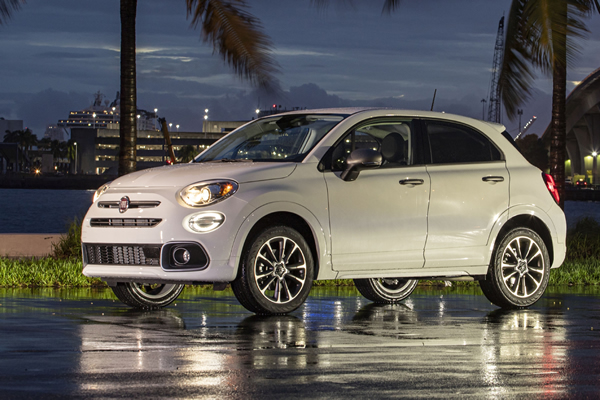 As if the pandemic, political discord and even cicadas weren't enough, now there's trouble brewing when trying to buy a new car. Parts shortages of computer chips, rubber, and other supplies mean new-vehicle inventory is down a whopping 40 percent. And with supply so low, demand is ratcheting up. So expect higher prices, along with fewer dealer and automaker incentives. But there are still opportunities out there. This includes opting for less popular models, such as coupes or sedans instead of hot-ticket SUVs and trucks. Or choosing niche models like the Fiat 500X or Mini Cooper Countryman. These two rather off-beat rides may lack the overall room and practicality of larger crossovers, but they perform nicely and are relatively affordable—at least for now.
FIAT 500X
$25,900
Mpg: 24 city/30 highway
0 to 60 mph: 8.7 seconds
Buying a Fiat is all about making a fashion statement, combining Italian flair with frugal pricing. The automaker's decision to reduce its lineup and focus on just one vehicle—the 500X subcompact crossover—only adds to the cachet. Everything about the 500X is charming, including the Lilliputian size, retro exterior and dazzling dashboard with interlocking display gauges. And the name of the base-model adds a bit of whimsy: Pop. There are three other trims—Sport, Trekking and Trekking Plus—but none of them is exactly racy or off-road ready.
Built on the same platform as the Jeep Renegade, the 500X handles fairly smoothly, at least on the freeway. The short chassis makes it difficult to glide over bigger bumps and potholes, and some body sway is noticeable on tight curves. With just 14 cubic feet of back-end cargo space, there's room only to haul some groceries and such. Still, the four-cylinder turbo engine is perky enough, and the standard all-wheel drive came in handy during a few unexpected downpours. The well-bolstered seats now have updated upholstery, and those funky circular headrests look like something from a Flash Gordon spaceship. There are a surprising number of safety features, including automated emergency braking, blind-spot monitor with rear cross-traffic alert, and lane-departure warning with lane-keeping assist. And warranty coverage is decent, though there is no complimentary scheduled maintenance. Sure, the 7-inch infotainment touchscreen seems tiny compared with larger displays in other crossovers. But those vehicles cost more, and at least the Fiat comes with smartphone integration and three USB ports. Options include a Beats stereo, heated seats, LED headlamps, front and rear parking sensors, and even a panoramic sunroof. Yes, there's plenty of personality here and also a decent number of amenities.
MINI COOPER COUNTRYMAN JCW
$42,400
Mpg: 23 city/31 highway
0 to 60 mph: 4.4 seconds
For a bit more room and a lot more vroom, there's the Mini Cooper Countryman. The base model starts at a very affordable $29,200. But the test vehicle that arrived for me to review was the souped-up JCW edition. While it's definitely pricey, this pocket rocket costs much less than high-performance crossovers from BWW or Mercedes. Yet it's just as blisteringly fast. The acceleration literally took my breath away, and the guttural exhaust rumble—which was downright primal—turned more than a few heads.
The Countryman is the largest vehicle in the Mini lineup, and for 2021 the exterior gets a tasteful refresh. This includes a flashier grille and bumpers, as well as the clever Union Jack design etched into the taillights. The JCW model boasts larger wheels, more form-fitting seats, rear spoiler and a sport-tuned suspension that helps transform this crossover into a tuner car. Along with keyless entry and power-folding mirrors, there's also a rear-view camera, ambient lighting and wireless charging. But while Apple CarPlay is available, Android Auto is not. As with the Fiat 500X, the high seating and deft placement of side pillars help with driver visibility. But the Countryman does offer a tad more legroom and rear cargo space. Either vehicle will do, though, if you're itching to toss in a few overnight bags to simply get away from it all.
Sport sedans make spirited return
Forget crossovers, these models are a thrill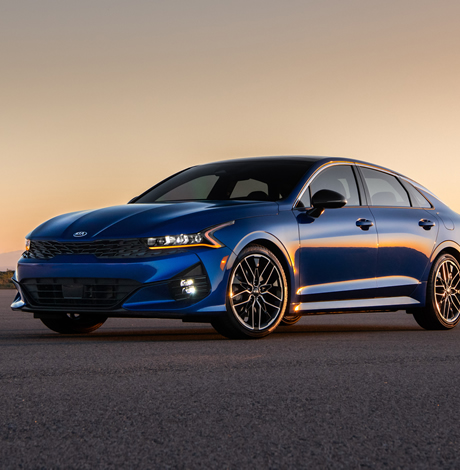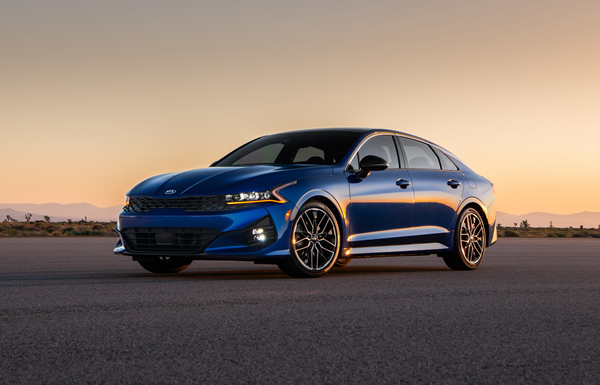 Remember four-door sedans? Once upon a time, they ruled the road. But today the buzz is all about crossovers and SUVs. Last year Ford phased out most of its sedans, and cars were only 8% of GM's retail sales. Case closed, or so it seemed. After recently testing the all-new Kia K5 and a restyled Mercedes E 450 for a week, I was blown away with how a true sport sedan—done just right—is still a thrill ride. Perhaps Nietzsche said it best: What doesn't kill you makes you stronger.
KIA K5
$24,000
Mpg: 29 city/38 highway
0 to 60 mph: 5.8 seconds
Gay magician Michael Carbonaro would feel right at home at Kia. The automaker keeps pulling rabbits out of the hat with dazzling vehicles at affordable prices. Such is the case with the all-new K5, which replaces the once-formidable Optima midsize sedan. Optima sales slid some 40% the past few years as consumers gobbled up crossovers, so Kia sprinkled pixie dust on the sheet metal to come up with styling that borrows heavily from the high-test Stinger muscle sedan. The result is a snotty-nosed grille on the K5, along with zig-zag headlights and a cascading rear that evokes a sexy fastback coupe.
Yet the base price is $10,000 less than a Stinger. The K5 also gets better gas mileage and comes with more standard safety gear, including automatic emergency braking, forward collision warning, driver attention warning, pedestrian detection and other goodies. There's even a rear-occupant alert—an audible reminder to check the backseat when exiting the vehicle—and a safe-exit system to prevent rear passengers from opening doors into vehicles approaching from behind. The base four-cylinder turbo is dandy, especially for daily commutes. But to unleash your inner speed demon, the GT model boasts a lustier engine, bigger brakes, sportier suspension and wider tires. No, this isn't a BMW 5 Series sedan, but the GT's ride and handling are close. The interior on all trim levels looks chic, with a sculpted dash full of user-friendly knobs and switches, tasteful wood trim and smartphone integration. Among the many options: all-wheel drive, heated/ventilated seats, ambient lighting, panoramic sunroof and a 10.25-inch touchscreen. I also enjoyed bopping to tunes on the premium 12-speaker Bose stereo, which benefited from an acoustic-laminated windshield that muffles outside noise.
MERCEDES E 450 4MATIC
$64,000
Mpg: 23 city/31 highway
0 to 60 mph: 4.3 seconds
If your queer eye craves lots of glitz and glamour, there's the Mercedes E 450. At almost three times the price of a Kia K5, this swanky sport sedan has a split personality: sportster wannabe versus luxe-like land yacht. Yet the vibe works, combining jazzier-than-expected styling with a boatload of amenities.
The effortless acceleration and engaging steering are sublime, especially when dodging potholes and wayward delivery trucks. And the richly appointed cabin brought miles of smiles during my first weekend getaway in over a year. A wraparound dash has two ginormous 12.3-inch screens: one for the digital instrument cluster and another for all the infotainment gizmos. You can even add augmented reality navigation, with turn-by-turn directions ala Waze. Other options include rapid-heat front seats, heated armrests and heated front center console, as well as a 360-degree bird's-eye camera, rear sunshade and Burmester surround-sound stereo with 23 speakers. The finely crafted seats are exquisite—and slightly erotic, with deep-massage functions that caressed and stimulated me in sinful ways.
Alas, some of the creature comforts are almost too high tech, like the touchy steering-wheel audio controls and numerous options for accessing and updating channels and presets. I finally got the hang of it after a few days, but it would have been nice if the infotainment system was more intuitive from the get-go. Still, such quibbles turned out to be minor. As with the Kia K5, the Mercedes E 450 was a real pleasure to drive. Despite—or because of—fewer sedans on the road these days, both rides were also turning a lot of heads. That's the power of retro rides, when everything old becomes new again.