December 22, 2019 at 7:56 am EST | by Joe Phillips
Holiday haulers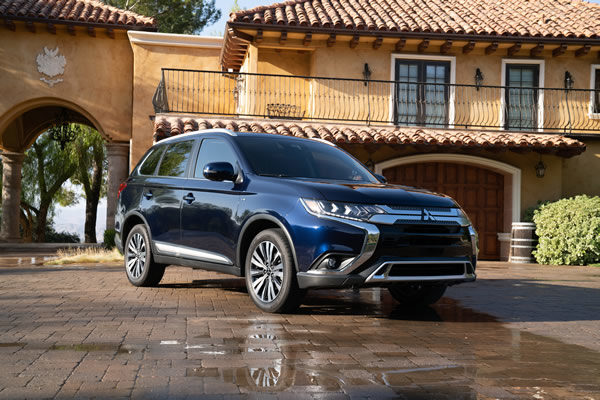 Dashing through the snow just got a lot more fun with some smartly designed midsized crossovers. Sure, each has a blemish or two (just like so many of us), but none is a deal-breaker. Most offer plenty of spunk, from decked-out cabins to engines that can haul ass. While holiday crowds and congestion can bring out the Scrooge in me, driving each of these rides turned out to be an ode to joy.
HONDA PASSPORT
$32,000
MPG: 19 city/24 highway
Zero-60 mph: 6.2 seconds
As if there weren't enough crossovers to choose from on dealer lots, Honda decided to shoehorn in another one. Slotted between the compact CR-V and full-size Pilot, the Passport is the best of both worlds. This ride is roomier than the CR-V, with a raised suspension and acres of cargo space for suitcases and holiday presents. And though it's built on the same chassis as the heftier Pilot, the Passport is six inches shorter and about 100 pounds lighter.
This means decent fuel mileage and easier parking. My test vehicle was surprisingly quiet and came in the top-of-the-line Elite trim level, which is $12,000 more than the base model. Goodies included heated/ventilated seats, heated steering wheel, LED interior lighting, auto-dimming side mirrors, wireless smartphone charging pad and all-wheel drive. But I could have done without the push-button shifter on the console. Pushing a button to change gears is just not intuitive, so give me a stick shift any day.
While there's no 360-degree camera, I did appreciate all the other safety features, like automatic high beams, forward collision warning, blind-spot monitor, parking sensors and more. The hands-free liftgate and integrated voice controls came in handy on a few shopping treks to Tysons.While this is no speed racer, accelerating from a standing start was much better than expected. So was the precise steering and nimble cornering. And the cabin, with its ample amenities and soft-touch materials, was akin to riding in an upscale Acura.
LINCOLN NAUTILUS
$42,000
MPG: 19 city/26 highway
Zero-60 mph: 6.8 seconds
Perhaps Lincoln renamed its top-selling MKX crossover the Nautlius because of the sea of luxury features. All the usual creature comforts are here, plus optional surround-view camera, massaging seats and a sparkling 19-speaker Revel stereo. There's also the swanky Black Label trim level, where — for a $15,000 premium — you enter a world of free carwashes, annual detailing and a concierge to run your errands. Yes, seriously.
Think of it as having your own personal Santa. Of course, even entry-level Lincoln owners get pampered, with free pickup and delivery for regular maintenance, as well as a limited-time membership in Clear—the service that lets you bypass long security lines at airports. Compared to the dated MKX, the Nautilus has a stylish new front, glitzy grille and five-tier headlights. While the angled liftgate with sporty rear spoiler brings to mind a sexy Porsche Cayenne, the overall design seems more like a sculpted land yacht — in a good way. Despite the old-school cool, there's plenty of today's tech: rear entertainment system and wireless charging for smartphones and such.
Along with the typical safety gear, Lincoln threw in a nifty system for hands-free driving. There are some downsides, though, like the dated console and hard plastic interior trim. As with the Honda Passport, you have to push buttons to shift gears instead of using a good ole shifter. And beware: A fully loaded Nautilus can easily top $60,000. Still, the power, handling and fuel economy are just as good as the competition. And for anyone who geeks out on retro chic, this ride is hard to beat.
MITSUBISHI OUTLANDER PHEV GT
$42,000
MPG: 74 (gas-electric mode)
Zero-60 mph: 9.2 seconds
If you're looking to be naughty and nice, there's the Mitsubishi Outlander PHEV GT. It's naughty, because buying a Mitsubishi will brand you a rebel. After all, the automaker isn't known for producing vehicles that push the design envelope. The cabins are often more practical than posh.
And for many four-wheel Mitsu products, so-so reliability ratings haven't exactly been a plus. Yet this crossover really is nice, with refreshed styling, updated seats and a sleeker center console for 2019. Plus, the Outlander PHEV is now the world's best-selling plug-in hybrid. I wanted to test it because a completely redesigned 2021 Outlander is in the works and will likely cost more when it arrives in showrooms. This Outlander can go up to 22 miles in all-electric mode, before switching to gas-electric mode.
The base model is chock full of features, but the GT trim level is the one to pick. It offers keyless entry, surround-view camera and numerous safety features. There's also a premium 710-watt Rockford Fosgate stereo with super-thumpin' subwoofer in the back. Listening to it helped channel my frustration one afternoon when I got stuck trailing a granny for 20 minutes.
Cornering isn't as tight as I would like, but the all-wheel drive is plenty grippy on slick roads. Another plus: This is perhaps the only plug-in hybrid that can actually tow anything. And while hybrids usually are more expensive than traditional gas-engine models, there are certain federal, state and local tax rebates/incentives to help lower the price. Oh yes, the 10-year/100,000-mile powertrain warranty is another nice touch, too.