January 30, 2020 at 3:35 pm EST | by John Paul King
Storm's Sullivan becomes first out bisexual player in pro hockey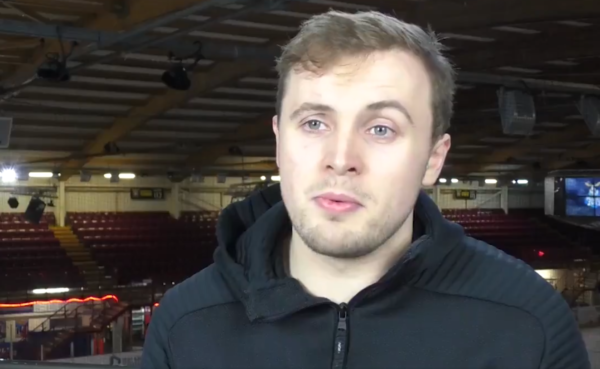 Yet another figure in the world of professional sports has come out of the closet.
Last weekend, Manchester Storm defenseman Zach Sullivan came out as bisexual on social media. According to Outsports, he is believed to be the first professional ice hockey player to do so during their career.
The 25-year old UK hockey player made his revelation as his team's Elite Ice Hockey League held its first-ever Pride weekend, in partnership with You Can Play. Hockey website RMNB reports that support for the weekend was league-wide; individual teams selected a local LGBT+ charity to work with, with initiatives ranging from the use of Pride tape, specially designed Pride jerseys, raffles and auctions to win player's shirts, Pride merchandise for sale, and some proceeds going to directly to LGBT+ organizations. The weekend received heavy promotion across social media and in national and local news coverage across the UK.
Ahead of Sunday's game between the Storm and rival team the Dundee Stars, Sullivan took to Instagram and Twitter with a the following post:
"With this being the first ever EIHL #PrideWeekend I feel now is the best time to speak about what I have known for many years. I have battled with mental health problems over this issue and with the support, understanding and acceptance from my family, friends and teammates, I finally feel read to say; I'm bisexual. I have never been more proud to wear a jersey before, especially one that celebrates all gender identities and sexualities."
His post on Twitter was accompanied by a photograph of himself and teammates Cam Critchlow and Jared Aulin, each of them wearing the Manchester Storm Pride jersey.
#PrideWeekend #ICanPlay #YouCanPlay @officialEIHL @Mcr_Storm pic.twitter.com/2FH6AtDZ4f

— Zach Sullivan (@ZachSully11) January 26, 2020
Response to Sullivan's revelation came quickly from both fans and players of the Storm, as well as from fans and players of other teams both within and outside of the Elite League, and was described by RMNB as "overwhelmingly positive." The Tweet currently has 6.6K likes and 1.1K retweets, while the Instagram post has nearly 1700 likes.
Among the many supportive comments:
"Huge thanks for your courage in sharing your story, @zachsully94, & being proud of who you are! Your authenticity & bravery will make a difference in the lives of more lgbtq youth worldwide than you can imagine. Much continued success & #BeTrue! 🏒 🥅 🏳️‍🌈♥️" (@gamcockgrad84 on Instagram)
"To be open and honest on who you are will forever be the best desicion you will ever make. So proud of you!" (@hans.morten.storsveen on Instagram)
"So proud of you. This shows how important having this weekend is for our sport it's allowed you to live your truth and just be you." (@DaytonDevil on Twitter)
"Sending much love your way. Not sure you'll ever know how you'll have helped gay hockey fans like myself. #icehockeypride #stormtheice" (@theicehockeynut on Twitter)
Following Sullivan's initial social media posts, Manchester Storm posted a follow-up statement on their website, in which they said were "extremely proud of Zach," and called him "a role model for so many people, young and old, in the sporting world."
The statement also included additional comments by Sullivan, who explained, "I'm not doing this in the hope of any publicity. I've always been a very private guy, but I realise that I have a unique opportunity to do some good. If I can be open and honest about my sexuality, then hopefully that will give other hockey players around the country the same confidence to do the same."
Manchester Storm went on to beat the Dundee Stars 3-0 at Sunday's game. One fan who attended the game, Hilary Keane, told RMNB "When they called his name and number as he stepped onto the ice for warmups the cheer was noticeably louder than it was for any other player. Then, when he was called to do the ceremonial puck drop the entire building cheered and got on their feet for him."
On Monday, Sullivan went on radio station BBC Manchester, where he told an interviewer:
"I think it's a journey that everyone has to take at their own pace. By no means, just because I've done it, do I expect hundreds of other people to do it, that's not what I've done this for. If me saying this can help someone else feel better about themselves or move them a little bit further on their journey, then that's my end target. Everyone's different, but at the end of the day everyone's still human. It doesn't matter who you are, or what you believe in, or who you fall in love with. My suggestion is to just be yourself and take it at your own pace."
Sullivan's opening up about his bisexuality comes just a few months after Jon Lee-Olsen, goalkeeper for Denmark's Rungsted Seier Capital, became one of the few professional hockey players ever, and possibly the only one currently playing in the world, to come out openly as gay.