March 26, 2021 at 9:22 am EDT | by Brock Thompson
'The Birdcage' turns 25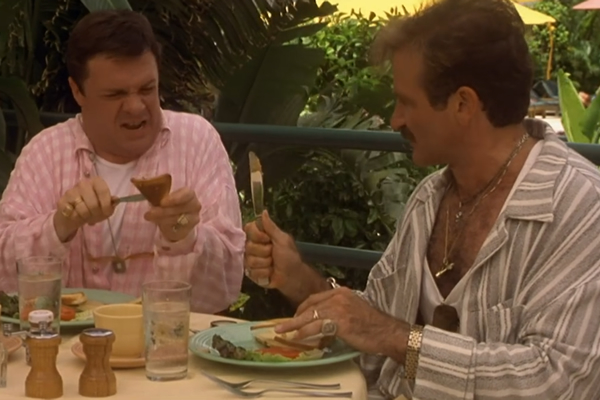 Take your pick. The movie is infinitely quotable.
"It's like riding a psychotic horse toward a burning stable."
"Oh, what interesting china. It looks like young men playing leap frog."
"You're going to the cemetery with your toothbrush. How Egyptian."
There are dozens more. And if you're gay and have been to a dinner party over the years, you've probably heard them. This year marks the 25th anniversary of Mike Nichols's now gay classic "The Birdcage," itself a remake of the 1978 Franco-Italian film "La Cage aux Folles." The film is sort of a powerhouse of acting, with Gene Hackman, two-time Academy Award winner Dianne Wiest, and anchored by one of the biggest box-office stars of the time, Robin Williams. The movie in a nutshell is a new take on the "Guess Who's Coming to Dinner" model, offering a situational comedy like no other.
The cold, grey, conservative Keeley's of Ohio visit the colorful, vibrant Goldmans (or is it Coleman?) of Miami Beach, all for dinner and to meet the parents of the boy their daughter is wanting to marry. Of course there are more layers to it all. The head of the Keeley clan is a conservative senator in the age of family values, Armand Goldman owns a drag club where his partner is the star. So you can see how it goes more or less.
Simply, the film is a celebration of gay life, and at a time when that was needed badly. And couple it with "Philadelphia" the film that was released two years prior starring Tom Hanks, still now and then one of America's biggest stars. For so long, gay men in film were suffering creatures. Name any film featuring a gay character prior to "The Birdcage" and the chances of the gay character making it to the end of the film alive were not great. "The Birdcage" turns this all on its head. For gays in the audience we saw happy, healthy, thriving gay men in loving a relationship and owners of successful business. For the straight people in the audience, they saw all that, too.
But for many, I'm guessing the vast majority, they had never seen the inside of a gay bar before, not to mention a loving gay home. It was a peek into a world that they would never really be a part of. But again, back to the gays in the audience, we knew who the joke really was on, and which family in the movie you would rather be a part of. It's no wonder the film begins and ends with Sister Sledge's 1979 gay anthem "We are Family." And in the film, just when everything seems hopeless, Barbara Keeley, played here by Calista Flockhart, turns to the Goldmans and says that, "I would have loved to have been part of your family." The choice for everyone was obvious.
"The Birdcage" might not be the perfect gay film, but it's a perfect little gay film. It's hard to call the movie seminal when it should be, because so little mainstream gay cinema came along after. Sure, we had 2018's "Love Simon," but that was more a less a teen romantic comedy. Important, sure, but I'd venture to say it didn't have the mainstream appeal, much less success, "The Birdcage" enjoyed. Then of course there was 2005's "Brokeback Mountain," both a mainstream and critical success. But it's not a film you revisit time and time again, stream on rainy Rehoboth days, throwing around quotations and impressions.
Why Hollywood hasn't produced much mainstream gay cinema since "The Birdcage" is certainly up for debate. Maybe "The Birdcage" just set the bar too high. So pop a 'pirin tablet, pierce your toast, and enjoy.
Brock Thompson is a D.C.-based writer. He contributes regularly to the Blade.