Helping transform city's living landscape
Developer, Universal Gear owner Franco puts his passions to work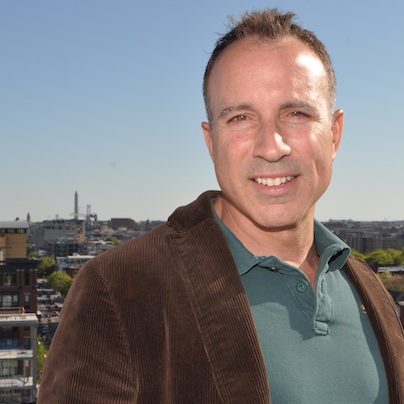 Last week was the anniversary of the 1968 riots in D.C., following the assassination of Dr. Martin Luther King, Jr., in Memphis. The ensuing five days of destruction that befell Washington and filled the sky with smoke scarred the city's landscape for decades and cut a hole in the heart of commerce through the prominent local retail districts of the era.
Washington neighborhoods hollowed out by looting and fires are only now beginning to fully finish recovering as commercial and residential real estate development repurposes the remaining empty buildings and reconstructs many of the last vacant lots across a wide swath of the city. Nowhere has this transformation been more dramatic than along the 14th Street, N.W., commercial corridor, as it intersects with U Street and stretches northward into Columbia Heights.
It is in this area that long-time community entrepreneur and local businessman and real estate developer David Franco continues to have a significant impact on a still rapidly evolving landscape. Uppermost in his mind has been this guiding principle: "How can I impact the community by creating a positive environment and contribute effective change in a concentrated area?"
A Washington-area native and lifelong resident, Franco recalls his father vividly detailing the riots of 44 years ago. Now 47, he remembers the pride and gratitude in the recounting of customers driving to the family-owned clothing store in downtown Washington at 12th and G streets, now a Macy's department store in the former Hecht's building, to stand in front waving on potential looters. Appreciative of the years of dedicated customer service conveyed to generations of families, "not this place" they implored in defending the business. The store remained untouched throughout the extended melee of anger and frustration.
Franco grew up understanding firsthand the importance of providing attentive and personalized customer service and engendering this type of loyalty. He would later infuse his own business activities with building relationships in the marketplace. A strong sense of ethics, a spirit of community-mindedness and dedication to the client experience and product provided were to become the trademarks of his future endeavors.
Following a three-year stint at the University of Maryland where he studied architecture, business and urban affairs, Franco continued working with the family enterprise, a successful local chain of discount department stores, until 1989. It was then that he became one of the investors backing the management team at the iconic nightclub Tracks that would dominate the gay dance scene through the next decade. He also partnered with the group in opening Trumpets restaurant and lounge on the 17th Street dining and entertainment strip near Dupont Circle.
Soon after, during the April 1993 weekend of the national March on Washington for Lesbian, Gay and Bi Equal Rights and Liberation, Franco would launch a clothing and accessories store with then business partner and commercial interior designer Keith Clark.
Universal Gear, located above Trumpets in a street level retail space at the corner of 17th and Q streets, quickly skyrocketed in popularity, outfitting many a gay man casually attired for work, play or the gym. The store would soon expand into a second level, nearly doubling in size with a complete interior renovation and striking new layout.
Franco would later explore market opportunities with since discontinued stores in Atlanta and Chicago's Boystown, as well as opening a thriving Manhattan store in the heart of Chelsea and another in Rehoboth Beach. Universal Gear is adding a second New York location early next month in the trendy Hell's Kitchen midtown west neighborhood at 9th Avenue and 49th Street.
In tandem with his development activities in the 14th and U area and following his customer base eastward, the local Universal Gear relocated to 14th and P streets in November 2007, becoming an expansive new neighborhood retail anchor.
Franco had earlier discovered that his passion for architecture and urban planning would lead him to residential real estate development, first renovating and marketing a 12-unit condo building on Chapin Street in Columbia Heights with business partner Jeff Blum, with whom he co-founded Level 2 Development. Excited by the then-booming pre-recession housing market, they started looking around for additional opportunities and set their sights on developing a larger project.
A Scorpio, Franco admits to "loving a challenge."
This led Franco and Blum to undertake one of the largest and most prominent residential development projects along 14th Street.
Located at Florida Avenue and standing as the gateway at the sloping incline into adjoining Columbia Heights, the massive View 14 building and its 185 rental units and 30,000 sq. ft. of ground floor retail space – replacing an auto repair garage and an unattractive array of satellite dishes and communication towers – became a harbinger and symbol of extensive change in the area. David calls one of the penthouse units with a south-facing pinnacle terrace overlooking the area home.
Construction cranes are once again jutting into the sky along the high-density thoroughfare. The outline of a large glass-clad apartment building across the street from View 14, originally designed by Level 2 and subsequently sold to another firm for construction following initial planning, is quickly progressing toward completion.
Level 2 Development will next begin construction of a 144-unit studio and one-bedroom apartment project on 14th Street at Wallach Place, only steps south of U Street. Groundbreaking for the yet to be named project, located at 1919 14th St., will signal the Level 2 duo's next project in the District, undertaken in association with Keener-Squire Properties.
The long road to project approval was not an easy one, according to Franco. He compares the process to the infamously cumbersome regulatory obstacles experienced by restaurant and bar owners under the city's liquor licensing regimen.
Acknowledging that some neighborhood residents are often skeptical regardless of the track record of a local business, he notes that an "overabundant sense of empowerment" by small numbers of frequently ill-informed neighborhood opponents of change and small citizens groups requires advance calculation of the substantial expense for both hard and soft costs related to project delays and extensive round-robin negotiations. This results in higher rental or sale prices and can endanger project viability.
Underscoring how challenging a place the District can be to conduct business, Franco longs for local entrepreneurs to be respected as shared stakeholders. He points out that better cooperation would yield greater benefits for all.
Franco does not hesitate to confirm that a new ethos has taken hold for housing construction and resident lifestyles in the most vibrant and developing areas of the city. "We're betting the ranch on it," he offers, describing a distinct consumer preference for smaller home environs with modern finishes and amenities designed for a diverse demography drawn to a life largely experienced outside the front door.
"That's how we live now," he adds, identifying retail stores and shops of all types, dining and entertainment destinations and social watering holes as current interactive magnets and contemporary gathering places. Franco points out that demand for such community spots will likely continue to outpace capacity as the area – already experiencing the city's greatest growth and a dramatic recent double-digit percentage population increase – adds more than 3,000 new residents in the next year.
Despite the business hurdles and regulatory obstacles, Franco remains committed to pursuing additional projects and public/private partnerships with and in the city he loves and lives. Enlivened by the development process and passionate about the results is what continues to motivate and inspire his efforts to play an ongoing role in the creation of a livable and engaging urban environment.
Mark Lee is a local small business manager and long-time community business advocate. Reach him at [email protected].
Preserving D.C.'s historic neighborhoods
Some districts are well known and others may come as a surprise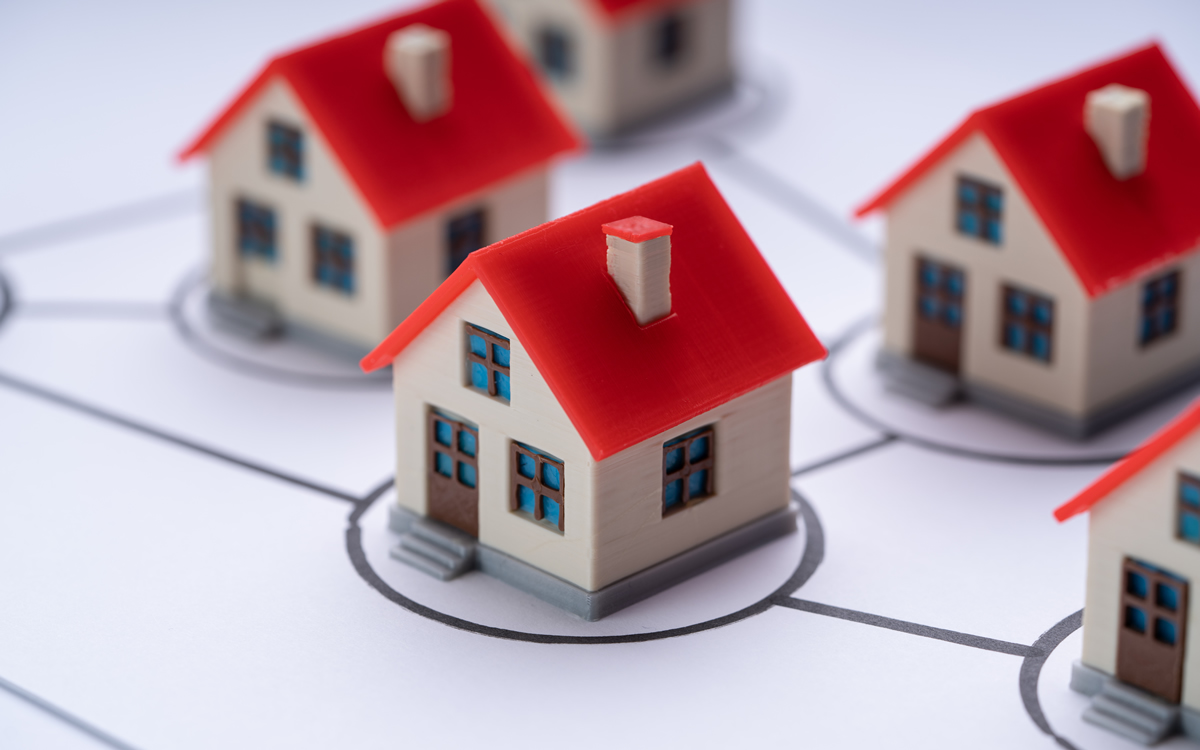 Homeowners Associations (HOAs) often get a bad rap.
Perhaps you can't park in a particular area, your door must be a certain color, your mailbox has a specific height requirement, or your potential deck must be approved by an Architectural Committee that doesn't include an architect.
Association rules may also dictate whether your neighbor can have his car up on blocks in the front yard, limit the hours of your cocaine orgies, or specify who will be allowed to picket your home within a gated community.
Sometimes, HOAs can delay settlement on the transfer of property, since the association generally must sign off on any changes made to the exterior that fall within their purview.
If there have been unauthorized changes to the property, then the seller may be forced to take corrective measures before settlement can proceed. Examples I have seen include lack of architectural committee approval, work done without permits, deteriorating fences, and roofs that are due for replacement.
Whether you find them intrusive or think they help to protect your property values, today's HOAs are far better than the restrictive covenants found in many parts of early 20th century America. Those covenants were designed to prohibit racial or religious minorities from purchasing a home in a particular neighborhood.
In April 1948, the Supreme Court ruled that such covenants violated the Civil Rights Act of 1866, but that didn't end the practice abruptly. These covenants were finally outlawed by the federal Fair Housing Act of 1968 and, while in some areas of the country you may still see them on a deed, they are unenforceable.
HOAs are not prevalent in D.C. and only within the last few decades have we seen them spring up in a few developments within our neighborhoods. Instead, you may find your property encumbered by historic preservation standards.
The National Historic Preservation Act, codified in 1966, outlines laws and regulations that are applicable nationwide. The Historic Landmark and Historic District Protection Act of 1978 contains laws and regulations specific to the District of Columbia. As you can imagine, there is a common goal with a significant amount of overlap between them.
In D.C., the State Historic Preservation Office (SHPO) conducts preservation planning, identifies historic properties, reviews government projects for compliance, and promotes tax credits and incentives for ensuring the preservation of our buildings, monuments, and districts.
Those of us who live in the DMV know that D.C. has a plethora of historic monuments and buildings. It is the Historic Preservation Review Board (HPRB) that determines which landmarks and districts will be included in the DC Inventory of Historic Sites, which is available to the public here. 
Some of our historic districts are well known and others may come as a surprise. For example, when discussing historic districts, most people think first of Georgetown, Capitol Hill, Dupont Circle, or Anacostia, but did you know that Emerald Street and Kingman Park in Northeast D.C. have been designated historic?
In fact, more than 30 local neighborhoods are now deemed historic, including some that I had never heard of, such as Colony Hill, added on March 21, 2021 (north of Reservoir Road NW and west of Glover Archbold Park), Strivers' Section (bordered primarily by Florida and New Hampshire Avenues NW), and Washington Heights (north of Florida Avenue, east of Columbia Road and west to 18th Street NW). Several proposed historic residential districts also have applications pending, including Park View and Barney Circle.
Sometimes the boundaries of historic districts aren't clear. For example, when I lived near Union Station years ago, the south side of the street was considered historic and the properties on the north side were not. You can find out whether a particular property is located in a historic district by searching the address at propertyquest.dc.gov. 
If you already live in a historic area, you need to be aware of what you can and cannot do with the front elevation and roofline of your home. The preference is for repairing a historic element rather than replacing it, and the design of an element as well as the material used must be compatible with the original structure. Guidelines for specific items can be found here. 
If your area is not designated as historic and you would like it to be, you or your organization can file an application with the HPRB. Review the criteria necessary for approval here. 
Be prepared to do a lot of community outreach and attend hearings to support your position, for as much as we want to preserve the beauty of our surroundings, there are likely to be as many people opposed to the idea as there are in favor.
Valerie M. Blake is a licensed Associate Broker in D.C., Maryland, and Virginia with RLAH Real Estate/@properties. Call or text her at 202-246-8602, email her via DCHomeQuest.com, or follow her on Facebook at TheRealst8ofAffairs.
Rides in all sizes
With sky-high gas prices, how much car do you really need?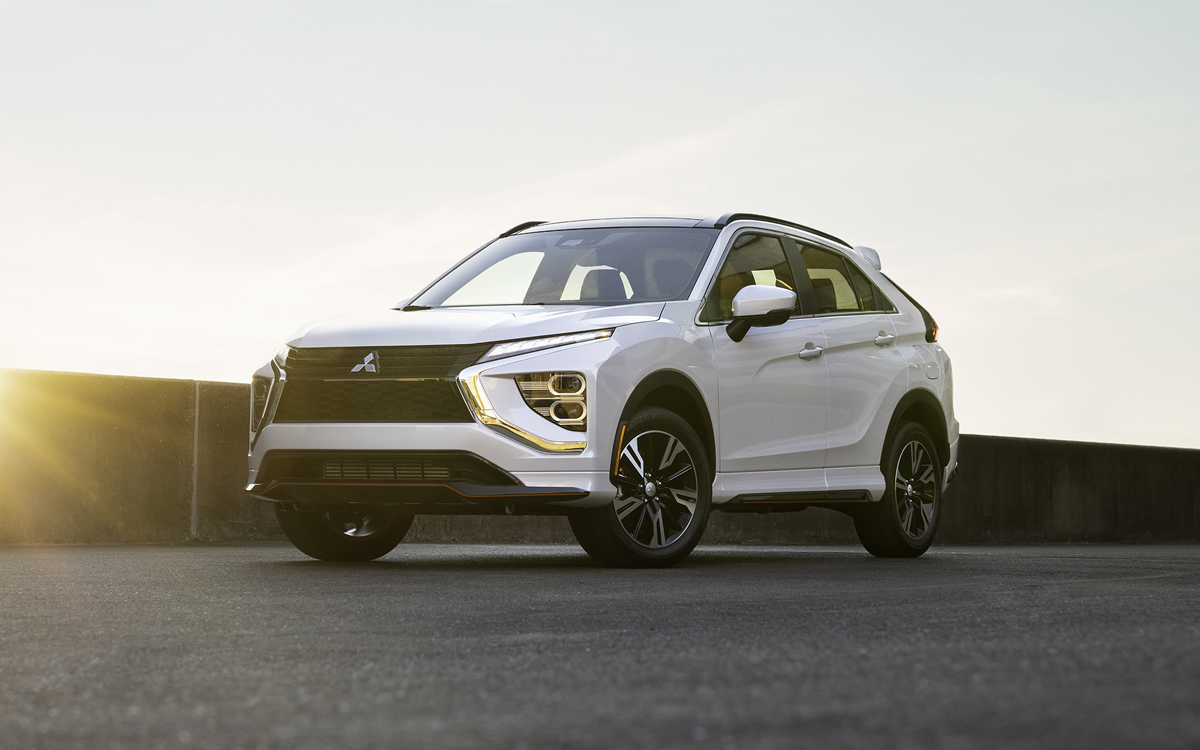 With the current surge in gas prices, many potential buyers are taking a hard look at just how much vehicle they really need. Here's a look at three choice rides in various sizes: small, medium, and large.
SMALL: MITSUBISHI ECLIPSE CROSS
$24,000
Mpg: 26 city/29 highway
0 to 60 mph: 8.6 seconds 
Introduced in 2018, the Mitsubishi Eclipse Cross channels plenty of excitement for those of us still pining for the sporty Eclipse coupe produced between 1989 and 2011. This affordable compact crossover offers similar cocky styling, including a futuristic fascia and tony Lexus-like tush.
But despite the rakish good looks, the acceleration from the four-cylinder turbo is more practical than powerful. And the composed suspension is more amiable than arousing. But the nimble steering and taut cornering are perfect for quick maneuvers during rush-hour congestion and for squeezing into tight parking spaces. The straightforward cabin design comes with faux-aluminum trim and fairly comfortable cloth seats—though the lack of an adjustable lumbar support to cushion my back was a bummer. Some of the many standard features include 7-inch touchscreen, four-speaker stereo, Bluetooth and lots of safety gear: automatic emergency braking, forward collision warning, pedestrian detection, lane-departure warning and rearview camera.
Step up to any of the three other trim levels to add heated seats, smartphone integration, synthetic suede upholstery, power panoramic sunroof, head-up display, additional safety gizmos and more. In other words, despite its budget-pleasing price, the Eclipse Cross boasts plenty of amenities.
MEDIUM: JEEP GRAND CHEROKEE
$41,000
Mpg: 19 city/26 highway
0 to 60 mph: 7.4 seconds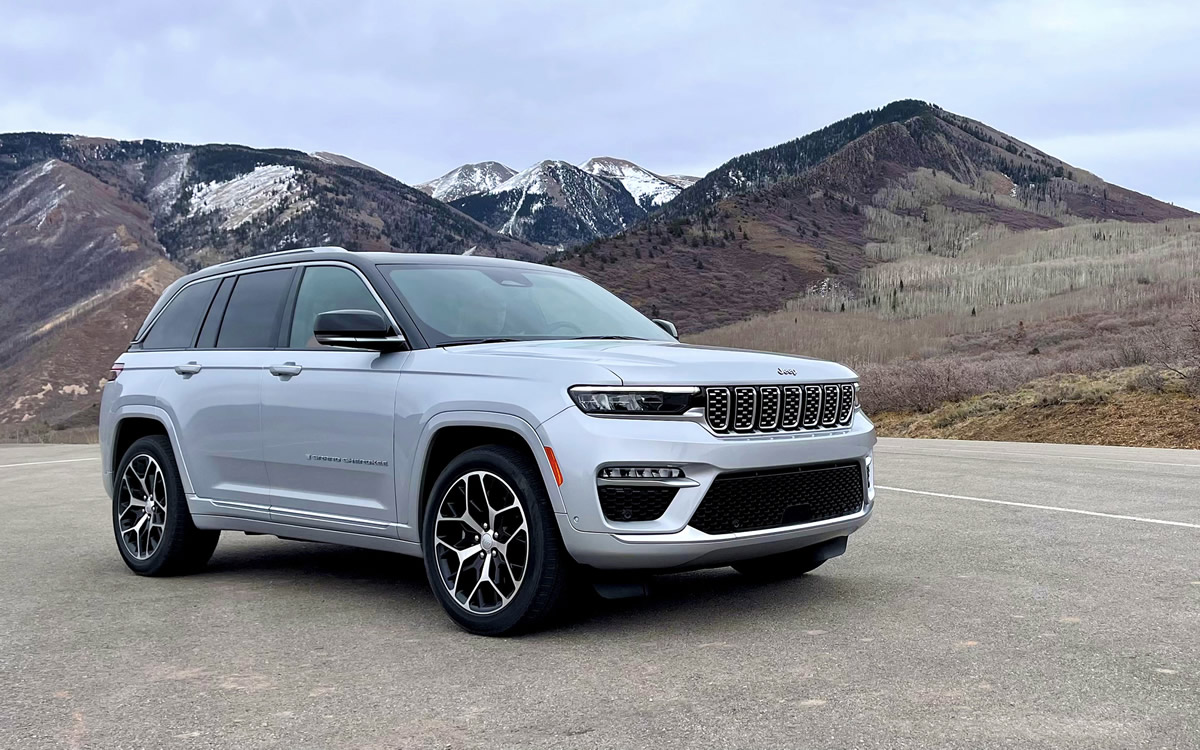 Completely redesigned this year, the Jeep Grand Cherokee now looks more luxe-like than rugged. This could have been a disaster, considering the automaker's reputation for churning out rough-and-tumble rides. Yet despite what is essentially a nod to Land Rover's boxy yet soft-edged styling, this midsizer still retains its true Jeep DNA.
This is evident in the seamless mix of smooth on-road handling with stellar off-road capability. There are more than a dozen trim levels, from the $41,000 base-model Laredo all the way up to the Summit Reserve 4xe PHEV at $77,000. While that's quite a price difference, it shows Jeep's commitment to offering a Grand Cherokee for every buyer personality. Sure, offering so many configurations can be confusing, but it gives drivers the chance to really customize their rides. This includes choice of three powertrains: standard V6, robust Hemi V8 and the fuel-friendly 4xe plug-in hybrid that can travel up to 25 miles on battery power alone.
Inside, there's so much glam you might think this was a high-end Mercedes. Depending on trim level, you can deck out the interior with quilted upholstery, open-pore wood, dual-pane panoramic sunroof, quad-zone climate control, second-row shades and other goodies. For techies, there's a Wi-Fi hot spot, various USB ports, smartphone integration, 10.10-inch infotainment touchscreen and 10.25-inch digital gauge cluster. Call me a hedonist, but I especially liked the massaging seats, premium 19-speaker McIntosh stereo and a rear-seat entertainment system that adds dual hi-def screens with built-in Amazon Fire TV.
LARGE: CADILLAC ESCALADE
$78,000
Mpg: 14 city/19 highway
0 to 60 mph: 5.9 seconds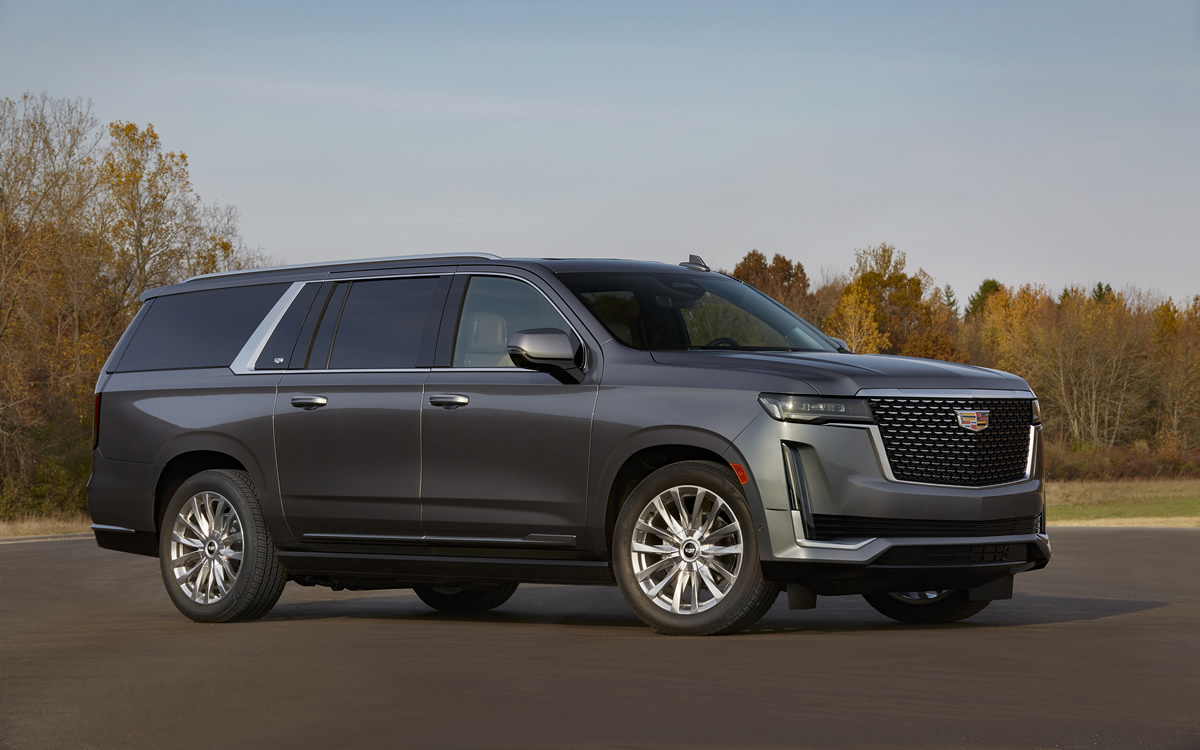 Introduced in 1999, the Cadillac Escalade received a complete makeover last year. The head-turning styling is daring and dramatic, with a massive prow-like hood, severely creased sheet metal, and bold, vertical lighting treatments that would make Thor proud. This colossus is 6 feet, 4 inches tall and tips the scale at a hulking 5,700 pounds—twice the weight of a Mini Cooper.
Yet it's surprisingly spry, outpacing the Mini Cooper by 0.3 seconds when accelerating from 0 to 60 mph. While power comes from a thirsty V8, half of the cylinders are automatically deactivated at cruising speed to reduce gas consumption. A more eco-friendly option is the diesel engine, which gets 50% better fuel economy. (And earlier this month, Cadillac announced its all-electric Escalade is expected by 2024.) I test drove one of the top-of-the-line Platinum models, with a hefty price tag of $105,000. To say this large SUV was oozing luxury is an understatement, with high-end finishes everywhere, adjustable ambient lighting, center console refrigerator, night-vision camera, 36-speaker stereo and rear-seat captain's chairs. Perhaps even more impressive: The front dash has a staggering 38 inches of curved OLED screens, combining the digital gauge cluster, infotainment display and surround-view camera.
Consider buying a beach house with a group of friends 
A lawyer can ensure everyone's rights are protected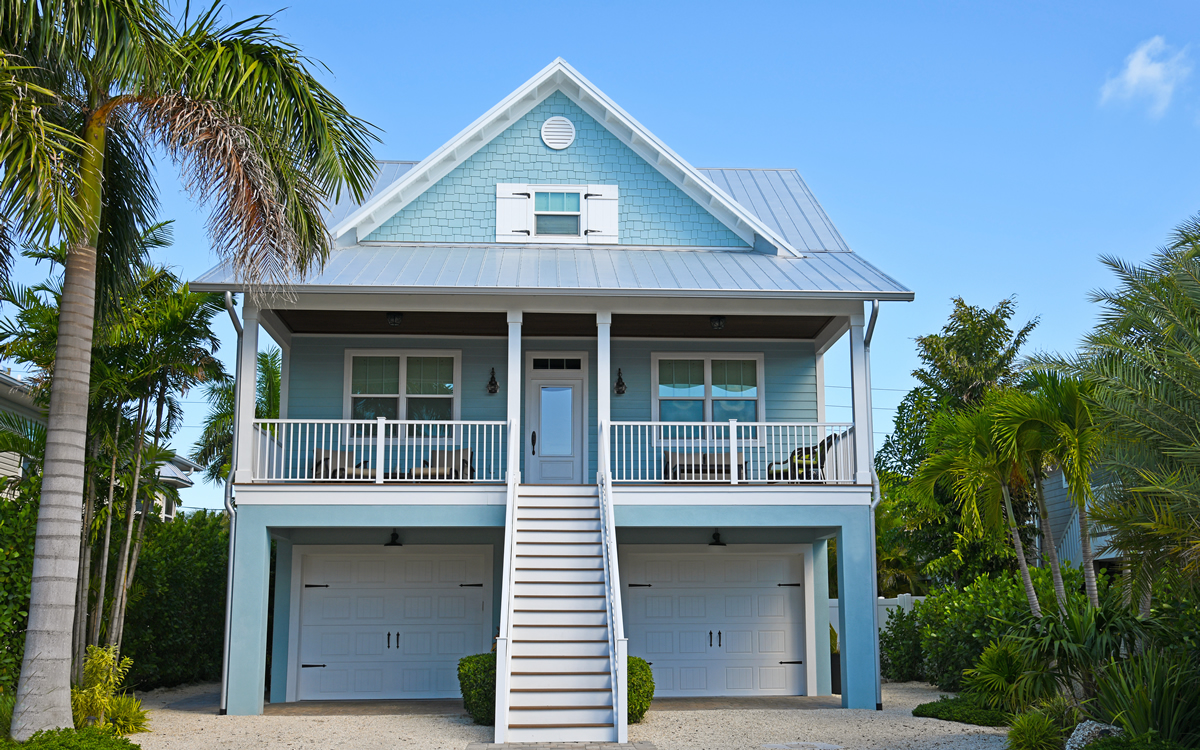 A trend that we are seeing across the boards (get it…like boardwalk) as we head into summer, aside from the swimsuits getting smaller and smaller, is friends buying homes together. Buying a property with another individual is not only an option for those in a relationship, marriage, domestic partnership, business etc. but also friendships.
With the pandemic and the increase of people wanting to move out of their small spaces in the city and leave for the more bucolic settings, the trend has been to ask your roomie, kiki partner or other friend to go halfsies on your primary residence. Why pay rent when you can have an investment and build equity in your home, right? Well why not take that approach for a second home at the beach? You will likely have the beach house to entertain and have friends over for weekends or weeks during the summer so let's get them on the hook for more than just a few bottles of vodka or boxed wine. Let's get their names on that mortgage.
With the rising market prices your borrowing power is stronger as a collective. Think of your group that you head to the beach with. How many of those folks would love to have a space at the beach? Likely all of them. If you can only afford $200k but three of your best friends can also only afford $200k then collectively you can afford $800k. Using simple terms and numbers here, but I trust you are tracking.
Now that you have found those select few that you implicitly, or mostly implicitly trust and are financially stable let's now consider the actual items that matter in practice such as (1) how you will split up days, weeks etc., (2) how and who handles/coordinates repairs to the property, (3) what happens if you no longer enjoy this person or someone wants out of the house and they're on the mortgage? This is where a lawyer comes into place and can advise on creating an operating agreement similar to what a business or corporation would have in place to ensure that all parties in the home are protected and each has their own rights as well as common rights for the home.
I know what you're thinking, this sounds a little dicey, but I know if you're reading this, that you have likely been in dicier situations, and for those who really want a beach house to enjoy but might not have the capital to do so, this is a great option. Instead of renting a beach house for the season and paying high season beaucoup bucks, why not get a few friends together to buy a beach house together?
Justin Noble is a Realtor with Sotheby's international Realty licensed in D.C., Maryland, and Delaware for your DMV and Delaware Beach needs. Specializing in first-time homebuyers, development and new construction as well as estate sales, Justin is a well-versed agent, highly regarded, and provides white glove service at every price point. Reach him at 202-503-4243, [email protected] or BurnsandNoble.com.