The replacements
Good maintenance can prolong life of an appliance or system
What comes to mind when you hear the word "replacements?"  The 70's alternative rock band? The Keanu Reeves movie about striking football players? The website where you can find pieces of discontinued china and flatware?
Owning a home?
When you buy a house, your inspection report may describe its different features as adequate, marginal or unsatisfactory and if an item is described as marginal, your inspector may advise you to budget for its replacement.
We all know that nothing lasts forever and many items these days are designed to become obsolete in a relatively short period of time, but good maintenance can go a long way toward prolonging the life of an appliance or system.  YouTube is full of "how to" videos about basic plumbing, electrical work, patching, painting and replacing nearly everything under the sun. A quick search for "how to fix everything" on Amazon.com produces more than 1,300 results.
While the Internet provides a wealth of information on being your own handyman or woman, it's important to know your limitations and when you should call in the professionals. That said, a bit of knowledge about the lifespan of certain household appliances and systems can help you plan for a future purchase or even choose a contractor who won't try to talk you into a replacement when a repair may be appropriate instead.
Here is a basic cheat sheet to help you budget for replacing certain things around the house.
The Wonder Years (5-10 years): I call these the wonder years because the first time one of these items fails you wonder why you didn't see it coming.  Prolong the inevitable by running a dishwasher periodically so the seals don't dry out. Wash the filter for a microwave oven and keep batteries handy for smoke detectors. Try out one of the newest replacement security systems; most are wireless and some feature iPad-like devices so you can keep track of who is coming and going on your cell phone. And don't forget to plan for new wall-to-wall carpet in those high-traffic areas of the home or install hardwood floors which will last much longer.
The Age of Technology (10-15 years): Items in this category are constantly being upgraded for energy efficiency, green features and enhanced performance. Think air conditioning compressors, water heaters, ranges, refrigerators, freezers, garbage disposals, washing machines and dryers. Our washers and dryers now stack, steam, dry clean and do everything but serve you lunch while you wait. Our ranges are often dual fuel and may contain double ovens, microwave drawers, cooktop burners and downdraft exhaust systems. The more features included, the more likely one will fail.
The Fire & Water Era (15-20 years): Has anyone else out there ever huddled by the fire waiting for the furnace technician? While we don't need to turn up the heat right now, having a service contract for your furnace or heat pump can ensure it will be full of hot air when you need it to be this winter, up until the time that it gasps its dying breath in a decade or two. Jetted tubs have a similar life span and, while the jury may still be out, those tankless water heaters are thought to become thankless water heaters within 20 years.
Active Adulthood (20+ years): If you still have a fire in the furnace does it necessarily follow that there will be snow on the roof? With a little care and attention, your asphalt or modified bitumen roof will last decades and your slate roof, a lifetime. The cast iron boiler in my former home on Capitol Hill was older than I was and both the oak and the heart pine floors had survived for more than a century. While I'm certainly more efficient than that old boiler, no matter how much sanding, buffing and oiling I do to myself, I doubt I'll outlast those antique floors. How about you?
Prudential PenFed Realty is an independently owned and operated broker member of BRER Affiliates, Inc. Prudential, the Prudential logo and the Rock symbol are registered service marks of Prudential Financial, Inc. and its related entities, registered in many jurisdictions worldwide.  Used under license with no other affiliation with Prudential.  Equal Housing Opportunity.
Valerie M. Blake can be reached at 202-246-8602 or at [email protected] 
Rental housing discrimination and you
There are many ways landlords can disadvantage LGBTQ renters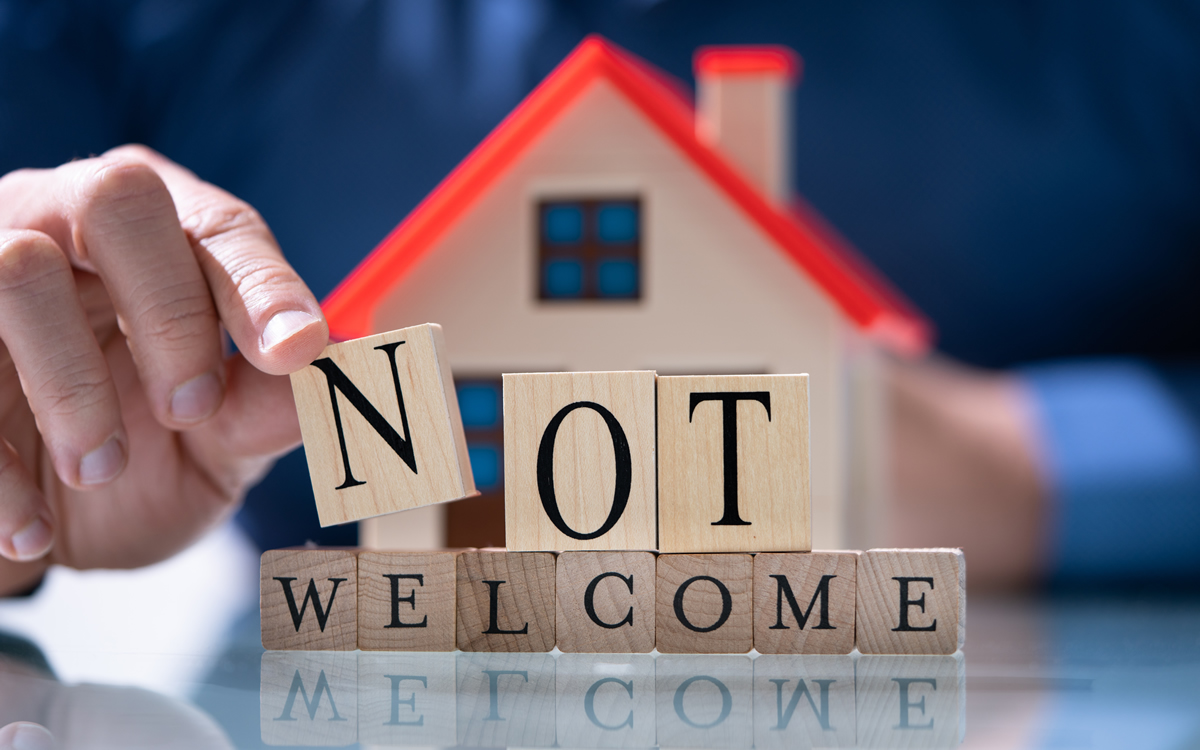 Housing discrimination based on sexual orientation and gender expression is illegal in the District of Columbia. This means that housing providers cannot refuse to rent to someone or treat them differently in their housing-related decisions because of their sexual orientation or gender expression.
But what might housing discrimination against LGBTQ home seekers look like?
Discriminatory treatment can occur at a number of stages in the home rental or purchase process, including when scheduling rental (or sales) showings, during a tour of the property, or during the application or post-application process.
But discrimination may also occur while you are living in a rental home. Today's discrimination may not be as blatant as an outright rejection or a snide remark about a protected category. There have been incidents of discrimination based on sexual orientation and gender expression discrimination cited in rental housing disputes and lawsuits.
Some of these include landlords refusing to rent or renew leases to LGBTQ tenants; harassment of LGBTQ tenants by landlords or from other tenants; imposing different rental terms and conditions; failing to provide necessary repairs or maintenance to a rental unit where LGBTQ individuals reside (while other non-LGBTQ tenants receive prompt service); as well as failing to take action against other parties who engage in discriminatory behavior toward the LGBTQ tenants.
But there is good news.
Housing industry leaders are actively working to eliminate these instances of discrimination in housing. Both at the national level through the National Association of Realtors (NAR) and at the local level through the Greater Capital Area Association of Realtors (GCAAR) association leaders are working with real estate professionals such as licensed sales agents, brokers, and property managers to improve understanding and sensitivity. Their overall promotion of Diversity, Equity and Inclusion (DEI) includes a substantial component surrounding sexual orientation and gender expression.
Christine Barnhart, Vice President of Strategic Communications at GCAAR told us, "We are doing our part to identify opportunities for diversity and inclusion conversation and education, and to promote the practice of inclusion and equity among our leadership, members, staff and within the industry." GCAAR seeks to drive a larger conversation around DEI In addition to their "DEI Champions" program, providing a summary of their larger DEI initiatives can be found on their website.  
That education of the key industry players is being delivered through a variety of initiatives and updates to codes and policies. Barnhart points out that the programmatic elements of the training being done keep their members up to date, "GCCAR's 'DEI Champions' program features three key diversity training elements:
"Completion of the six-hour 'At Home With Diversity' (AHWD) certification course
"The National Association of Realtors (NAR) 'Fairhaven fair housing simulation,' and
"NAR's Bias Override: Overcoming Barriers to Fair Housing video."
I took this certification course and found it very helpful. My original inspiration to become a GCAAR DEI Champion was to augment my service to the community. Now having been through the course, I'm better enabled to "put myself into others' shoes." I gained a stronger awareness of how each of us possesses inherent biases. And the program made me more authentically aware of the impact of my comments, my decisions, and my actions on others.
Similarly, the District of Columbia provides ethical codes and regulations for housing providers here in the city to address discrimination based on sexual orientation and gender expression. For example, D.C.'s Office of Human Rights (OHR) has implemented guidelines and training programs for landlords and property owners to ensure they are aware of their obligations under anti-discrimination laws.
These regulations, industry guidelines, ethic codes, and best practices all help to make the D.C. rental housing market more inclusive and welcoming than other jurisdictions for all individuals, regardless of their sexual orientation or gender expression,. However, if you feel that you have been a victim of discrimination, there are many agencies to turn to.
As a gay-owned business and long-term member of the Equality Chamber of Commerce, it is important to me that all who interact with me and my companies feel welcomed and taken care of, particularly the LGBTQ community.  Building on the foundation of the DEI courses, our firm will work to educate our staff and reinforce a culture of understanding and acceptance.  How about yours?
Scott Bloom is senior property manager and owner, Columbia Property Management. For more information and resources, go to ColumbiaPM.com.
All charged up: Ford Mustang Mach-E, Mercedes EQB
Move over, Tesla!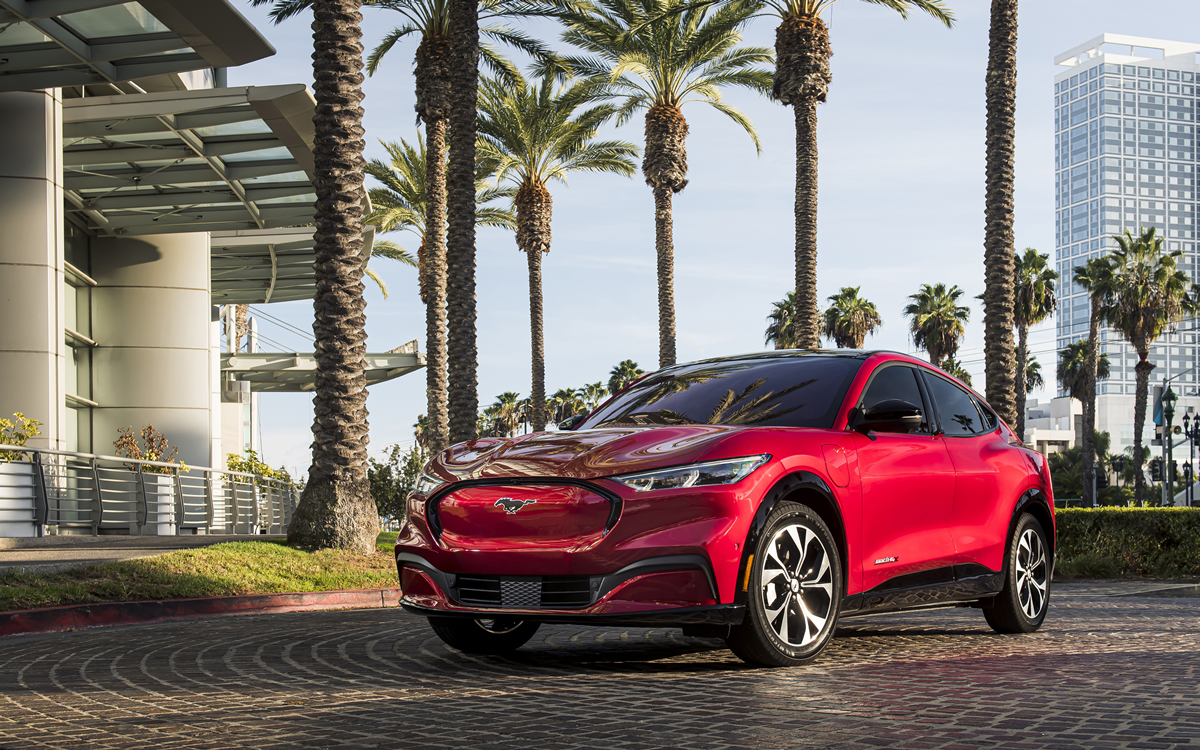 Move over, Tesla! Elon Musk may have delivered a record number of electric vehicles last year, but rivals are certainly nipping at his heels. Robust demand for the all-electric Mustang Mach-E, for example, has helped make Ford the second-best EV producer in the U.S. And global EV sales for Mercedes more than doubled in 2022, thanks in part to the automaker's all-electric crossover: the EQB. Motorheads like me are all charged about such electrifying rides, and for good reason.
FORD MUSTANG MACH-E
$46,000
Battery range: 270-312 miles
0 to 60 mph: 5.1 seconds
OK, fine, Ford sold fewer than 62,000 EVs in the U.S. last year compared with over 522,000 cars sold by Tesla. Yet while Tesla sales were up 40%, Ford EV sales skyrocketed a whopping 126%. Yes, Tesla sold an impressive 1.3 million-plus vehicles worldwide in 2022, but Ford expects to sell 2 million EVs by 2026. The Mustang Mach-E—first introduced as a 2021 model—shows you one way Ford expects to get there.
For 2023, Ford knew better than to mess with the winning design of the Mach-E, which is at once futuristic and timeless. My fave styling cue is the clever use of flush-mounted buttons on the outside door frames instead of clunky conventional door handles.
Inside, with the battery placed under the floor, there's oodles of room for passengers and cargo—including 60 cubic feet of stowage with the rear seats folded. Beneath the center console, there's enough space for a handbag or small computer case.
The wide dashboard has a built-in soundbar, as well as large vertical touchscreen for the infotainment system. An active-safety system—with forward-collision alert, emergency braking, evasive steering and such—is now standard across the lineup.
This year the battery range can reach up to 312 miles, which outpaces much of the competition—including the Hyundai Ioniq, Volkswagen ID.4 and Volvo C40 Recharge. Another plus: Mach-E sticker prices have been reduced between $400 and $5,700, depending on trim level. Pricing also has been slashed for the extended-range battery, from $8,600 to $7,000.
Sure, there's still a big difference between the $46,000 base model and $65,000 high-test GT. But trust me, the thrill of that GT is hard to resist. Stomp on the accelerator, enjoy the excitement as your body is thrust back against the driver's seat, and be prepared to achieve warp speed. Rocketing from 0 to 60 mph in just 3.5 seconds took my breath away—literally. Many auto aficionados were skeptical when Ford first gave this EV the seemingly bait-and-switch moniker of a "Mustang," but the GT version of the Mach-E comes closest to feeling like a true pony car.
One side note: With so much emphasis on EVs today, it's easy to forget how much of a gamble it was for Ford to create the Mach-E. After all, this was not the automaker's first electric-car rodeo. Henry Ford built a prototype for a low-cost battery-powered vehicle in 1913, then opted for the internal combustion engine. Other experimental EVs came and went, including the quirky 1966 Ford Comuta minicar and an all-electric 1998 Ford Ranger pickup, which lasted only four years.
Lucky for Ford, it looks like the Mustang Mach-E is a keeper.
(For more on the Ford Mustang Mach-E, read "One Lean, Mean Green Machine.")
---
MERCEDES EQB
$54,000
Battery range: 205-243 miles
0 to 60 mph: 5.6 seconds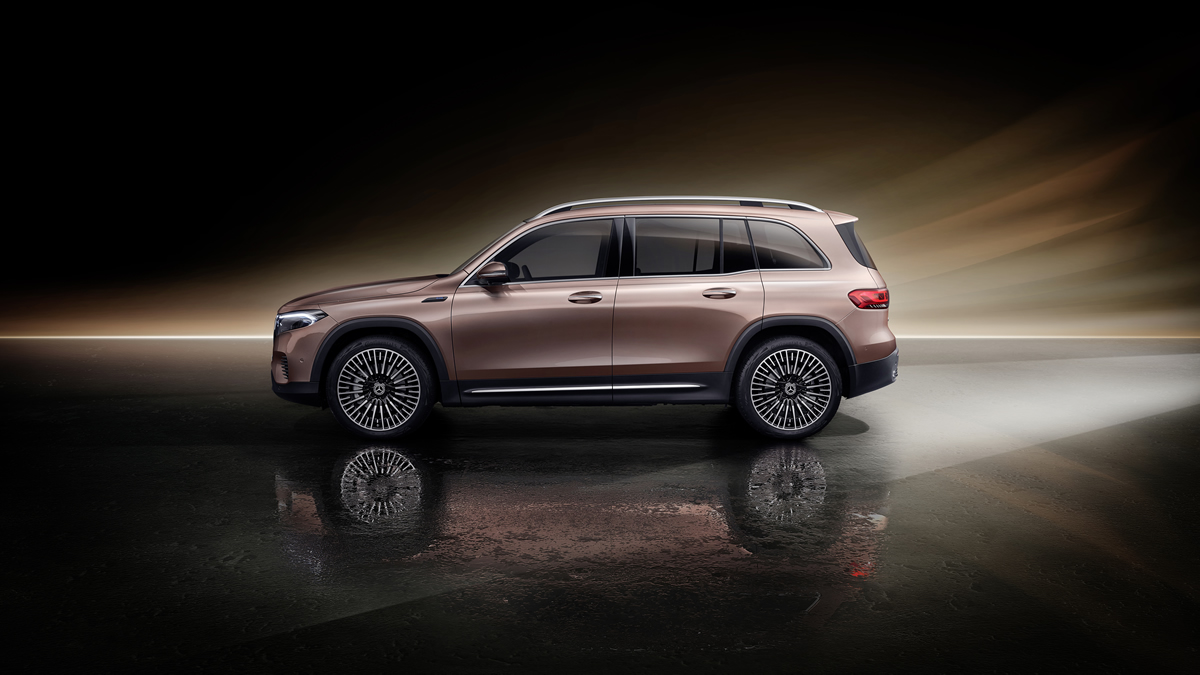 My, how time changes things. As recently as 2020, Mercedes said that its diesel-powered cars were here to stay. But within a year, Mercedes announced it would go all-electric by 2030.
Enter the Mercedes EQS. This flagship sedan debuted last spring in the U.S. and was followed by the seven-passenger EQS SUV. Both EVs are exquisite, oozing luxury and overflowing with techno gadgetry. But—ouch!—pricing for these beauties starts at $105,000 and tops out at close to $170,000.
Fortunately, for those of us on a plebian budget, there's the new Mercedes EQB. At half the price of its larger EQS siblings, the all-electric EQB is built on the same platform as the gas-powered GLB compact crossover. And except for minor styling tweaks and a bit quicker acceleration, the EQB looks and handles like the GLB. That's a good thing for anyone needing some reassurance when making the leap to their first EV.
Despite the low price on a base-model EQB, standard features include power liftgate, dual-zone climate control, automated parking, ambient interior lighting and other niceties. There's also the MBUX infotainment system, which comes with 10.25-inch touchscreen, voice-recognition technology, smartphone integration and a navigation system.
While the EQB does seat seven, third-row legroom is extremely tight. Best to leave those seats folded flat, unless carting around kids—and only for short distances.
Comparing the Ford Mustang Mach-E and Mercedes EQB is easy: Both have similar pricing and amenities. The Mach-E is certainly faster and has more of a space-age ambiance, but the traditional driving experience of the EQB is comforting on long drives. And, well, the EQB also has that coveted three-point star found only on a Mercedes.
The art beneath your feet
Select rugs that reflect your personal style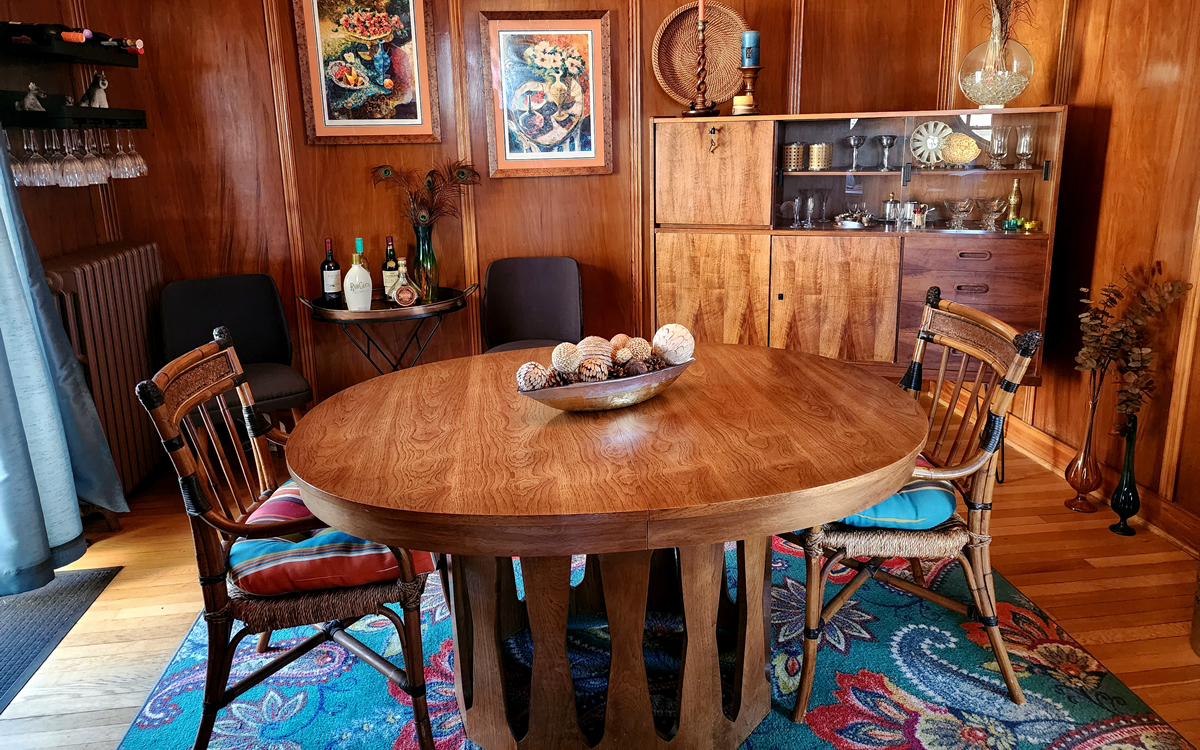 Buying art for your new home can be both fun and an investment for the future. You can scour local galleries, visit antique stores, or buy paintings and posters online. Sometimes, you'll even find local artisans displaying their work on the walls of real estate offices.
When it comes to a budget for art, the sky's the limit. From original oil or acrylic paintings to clay or marble sculpture, to lighting of Chihuly glass, there is much to choose from. Even street art and painted murals can bring joy to accent walls.
Personally, I have a fondness for contemporary lithographs in primary colors and Blenko glass, but no matter what your taste, you may find art you love right beneath your feet in carpets and rugs that enhance your décor. Before you choose a rug to anchor your furnishings, determine what it's made of and how it will work in your space.
Near the top of your budget, you'll find pure wool rugs. They stand up well to high-traffic areas like living rooms and feel cozy beneath your feet. Good at repelling water and dirt, they can be hand-knotted or loomed and may have fringed edges.
Natural fiber rugs made of jute, seagrass, and sisal work well on their own or as an underlayment for other rugs. While inexpensive, you may find that they shed fibers, so using a rug pad under them will keep those fibers from scratching your floor.
An animal hide rug often serves as a statement piece, with each being as unique as the animal from which it came. Thankfully, you can now obtain the same look with synthetic hides with natural coloring or even dyed in bright hues.
Cotton rugs, braided or hooked, provide a more casual look for less. Many are machine washable, but they fade easily, especially if used in areas of direct sunlight or high traffic. They are also slippery when used on hard floors, so be sure to place a rug pad beneath them.
Most wall-to-wall carpet and bound area rugs today are made of synthetic fibers such as polyester and nylon. Since these machine-woven beauties often mimic real wool and there are plenty to choose from, they are generally the most affordable.
Silk rugs are best in low traffic areas where there is little chance of pet accidents or spills. You may also see them hung on walls in lieu of paintings. These rugs will require professional cleaning and are among the most expensive offerings. In addition to the Persian and Oriental styles, you can now find more modern designs made of silk.
Another thing to consider is whether you want an eco-friendly or non-toxic rug. Determining which is which can sometimes be confusing. While eco-friendly refers to a product that is healthy for the environment, a non-toxic rug made without potentially harmful chemicals focuses on the health of people.
Always read the label of a rug that you are considering purchasing. Rugs made of olefin, polyester and nylon are created through chemical processes. Flame retardant and water repellant coatings can be toxic. Natural materials may have been sprayed with pesticides. Even dyes and rubber backings may contribute to an unhealthy home.
Several rug manufacturers advertise their products as non-toxic, including FLOR, Safavieh, Lorena Canals, and Hook & Loom. If you can't find a non-toxic rug you like, you can minimize the effect of chemical treatments and odors by allowing your rug to off-gas outside or by leaving a light coating of baking soda on it overnight before vacuuming.
Next, think about the size and shape of your new rug. Will there be at least 3 inches of rug behind the front legs of your furniture as suggested by Martha Stewart? Do you have an apartment or condominium that requires a certain percentage of hard flooring be covered? Do you want to soften the edges of a room by using a round or oval rug or will you need a runner for hall or stairs?
The style, pattern, and texture of your rug will determine whether it simply muffles noise or becomes a favorite piece of art. Try a modern shag or an antique dhurrie. Layer several silk rugs on top of each other. Select a bold chevron, an Ikat pattern, or a mid-century Mondrian vibe.
Embrace color with an abstract Bohemian or choose a floral, stripe, or sculptured, tone-on-tone rug. You can also let your creative juices flow by designing a custom piece.
Whatever you choose, let the art under your feet reflect your personality and style, and enjoy it for years to come.
Valerie M. Blake is a licensed associate broker in D.C., Maryland, and Virginia with RLAH Real Estate / @properties. Call or text her at 202-246-8602, email her via DCHomeQuest.com, or follow her on Facebook at TheRealst8ofAffairs.