March 6, 2019 at 11:17 am EST | by James Wellemeyer
Gay couple's surrogacy fight inspires 'Jacob's Law'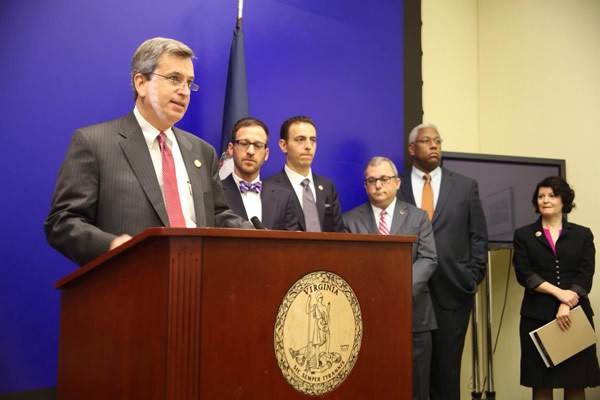 The Virginia House of Delegates on Feb. 20 passed a bill to make the state's surrogacy laws gender neutral, making it the only piece of explicitly pro-LGBT legislation to advance this session. 
Introduced by Del. Richard Sullivan (D-Fairfax County), the bill — nicknamed Jacob's Law — has been in the making for some time.
Sullivan began working on it after reading about a gay couple in his district who became wrapped up in a legal battle in Wisconsin to gain custody of their son.
The couple, Jay Timmons and Rick Olson, have three children: two daughters and one son named Jacob, who was born through surrogacy just over two years ago.
"We were approached by some friends who asked us if we would consider accepting an embryo to bring to life," Timmons, who works as president of the National Manufacturers Association, told the Blade in an interview on March 4.
Timmons and Olson, a stay-at-home dad and former Capital One lobbyist, agreed to bring the embryo to life through a surrogate. After researching Virginia's laws, they learned they may not be able to obtain parental rights over the resulting child as a same-sex couple in the state.
They decided to go through with the process in Wisconsin, where the state Supreme Court had acknowledged that contracts in surrogacy are binding and where other same-sex couples hadn't experienced many issues.
Their effort to expand their family soon turned into a nightmare when Jim Troupis, who at the time served as a judge in Wisconsin, labeled the couple as "human traffickers" and stripped them of their parental rights.
Timmons and Olson found themselves at the center of a national news story, as they poured hundreds of thousands of dollars into legal fees to gain custody of their son Jacob.
Troupis eventually resigned from his position, and his replacement quickly gave Timmons and Olson parental rights over Jacob.
More than two years after their story gained attention, Timmons and Olson have been recognized as Jacob's parents but are still funding a legal battle in Wisconsin as they seek to "challenge a lot of the rulings from [Troupis]," Timmons said
"To have an activist judge come in and completely ignore the Supreme Court of Wisconsin and judicial precedent was a vivid example of being treated differently," Timmons said.
"No family should have to go through that type of mistreatment by the judicial system or frankly by anyone."
When Sullivan learned about the couple's case, he wanted to change Virginia's laws to make surrogacy just as accessible to same-sex partners as it is to straight married couples.
The case shone "a spotlight on the difficulties that all Virginians face but, more to the point, gay and lesbian Virginians face when they want to start or grow their families using surrogacy," Sullivan told the Blade in a phone interview on March 4.
Sullivan worked with Timmons and Olson as well as a leading lawyer in the field to craft legislation that would update the state's surrogacy laws.
The legislation immediately received backlash from The Family Foundation, an anti-LGBT hate group that called it "one of the most anti-family bills we've seen that actually has a shot at passing."
The bill ultimately passed both chambers of the Virginia General Assembly with support from Democrats and Republicans. It is now awaiting the governor's signature.
"It doesn't fix all of the problems, but [it] addresses the most pressing ones," Sullivan said.
"The guy's a hero," Timmons said of Sullivan. "He took our case on because he read about it and thought it was wrong. We didn't ask him to do it. He just did it."