July 1, 2019 at 11:14 am EDT | by Peter Rosenstein
Kamala Harris makes biggest splash in debates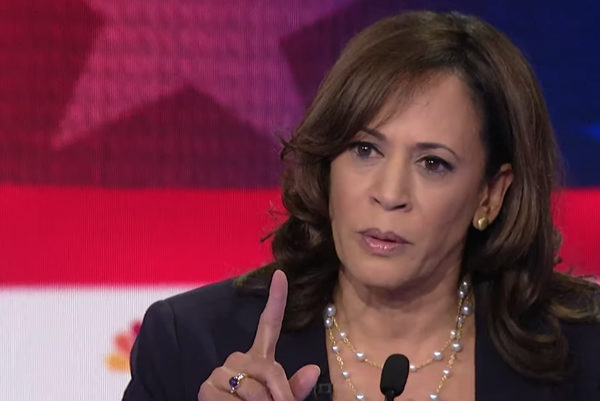 The first Democratic debate is now history and every pundit has written about it. Clearly the person who made the most news is Sen. Kamala Harris (D-Calif.) with her attention grabbing even if it might have been pre-planned line, "Hey guys the voters don't want to see us have a food fight, they want to know how we will put food on their table." Then her one-on-one call-out of Joe Biden on race made for riveting TV. There has been a debate online as to whether that will help or hurt her but at this point being talked about and standing out for telling a personal truth is success. Of course, we have seven months to go before the Iowa primary, which is the official start of the race for delegates needed for the nomination.
One thing we know is 20 people will not come out of the Iowa primary with any chance of being the nominee. My prediction is there will be up to nine still standing after Feb. 3 and they will include: Joe Biden, Cory Booker, Pete Buttigieg, Julian Castro, Kamala Harris, Amy Klobuchar, Beta O'Rourke, Bernie Sanders, and Elizabeth Warren. Chances are we narrow the field in debates well before that but if not those nine will make for an interesting two hour debate. Then the field will be narrowed much more by Super Tuesday, which this cycle includes California and Texas.
My decision on whom to support is a long way off. But no one over age 70 should be on the ticket and diversity on the Democratic ticket is important.
Polling in the first half of the year before primaries begin is interesting. Bill Clinton was at about 3 percent in 1991 and Jimmy Carter was at 4 percent in 1975. Then in the second half of that year Clinton jumped to 18 percent and Carter dropped to less than 3 percent. Clinton was tied in the second half of the year with Jerry Brown and Doug Wilder in polls and Mario Cuomo who never entered the race was polling at 37 percent. Carter was polling 10th in his year's prospective field. I bring this up only to remind people one never knows what will happen in the next seven months leading up to Iowa and then beyond. Who will make a major gaffe? Biden has a propensity to do that. Who will display charisma grabbing the attention of voters in a big way such as Barack Obama did in 2007?
What has struck me is the intensity I am seeing from some Democrats when it comes to decrying any of the candidates going after each other's policies and positions and records. After all isn't this what a primary is about, making it clear to voters what the differences are between them? That is harder this year as in many ways the differences are fewer. They are in shades. They all agree we need universal healthcare; the debate is how we get there.
But what no candidate should expect is their record won't be part of the debate. They must be either prepared to take credit for it and stand up for it or to apologize for what they did so many years ago recognizing the world and they have changed. People are willing to accept an apology. Yes, Biden has the longest record but then he knew that going into the primary and it is surprising how unprepared he seems to deal with it. Much of that record is great. Mayor Pete earned points when he just admitted he tried but failed to diversify the police department in his city. It was an honest answer.
The next Democratic debate is scheduled for Detroit a month from now and it will be interesting to see if all the current contenders make the minimum requirements to enter it. But what is sure is they are all looking at how Harris made the most of the first one and trying to prepare attention grabbing lines for the second.
One thing people who watched both nights had to see is the fight for the nomination is far from over. There may be some on that stage who would be wise to drop out now seeing their candidacy as a lost cause, examples being Delaney, Yang and Williamson; but there are many candidates still with a real chance at winning the nomination.
Peter Rosenstein is a longtime LGBT rights and Democratic Party activist. He writes regularly for the Blade.