July 25, 2019 at 3:47 pm EDT | by Michael Radkowsky
21 and lost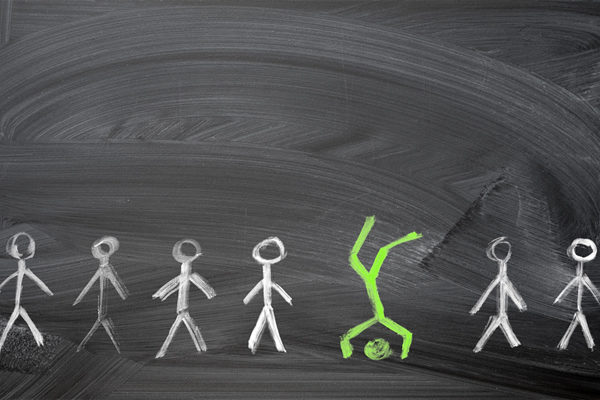 Michael,
I am 21 and feeling a little lost.
I am in D.C. for a summer internship that I hope will turn into a job, and this has been my first opportunity to really be out. I finished college in May at a school close to my hometown where a lot of the people I grew up with went, and just wasn't ready.
Now I am on my own in a big city where I don't need to worry about my friends telling their parents I am gay and then word getting back to my parents, and I'm finally feel free to be myself.
I am going out a lot, joined a sports league, got my summer gym membership. But I'm not having that good of a time and I'm wondering what's wrong with me.
I really want to have a boyfriend but the guys I've hooked up with so far don't seem interested in more, or take sex seriously.
I try to be funny like the other guys I've gotten to know, but I feel like I'm playing a part. I'm actually not a joking around kind of guy and am pretty serious. When I try to be witty or catty in a funny kind of way, it seems to fall flat or I feel mean.
The guys I know dress a lot different than I did when I got to D.C. I have tried to dress more like my new friends even though I feel awkward rather than stylish.
One other thing is the drinking. I'm trying to keep up with my friends when we go out. But I don't like the taste of alcohol; I don't like the feeling of being drunk; and I definitely don't like being hung over. I'm trying to do a good job at my internship but if I am hung over and didn't sleep well after a late night with people I want to be friends with, that is difficult.
I feel like I am trying to be good at something that I'm not good at, and this is discouraging. I'm hoping to stay in D.C. and want to fit in and have a great gay life but so far I feel mediocre.
I also feel a little bit like an outcast. People are pretty nice to me on my team but I know that sometimes a lot of them are getting together and not inviting me, and that is hurtful. It reinforces the feeling I have that I am doing something wrong.
Can you give me advice about how to fit in more? Does everyone have to work at this?
Michael replies:
"Fitting in" can feel good, but often comes at a cost. You have been trying to please everyone around you without considering who you really are and what is important to you. No wonder you are feeling lost.
In college, you weren't out in part because you were concerned about how others — including your parents — would react.
Yes, it's scary to come out and risk your friends' rejection, and there's a lot at stake when coming out to your parents, especially when you are young and financially dependent on them. We all have to grapple with the possible negative consequences of being honest and living authentically.
Here in D.C. you are facing the same dilemma. While it sounds like you have a fair idea of what is right for you, you are again trying to be what you think others want you to be. Even though you have come out, you are still afraid that your genuine self isn't good enough. And this time, the people you're afraid will reject you are other gay men.
This is your life to live. Do you want to spend it pretending to be someone you're not?
Being gay does not mean you have to act just like the other gay guys you know. You may not fit in with the particular group you've found in D.C. But there are other young gay men in D.C. (and all over the place) who don't go out all the time, drink too much, focus on stylish clothes, view sex mainly as meaningless fun, or liberally sprinkle their conversations with wit and catty remarks.
Moreover, you might find that you have a better time with the friends you have, if you stop trying to force yourself to come across as a clone to them. Perhaps they are keeping you at a distance because they are picking up on your discomfort with yourself. They might actually like being with you more, if you drop the act.
Life keeps handing you the same dilemma: Do you want to come across as the person you think other people will like, even if this can mean selling yourself out? Or do you want to live in a way that is consistent with your self-respect, even when there may be negative consequences to doing so?
Michael Radkowsky, Psy.D. is a licensed psychologist who works with gay individuals and couples in D.C. He can be found online at HYPERLINK "http://www.personalgrowthzone.com/"michaelradkowsky.com. All identifying information has been changed for reasons of confidentiality. Have a question? Send it to Michael@michaelradkowsky.com.