May 7, 2020 at 6:56 pm EDT | by Michael K. Lavers
Gay Cuban man with HIV plans to seek asylum in US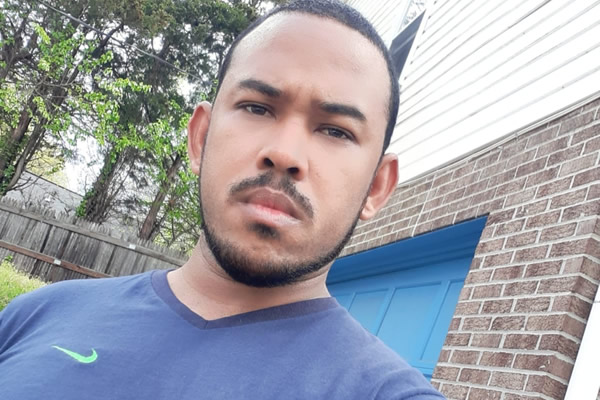 A gay man from Cuba who lives in Maryland says he fled persecution because of his sexual orientation and HIV status.
Yosmany Mayeta Labrada, 32, is from Santiago de Cuba, the country's second largest city that is located in eastern Cuba.
Mayeta was a member of the Patriotic Union of Cuba (UNPACU), one the country's most prominent opposition groups. Mayeta has also contributed to 14ymedio, a website founded by Yoani Sánchez, a prominent critic of the Cuban government, and other outlets that include the Miami-based CubaNet.
Mayeta on April 15 during a telephone interview from Hyattsville where he currently lives noted the National Center for Sexual Education (CENESEX) — a group directed by Mariela Castro, the daughter of former Cuban President Raúl Castro who spearheads LGBTQ issues in Cuba — last May cancelled its annual International Day Against Homophobia, Transphobia and Biphobia marches that were scheduled to take place in Havana and Camagüey.
The Cuban government on May 8, 2019, detained this reporter for several hours after he tried to enter the country at Havana's José Martí International Airport. A number of people who participated in an unsanctioned LGBTQ march that took place in the Cuban capital three days later were arrested.
Mayeta and his then-partner organized a similar event in Santiago de Cuba that was to have taken place on the same day, but authorities prevented them from attending.
"We were the ones who called for the parallel march in Santiago de Cuba," Mayeta told the Blade. "My home was completely surrounded from early on May 11. They did not allow us to leave the house in order to keep us from the march."
Mayeta said he started to work with CENESEX when he was in high school.
He told the Blade he was an HIV prevention volunteer with Mariela Castro's group. Mayeta said he later worked with a CENESEX-affiliated group in Santiago de Cuba that distributes condoms and HIV prevention information to men who have sex with men.
Mayeta told the Blade the group in 2011 expelled him because of his affiliation with UNPACU and his work with independent media outlets.
"They expelled me from this organization," he said.
A Cuban court in April sentenced UNPACU member José Daniel Ferrer to 4 1/2 years in prison for assault and kidnapping, according to the Associated Press. Ferrer, who had been incarcerated since last year, is now under house arrest in Santiago de Cuba.
Mayeta told the Blade that Cuban police last year detained him after he publicly criticized a CENESEX-affiliated activist who insulted him on social media. Mayeta said authorities later fined him the equivalent of $11.67 and banned him from leaving the country.
Mayeta said this incident took place before Cubans on Feb. 24, 2019, overwhelmingly approved the country's new constitution.
A draft of the constitution contained an amendment that would have extended marriage rights to same-sex couples, but the Cuban government removed it ahead of the referendum. Mayeta and other independent LGBTQ activists sharply criticized the decision.
Pro-government activists stressed the new constitution protects LGBTQ Cubans and recognizes same-sex couples. Mariela Castro — who Mayeta described to the Blade as the "dictator's daughter" — said she and CENESEX support changes to Cuba's Family Code that would allow same-sex couples to marry.
"Mariela Castro is also seen in Cuba, like in many countries, as the supposed defender of rights for the Cuban LGBTI community," said Mayeta. "This is completely false."
Cubans with HIV/AIDS forcibly quarantined until 1993
Mayeta told the Blade he learned he was living with HIV in September 2011.
UNAIDS says an estimated 31,000 Cubans who are at least 15 were living with HIV in 2018. Mayeta told the Blade between 30,000-32,000 Cubans are HIV-positive, but he said the Cuban government underestimates the numbers of people in the country who live with the virus.
The Cuban government until 1993 forcibly quarantined people with HIV/AIDS in state-run sanitaria. Mayeta stressed to the Blade that for him "it has been very difficult to live with this disease in Cuba."
Mayeta said Cuban doctors refused to treat him for three years because of his status. Mayeta also told the Blade they denied him antiretroviral drugs before he traveled to the D.C. last Aug. 15 in order to participate in a State Department program.
"They told me no, the country where I was going and the country that I supposedly defended for many years can give me medications," he said, referring to the doctors. "To me it is pathological."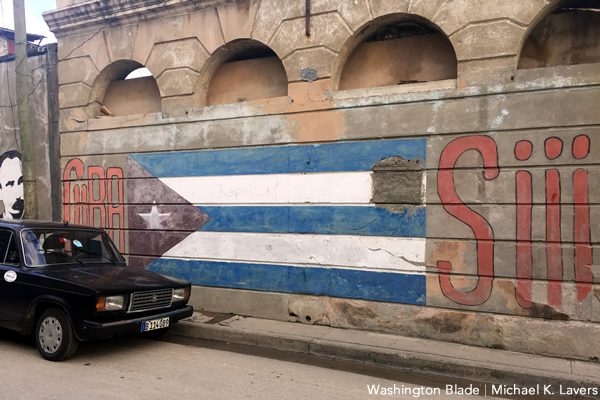 Mayeta since his arrival in the D.C. metropolitan area has continued to report for CubaNet. Mayeta also participates in protests against the Cuban government.
Mayeta told the Blade he has yet to formally ask for asylum, but he does have a lawyer who will represent him pro bono.
"My future is going to be the same: Working in support of the rights of the Cuban LGBTI community, working in support of the rights of people who live with HIV/AIDS," he said when asked about his plans if the U.S. were to grant him asylum. "I will also continue my journalistic work."