March 10, 2020 at 7:10 pm EDT | by Philip Van Slooten
Va. General Assembly wraps historic session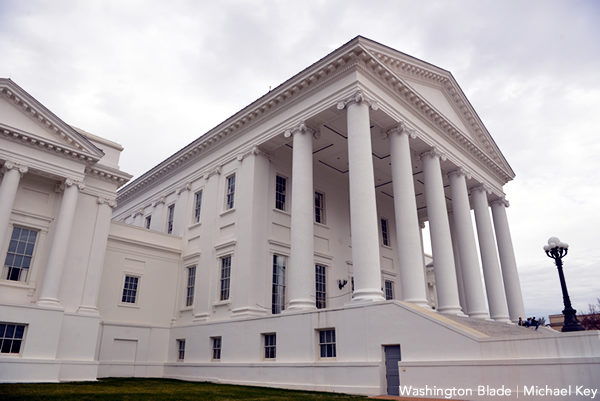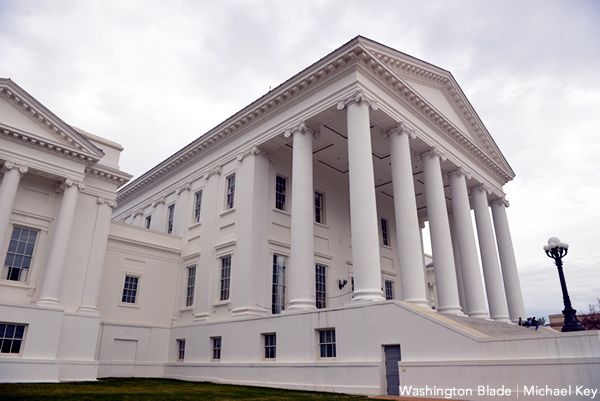 As the 2020 session of the Virginia General Assembly draws to a close, it leaves behind several major pro-LGBTQ measures that include sweeping nondiscrimination protections and ratification of the Equal Rights Amendment.
"In 60 short days, the most diverse coalition of (Virginia Democrats) to ever control the General Assembly permanently changed the future of Virginia for the better," tweeted state Sen. Adam Ebbin (D-Alexandria). "And we're just getting started."
Equality Virginia Executive Director Vee Lamneck, however, took time to reflect on the rocky path much of this legislation traveled in order to pass.
"The legislative successes we saw this year didn't happen overnight," Lamneck told the Washington Blade. "Over the years, Equality Virginia has worked with lawmakers on both sides of the aisle to create a safer and more welcoming commonwealth for LGBT people … The combination of pro-equality lawmakers, plus the groundswell of support we've seen across the commonwealth have, together, made this moment possible."
Democrats last November regained control of the General Assembly for the first time in more than two decades. State Del. Eileen Filler-Corn (D-Fairfax County) in January became the first female House speaker in Virginia history.
The Virginia Values Act, which would add sexual orientation and gender identity to Virginia's nondiscrimination law, was a top legislative priority in this year's legislative session. The measure passed in the General Assembly with bipartisan support, and it now awaits Democratic Gov. Ralph Northam's signature.
"We just made Virginia a safer and more fair state for everyone," said James Parrish, director of the Virginia Values Coalition, a group of state and national LGBTQ advocacy groups that championed the Virginia Values Act, after it's final passage in the General Assembly. "We're grateful for the lawmakers, faith leaders, allies, parents, law enforcement officers and people of all political ideologies who worked together to ensure we passed nondiscrimination protections for LGBTQ Virginians."
Northam on March 3 signed a bill that will ban so-called conversion therapy for minors in the state. Virginia will become the first Southern state to prohibit the widely discredited practice once the bill takes effect on July 1.
The General Assembly this year also passed a bill that will repeal Virginia's statutory same-sex marriage ban.
Many of the bills that made their way to Northam's desk this session had to be reintroduced after the previous Republican legislative leadership either killed them or failed to bring them to committee.
"We did a lot of important things in the General Assembly this year — #VaRatifiedERA, historic transportation funding, election reforms, LGBTQ equality … Medicaid expansion remains the single most important vote I've cast," tweeted state Del. Danica Roem (D-Manassas).
House Majority Leader Charniele Herring (D-Alexandria) on Monday in a statement that House Democrats released said the "House Democratic majority advanced legislation that would impact Virginians' lives."
"Women, people of color, the LGBTQ+ community, low-income families and other marginalized communities will have laws that recognize and respect them more than ever before in the commonwealth's history," she said. "These measures will make Virginia a better place to live, work, and raise a family. We are moving forward together."
Still, success came with controversy as a few state Republicans warned of harm to businesses and the state's economy from the recently passed legislation. House Minority Leader Todd Gilbert (R-Shenandoah) and a few members of the House Republican caucus lamented at a press conference in February that "a new and different legacy has begun."
Lamneck stated that legacy is inclusive of most Virginians.
"We've engaged thousands of LGBT individuals, allies, and community partners from the shores of Virginia Beach to foothills of the Blue Ridge Mountains who have made their voices heard loud and clear about the importance of passing legislation that supports LGBT people," they said.
Michael K. Lavers contributed to this story.