Snyder suspends benefits for Michigan same-sex marriages
Governor acknowledges couples legally married, but withholds benefits until stay lifted
Still, Snyder acknowledged the more than 300 same-sex weddings that took place on Saturday were legally valid.
"After comprehensive legal review of state law and all recent court rulings, we have concluded that same-sex couples were legally married at county clerk offices in the time period between U.S. District Judge [Friedman's] ruling and the Sixth U. S. Circuit Court of Appeals temporary stay of that ruling," Snyder said in a statement.
But Snyder continued the state will suspend benefits afforded to the couples "in accordance with the law" until the stay on the weddings from the U.S. Sixth Circuit Court of Appeals is lifted.
"Because the stay brings Michigan law on this issue back into effect, the rights tied to these marriages are suspended until the stay is lifted or Judge Friedman's decision is upheld on appeal," Snyder said.
Same-sex couples obtained marriage licenses over the weekend in Ingham, Washtenaw, Muskegon and Oakland counties after a district court ruled the state's ban on same-sex marriage was unconstitutional. Snyder and Michigan Attorney Bill Schuette appealed the ruling to Sixth Circuit and asked judges to halt the weddings with a stay, which was granted Tuesday.
A spokesperson for the American Civil Liberties Union of Michigan, which reportedly had threatened to sue if the Michigan doesn't recognize the same-sex marriages, said Wednesday the organization is looking at options.
"As a matter of law and fundamental fairness, the state is obligated to extend all the rights and responsibilities that flow from marriage to the more than 300 couples married this weekend," Rana Elmir said. "Doing anything less violates our laws, treats legally married gay and lesbian couples like second-class citizens, and adds to the confusion and instability these loving families have had to endure. We will continue to explore legal options on behalf of these couples and encourage those who have been denied the benefits of marriage to contact us."
But Elmir said her organization is pleased that Snyder said the unions are legally valid because that "opens the door" for federal recognition of the marriages. She said the Obama adminstration should "absolutely" recognize the unions because "there is no doubt that these marriages are valid."
The question still lingers over whether the federal government will recognize the same-sex marriages performed in Michigan. In Utah, when a district court ruling enabled 1,300 same-sex couples to wed before a stay was instituted by the U.S. Supreme Court, Gov. Gary Herbert said his state won't recognize the unions, but U.S. Attorney General Eric Attorney said they're valid in the eyes of the Obama administration.
Allison Price, a Justice Department spokesperson, said her earlier comment that the Obama administration is "closely monitoring the situation" still stands as of Wednesday afternoon.
Speaking with reporters on Wednesday, Snyder refused to articulate his position on same-sex marriage, saying he's focused on jobs and the economy.
"I'm not going to go back and rehash a sentence in one debate from four years ago," Snyder said. "I've been focused on jobs, it's my main message, and I'm staying consistent with that."
According to Crain's Detroit Business, Snyder told reporters on Wednesday that his office had to make legal decision on whether the marriages were valid on his own because Schuette didn't respond to a request to meet.
"We did our own research," Snyder was quoted as saying. "We believe this is the appropriate position to take."
Joy Yearout, a Schuette spokesperson, responded to the report to the Washington Blade by saying the governor and the attorney general often speak, but those discussions are kept under wraps.
"The Department of Attorney General and the Governor's office talk all the time," Yearout said. "Those conversations are confidential. The Governor's written statement speaks for itself, and as the Attorney General has said all along, these issues will ultimately be sorted out by the courts, just as they have in other states. The sooner these questions are answered, the better."
Yearout didn't respond to a follow-up question on whether she denies Snyder's comments that Schuette never followed up on a request to meet about the same-sex marriages.
Snyder makes his announcement as his pursues re-election in a 2014 gubernatorial election where Democrat Mark Schauer will be his likely challenger in the general election.
Rep. Dan Kildee (D-Mich.) was among the Democrats criticizing Snyder for his decision not to recognize the unions in the aftermath of the announcement.
"Today Governor Rick Snyder double downed on ambivalence," Kildee said. "As a leader, you either support equality for all loving couples or you don't. It's that simple. This is not a complicated question. Governor, do you support equality for all Michiganders? Or is that not on your agenda?"
Emily Dievendorf, executive director of the statewide LGBT group, Equality Michigan, also took aims at Snyder, saying she finds his actions "despicable."
"Equality Michigan finds it despicable that a Governor claiming to stand for families, children, and the economy would side with his out-of-touch Attorney General and continue this wasteful crusade to harm Michigan families," Dievendorf said. "The DeBoer-Rowse family and their legal team will continue to defend our families in court, and the efforts by people like East Lansing Mayor Nathan Triplett and Ingham County Clerk Barb Byrum to get the government to recognize these marriages will not be forgotten. Equality Michigan calls on the Governor to end the second-class treatment of LGBT families in Michigan and the executive branch's attack on marriage equality."
CORRECTION: An initial version of this article misspelled Rep. Dan Kildee's name and said he was criticizing Mark Schauer. The Blade regrets the error.
Michigan Gov. Rick Snyder announced on Wednesday his state won't afford benefits to the same-sex couples who married in his state over the weekend until the courts lift a stay on the weddings as litigation moves forward.
Trump indicted in classified document mishandling case
Former president to appear in federal court in Miami on Tuesday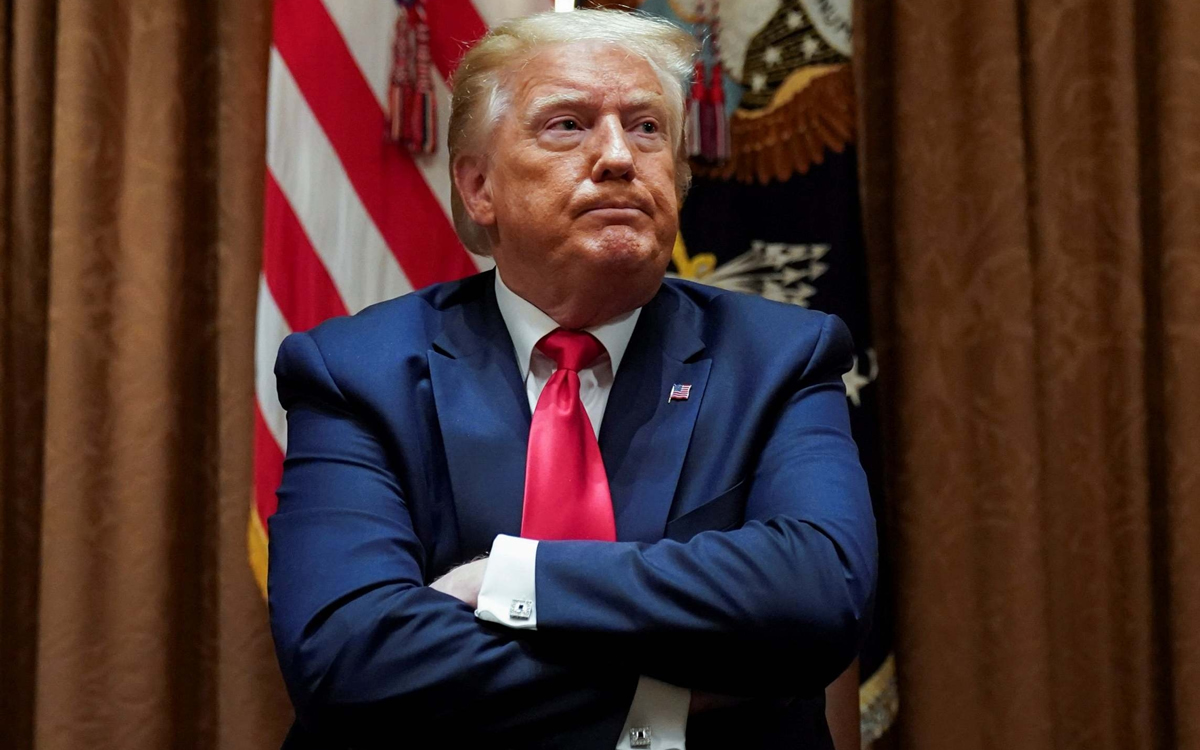 A federal grand jury has indicted former President Donald Trump on seven criminal counts in connection with his mishandling of more than 100 classified documents.
In a series of posts to his Truth Social account Thursday, Trump said that he has been indicted related to his mishandling of the classified documents taken to his estate at Mar-a-Lago after his term of office ended in January 2021.
The unprecedented decision comes after a more than yearlong investigation by special counsel Jack Smith into whether Trump knowingly retained classified and top secret government records when he left office and then disregarded a subpoena to return all classified documents in his possession and whether he and his staff obstructed Federal Bureau of Investigation efforts to ensure all documents had been returned.
A person familiar with the situation who was not authorized to discuss it publicly said Trump's lawyers were contacted by prosecutors shortly before he announced on his Truth Social platform that he had been indicted, the Associated Press reported.
In the first of a series of posts Trump wrote:
"Page 1: The corrupt Biden administration has informed my attorneys that I have been Indicted, seemingly over the Boxes Hoax, even though Joe Biden has 1850 boxes at the University of Delaware, additional Boxes in Chinatown, D.C., with even more boxes at the University of Pennsylvania, and documents strewn all over his garage floor where he parks his Corvette, and which is 'secured' by only a garage door that is paper thin, and open much of the time."
"Page 2: I have been summoned to appear at the federal courthouse in Miami on Tuesday at 3 p.m. I never thought it possible that such a thing could happen to a former president of the United States, who received far more votes than any sitting president in the history of our country, and is currently leading, by far, all candidates, both Democrat and Republican, in Polls of the 2024 presidential election. I AM AN INNOCENT MAN!"
"Page 3: This is indeed a DARK DAY for the United States of America. We are a country in serious and rapid decline, but together we will Make America Great Again!"
The Justice Department didn't respond to a request for a comment.
The AP also noted it remains unclear what the immediate and long-term political consequences will be for Trump. His first indictment spurred millions of dollars in contributions from angry supporters and didn't damage Trump in the polls.
No matter what, the indictment — and the legal fight that follows — will throw Trump back into the spotlight, sucking attention away from the other candidates who are trying to build momentum in the 2024 presidential race, the AP pointed out.
Rooftop Pool Party postponed
Capital Pride Alliance moves official event to June 22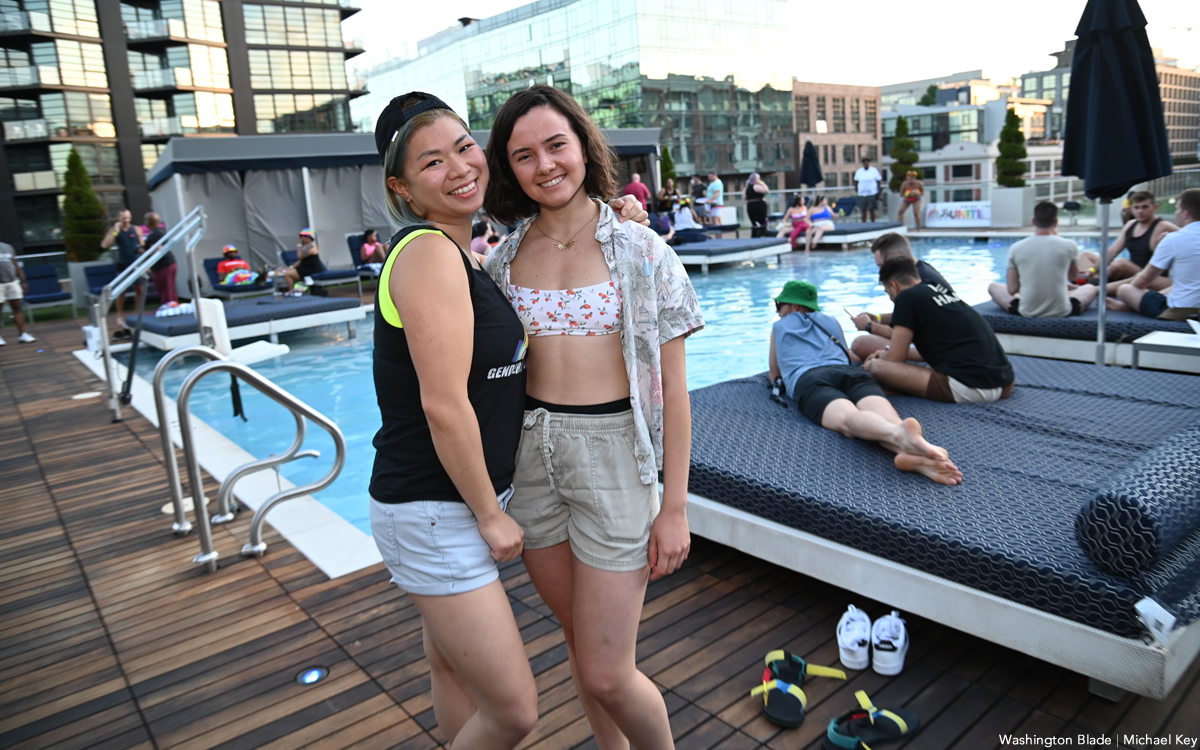 The Capital Pride Rooftop Pool Party, originally scheduled to begin at 8 p.m. tonight, has been postponed until Thursday, June 22, according to a statement released by the Capital Pride Alliance on Instagram. This action comes amid an international climate event created by the Canadian wildfire that has resulted locally in poor air quality and a haze around the region.
The Capital Pride Alliance Instagram account posted, "As with all concerns regarding health and safety issues, the Capital Pride Alliance will closely monitor the air quality situation resulting from Canadian wildfire smoke and take necessary precautions in consultation with our partners in the DC government."
"What does this mean for the pool party?" a question one private Instagram account user posed in the comment section.
"Important Update:" A representative of the Capital Pride Alliance responded through the group's official Instagram account. "Tonight's Capital Pride RoofTop Pool Party at VIDA The Yards is being postponed until Thursday, June 22 at 8:00 pm, due to the current air-quality situation resulting from the Canadian wildfires smoke. Please note that this postponement only applies to today's event."
The Capital Pride Alliance has yet to cancel or postpone any further events.
The White House earlier today rescheduled a large outdoor Pride reception planned for this evening to Saturday.
White House postpones Pride event due to wildfire smoke
Thousands expected for celebration bumped to Saturday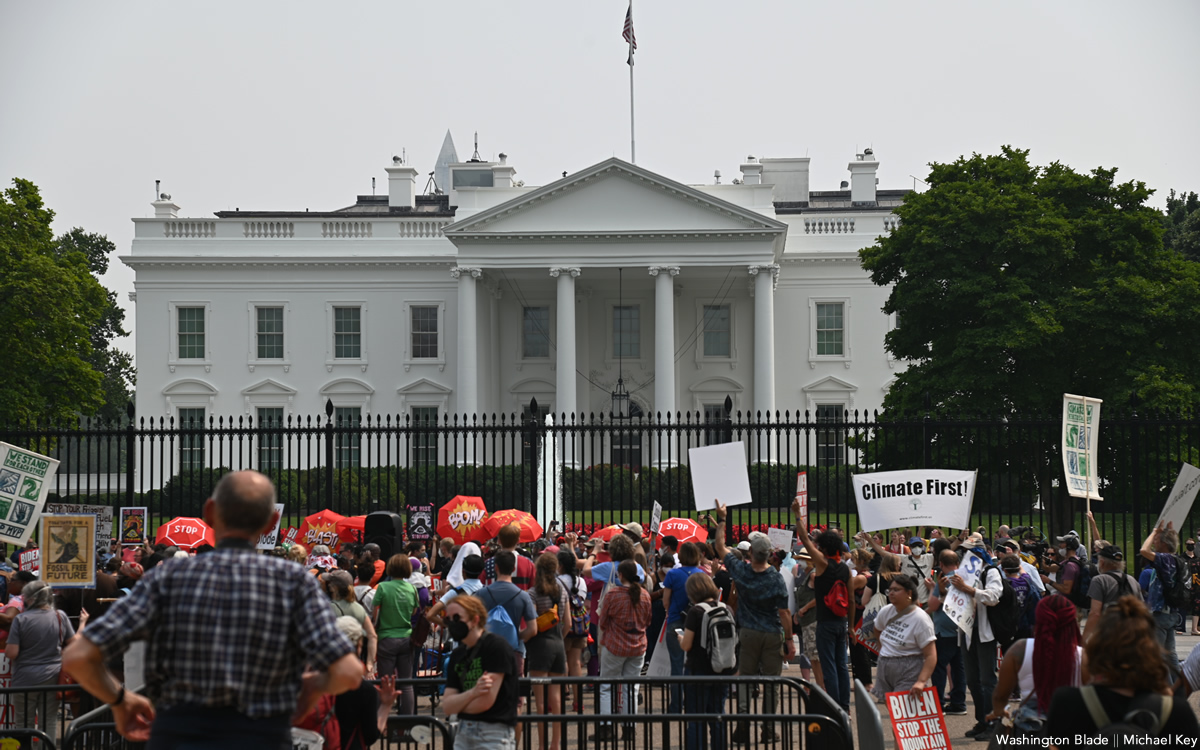 The White House announced Thursday that a Pride event scheduled for this evening has been postponed to Saturday due to the lingering Canadian wildfire smoke.
The smoke has enveloped D.C. in a dangerous haze that triggered a "purple alert" on Thursday, considered worse than a "red alert."
The event, expected to draw thousands of invited LGBTQ advocates and supporters to D.C., has been rescheduled for 1 p.m. on Saturday on the South Lawn of the White House, the same day as D.C.'s Capital Pride Parade, which kicks off at 3 p.m., and Pride on the Pier celebration, which starts at 2 p.m.