Dining trends for 2016
Poke, acai bowls among year's hot items
Just as you were getting used to fresh-pressed juice and sriracha mayonnaise, a host of new food trends predicted by the National Restaurant Association and other industry experts is poised to take flight for 2016, from banana ketchup to cricket flour. Sorry, kale, your days may be numbered.
If you're longing to stay ahead of the hip foodistas who live next door, here's a quick primer for some of the hottest culinary trends on the horizon; add a man bun and you'll be just as cool as that scruffy chef on the new season of "Top Chef."
No, please — forget the man bun. Let's keep the trends on the table.
Bread
Hallelujah, bread is back. After years of being told that bread is the devil, we're seeing a resurgence in its yeasty goodness, especially as some restaurants begin milling their own flour in-house, resulting in a finely ground blend with a fresh, slightly floral essence. Here in D.C., you can check out Etto (1541 14th St., N.W.), where flour milled on premise forms the basis for pizzas, pastries and loaves, or head up Connecticut Avenue to Bread Furst (4434 Connecticut Ave. N.W.), where master baker Mark Furstenburg crafts perfectly Instagrammable baguettes and levain, as well as his signature Palladin, a ciabatta-style loaf created in honor of legendary D.C. chef and restaurateur Jean-Louis Palladin. If you own a KitchenAid stand mixer, you can take it one step further by investing in an attachment that allows you to grind wheat berries, spelt, oats and other grains — or protein-laden dried crickets, if you must — right in the comfort of your own kitchen.
Poké
Like everything else, you can blame the sudden interest in all things Hawaiian on President Obama. It started with tiki drinks, has reportedly spiked sales of Spam — an inexplicable delicacy in Hawaii — and now is bringing poké to the mainland. Pronounced "poh-kay" with the emphasis on the first syllable, it's a raw fish dish usually made with tuna, but its most important characteristic is in the shape, which should be in thick cubes: a true poké needs to have a bit of chunk to it, something that you can truly bite into, not a delicate carpaccio. While poké, often mixed with soy sauce, mayonnaise and chili peppers, tends to be a casual roadside dish in Hawaii, where you're most likely to eat it out of a disposable carton while checking the surf conditions, it has evolved into more elevated fare since landing stateside. Locally, try the Creamy Tuna Poké at Daikaya Izakaya (705 6th St., N.W.), where the chunks of raw tuna are presented with seaweed, macadamia nuts and sesame oil with real Hawaiian flair.
Filipino
Move over, ramen, there's a new Asian food in town. There are nearly 4 million Filipino Americans in the United States — the second largest Asian-American group after those of Chinese ancestry — but, like Hawaiian cuisine, the food of the Philippines is just beginning to spread into the mainstream. You'll find familiar flavors — soy sauce, vinegar and chilies — along with distinctively sour lemon notes in traditional dishes like the pork-based sinigang. Trundle over to Mount Pleasant to Purple Patch (3155 Mount Pleasant St., N.W.), a Filipino outpost frequented by homesick embassy staffers, where you can gorge on lumpia, a spring roll filled with shredded meat and carrots that should be dunked into banana ketchup, a popular condiment made of bananas that came to life during World War II when tomatoes were scarce. Pay attention to ube while you're exploring Filipino food — this bright purple yam, a common Filipino ingredient, is starting to be seen in sweet treats from doughnuts to ice cream.
"Jew-ish" food
Trend watchers are paying attention to the growth of "Jew-ish" cuisine, that is, dishes that are inspired by classic culturally Jewish recipes, but with a twist. Often called "heritage cuisine," you'll find it expressed by chefs on playful plates of spicy shakshuka and root vegetable latkes, but be warned that it might not always be Kosher. You'll want to brave the lines at Bullfrog Bagels (1341 H St., N.E.), where they amp up authentic house-made bialys with smoky jalapeño cream cheese and pastrami-crusted smoked salmon. If you really want to dive in, try your hand at the recipes of D.C. chef Todd Gray and his wife Ellen Kassoff Gray, owners of Equinox Restaurant, chronicled in their cookbook "The New Jewish Table" (St. Martin's Press, 2013). A love letter to the cuisine that resulted from the union of a mid-Atlantic fine dining chef and a nice Jewish girl, dinner party-worthy recipes include Fig and Port Wine Blintzes and Matzoh-Stuffed Cornish Game Hens.
Acai bowls
Just when you finally learned how to pronounce "acai" (ah-sah-ee), these antioxidant-rich berries are transitioning from blenders to bowls. Essentially, the acai bowl consists of an almost puddling-like blend of the bright purple berry purée with bananas, strawberries and even beets with a touch of soy, almond or coconut milk, which is then topped with toasted oats or coconut, fresh fruit or even chocolate cashew butter. It's akin to having a sundae for breakfast and, honestly, could there be anything bad about that? D.C.'s own South Block Juice Co. (various locations) builds acai bowls to order, blending acai with everything from pitaya (dragonfruit) and mango to peanut butter and cashew milk and a wide variety of toppings, including cacao nibs, goji berries and hemp hearts. The bowls seem so decadent, you'll fool yourself into thinking they aren't healthy.
Kristen Hartke is a D.C.-based food and beverage writer; follow her kitchen adventures on Twitter, @khartke.
Delectable debuts on the D.C. dining scene
Jose Andres triumphs, Mi Vida expands, and more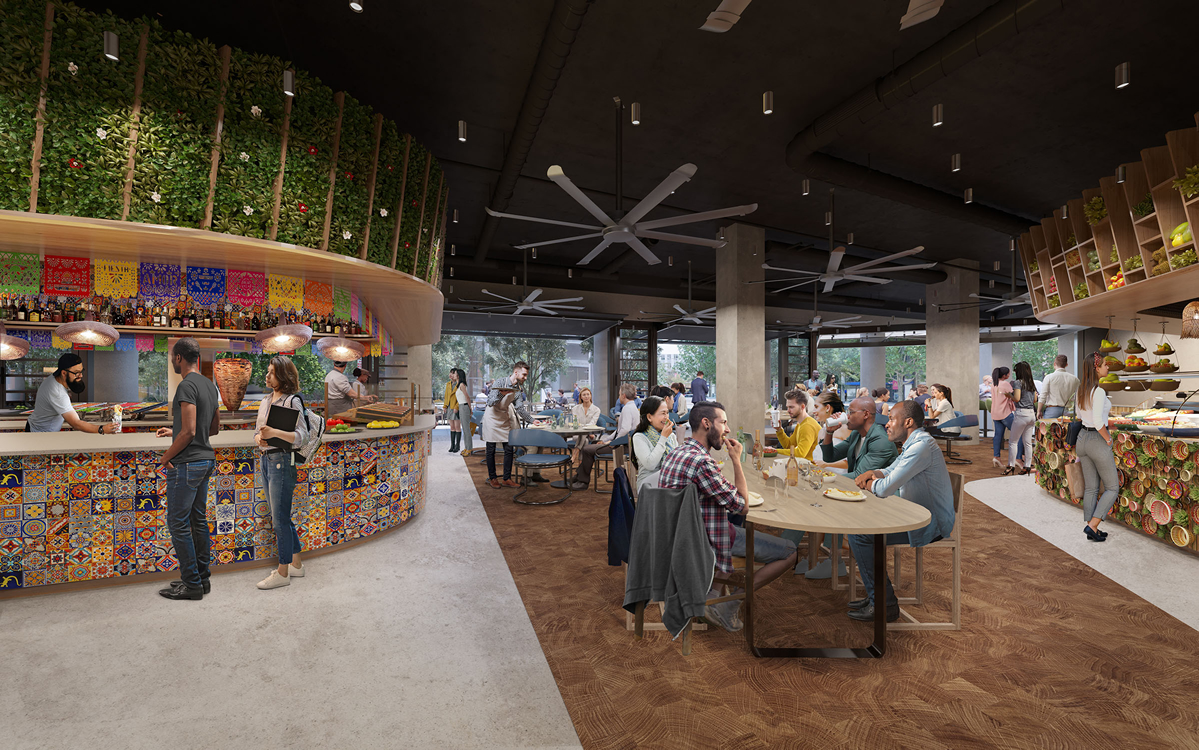 This year is already turning out to be a dynamic one for dining and nightlife. The effects of the pandemic, inflation, and the supply chain are still being felt, but there is a sense of optimism with a host of new openings for the first half of the year. And this season, of course, is often defined by cherry blossoms. Peak bloom is predicted for March 22-25, and festival activities begin on March 18. Enjoy all the pink, and read on for some dining highlights for the first few months of 2023.
Bazaar
Jose Andres triumphantly returned to the Old Post Office building in a coup for the celebrity restaurateur. The building, which is now a Waldorf Astoria hotel, most recently housed a hotel run by the organization of a disgraced former president. Andres had his eyes on the space for two decades and was set to open a restaurant there, but refused because of the new owner. Bazaar, which opened in February, serves sophisticated Spanish cuisine. It has locations in Los Angeles and Miami, plating specialty dishes like Iberico ham with caviar.
Uncaged Mimosas
It's all flowers and bubbles at Uncaged Mimosas in Truxton Circle, which opened in February. Here, brunch is served every day of the week. Chef Damian Brown pours 20-plus kinds of mimosas, with flights available, plus frozen daiquiris. Neon signs, fake flowers and vines, and lots of color gives it a permanent party vibe. Brunch dishes include chicken and waffles, salmon and grits, and red velvet pancakes.
Ambar
Ambar, one of the only all-you-can-eat dinner restaurants in the region, is opening its second spot in D.C. proper and third in the area. The new two-story restaurant, which opened March 6, sits in Shaw across from Dacha. Owner Ivan Iricanin brings in dishes from across the Balkans, like hearty country slow-cooked dishes from the interior, to seafood specialties from the Mediterranean. There are more than 60 bottles of wine from the Balkans, plus fruit-infused rakia, the popular Balkan spirit. Ambar offers unlimited prix-fixe brunch, lunch, and dinner menus, with optional drink pairings at brunch and dinner.
Owl Room
The U Street Corridor welcomes this new nightlife destination in the former Marvin space on March 10. Run by Marvin owner Eric Hilton and others, Owl Room has transformed the spot into more of a music and concert venue, with a dance floor and stage that will feature live music and DJ sets. The upstairs has a more relaxed patio for cocktails.
Mi Vida
Gay-owned KNEAD Hospitality + Design continues to expand its Mexican hit restaurant, Mi Vida, with a new outpost set to open in April in Penn Quarter. This will be the largest Mi Vida to date, boasting a huge 10,000-square-foot space. Design flourishes include the iconic tree of life that has been showcased at all three locations, as well as a new custom rope art installation by Mexican artisans.
Alfresco
On the southern end of Adams Morgan, Alfresco is a new "American tap and grill" restaurant from the owners of Lauriol Plaza, located just down 18th Street. The 300-plus seat restaurant is set to open in April. Its menu is a distinct departure from Lauriol's Mexican food; this one serves sandwiches, pizza, pasta, salads, and steaks. True to its name, there is a central courtyard with a retractable pergola roof, as well as two other outdoor patio seating spaces.
Van Leeuwen
New York import Van Leeuwen Ice Cream and its super premium brand of dessert is opening three shops in the next few months: Union Market (418 Morse St. NE), Adams Morgan (2421 18th St. NW), and Georgetown (3245 Prospect St. NW). Founded in 2008 as a New York City ice cream truck, Van Leeuwen is known for both traditional and vegan ice creams. Unique flavors include mac 'n cheese and honeycomb. These are its first shops in D.C., though there are more than 20 across the country.
The Square
The Square (1850 K St.) will be D.C.'s newest food market, opening later this year. The Square is slated to open in 2023 within International Square, and will feature a collection of more than 15 artisanal food vendors, a full-service restaurant and bar, an expansive bar in the central atrium, and outdoor dining seating, plus retail. Richie Brandenburg and Rubén García co-founded The Square, both well-established chefs, bring globally inspired food to the expansive food hall.
Bunker
While not falling into the food sphere, the opening of Bunker has upended nightlife destinations for the LGBTQ community in D.C. Kinetic Productions owners Zach Renovatés and Jesus Quispe debuted the subterranean spot in late February, bringing in local and national DJs, dancers, drag queens, and entertainment. The bar/club is open Thursday-Sunday, playing different music genres each night.
D.C. restaurants offer something for everyone this Valentine's Day
From romantic prix-fixe options to a 'single AF mixer'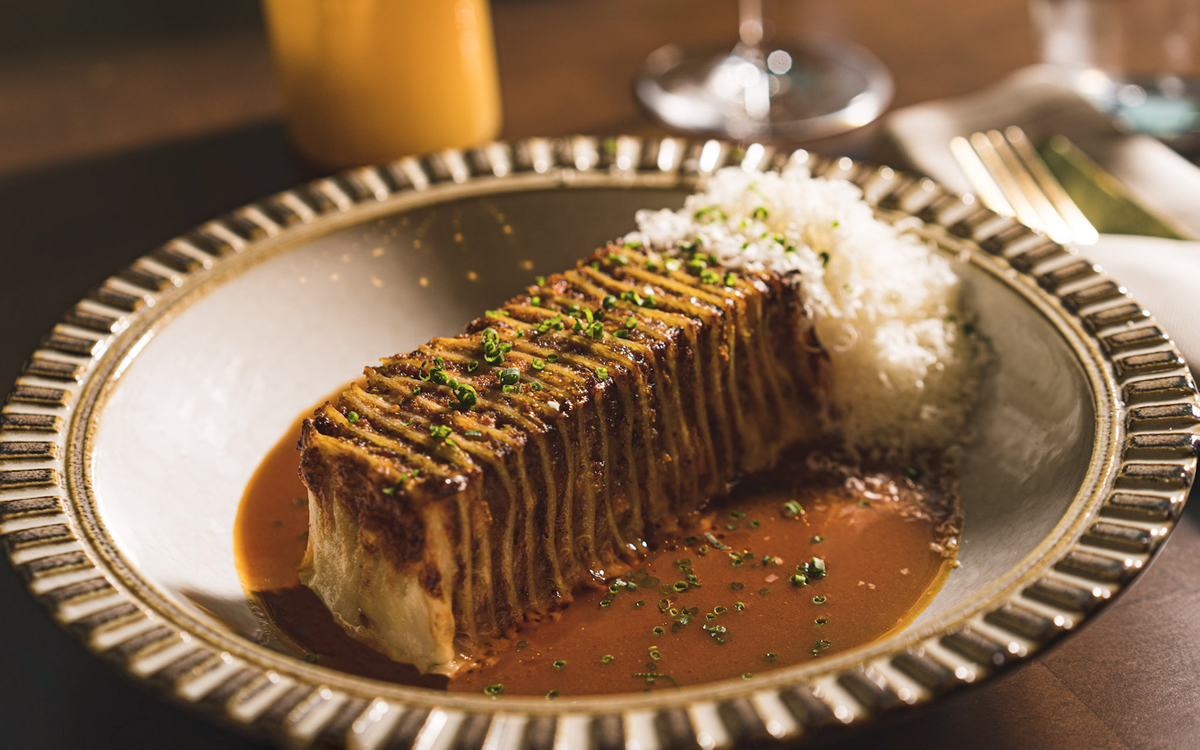 Whatever Valentine's Day means to you, there are plenty of places around D.C. for an excellent prix-fixe dinner or raging party with pals/gals/side pieces. Below are just a few options for what's available:
Couple Options
Hot new French restaurant L'Ardente and its infamous 40-layer lasagne is offering an extended Valentine's Day dinner, from Friday, Feb. 10, through Tuesday, Feb. 14. Couples can choose from the regular menu or a five-course tasting menu ($250 for two), which includes passion fruit caviar martinis.
Sababa Cleveland Park will serve a four-course, prix-fixe menu for two on Feb. 14. The menu ($120 for two) includes beet hummus, heart of palm salad, and a date tahini tart (and lots of romance-themed puns).
Cafe Riggs, in the Riggs Hotel, is serving not just a dessert special, but also a hotel package. Hotel guests can enjoy a Valentine's Brunch in Bed enhancement with the option to a build-your-own mimosa flight or coffee while enjoying a Petit Déjeuner (French continental breakfast) in your room. Reservations are available through OpenTable.
Lyle's, in the Lyle Hotel, will offer a prix-fixe dinner menu at $85 per person that will be available the weekend before and after Valentine's Day as well as on the holiday. Reservations are available through OpenTable.
Ellington Park Bistro, in the St. Gregory Hotel, is offering a Valentine's Day menu as well as the regular a la carte menu. The menu will highlight sweet flavors, and includes dishes such as Butternut Squash Soup, Sweet Shrimp Wontons, and Raspberry and White Chocolate. Reservations available through OpenTable.
The Fairmont Georgetown is offering a decadent Valentine's Afternoon Tea on Feb. 11, 12, and 14 inside overlooking the courtyard, with petit fours, scones, and savory sandwiches like an oak-smoked cheddar and spiced pear chutney. Tea is served from 1-4 p.m. ($75 per person), with the option to add a glass of G.H. Mumm Champagne.
Nicoletta Italian Kitchen will host a Valentine's Day Pizza Class on Feb. 11, teaching everyone to make their own heart-shaped pie, while enjoying arancini and wine. And for those looking for something a little less hands-on, Nicoletta will offer a special Valentine's Day menu on Feb. 14, complete with heart-shaped pizzas (made by the chef this time), as well as three special dishes – a clam appetizer, calzone, and lobster raviolo.
Waldorf Astoria Washington DC in the storied and renamed Old Post Office has an old-school option to "pen letters of love over dinner to share with a special someone." Valentine's Day guests will all receive a custom piece of stationary at their time of seating in addition to a menu of inventive dishes with a selection of elevated ingredients. Reservations can be made on SevenRooms.
Immigrant Food+ is serving a three-course menu for two, with options for vegetarian and pescatarian guests. There's also a featured wine list from all female growers/winemakers including a special Galentine's Day Flight of a Brut, white, and red.
Non-Couple Options
Brookland's Finest Bar & Kitchen will offer a special "Salty & Bitter" bar menu over Valentine's Day weekend, complete with salty snacks and bitter beverages. Snacks include chicken fingers and pretzel bites with truffle oil; drinks include espresso martinis and black Manhattans.
El Techo is throwing a Broken Hearts Club this Valentine's Day (2/14). The tropical oasis rooftop is "helping single guests nurse their wounds" with a free shot of tequila for everyone who goes by on Feb. 14. It's also offering a Taco Tuesday deal, which features three tacos and choice of a margarita or beer for $22.
Washingtonians that find themselves ready to mingle this year can head to Fight Club's Anti-Commitment Ball on Saturday, Feb. 11. The party, from 8 p.m.-1 a.m., will feature DJ Daniel Biltmore spinning live tunes, food/drink specials, and Jell-O shots. Tickets not required. Food and drink items available a la carte.
The National Union Building at 918 F St. is bringing out its "certified fun sommelier" for a wine tasting event. Two sessions (Feb. 12 and Feb 13, both 6:30 p.m.) offer six wines, from fizzy to deep, dark red. Bottles will be available for purchase to take home. Tickets are $35-$45 through Eventbrite.
NoMa's WunderGarten is hosting a "Nice Try Cupid Anti-Valentine's Day Single AF Mixer" on Feb. 14, 7-11 p.m. Tickets are free but reservations recommended via Eventbrite.
Meet the non-binary star of Dan Levy's 'The Big Brunch'
Catie Randazzo inspiring others to speak out, be themselves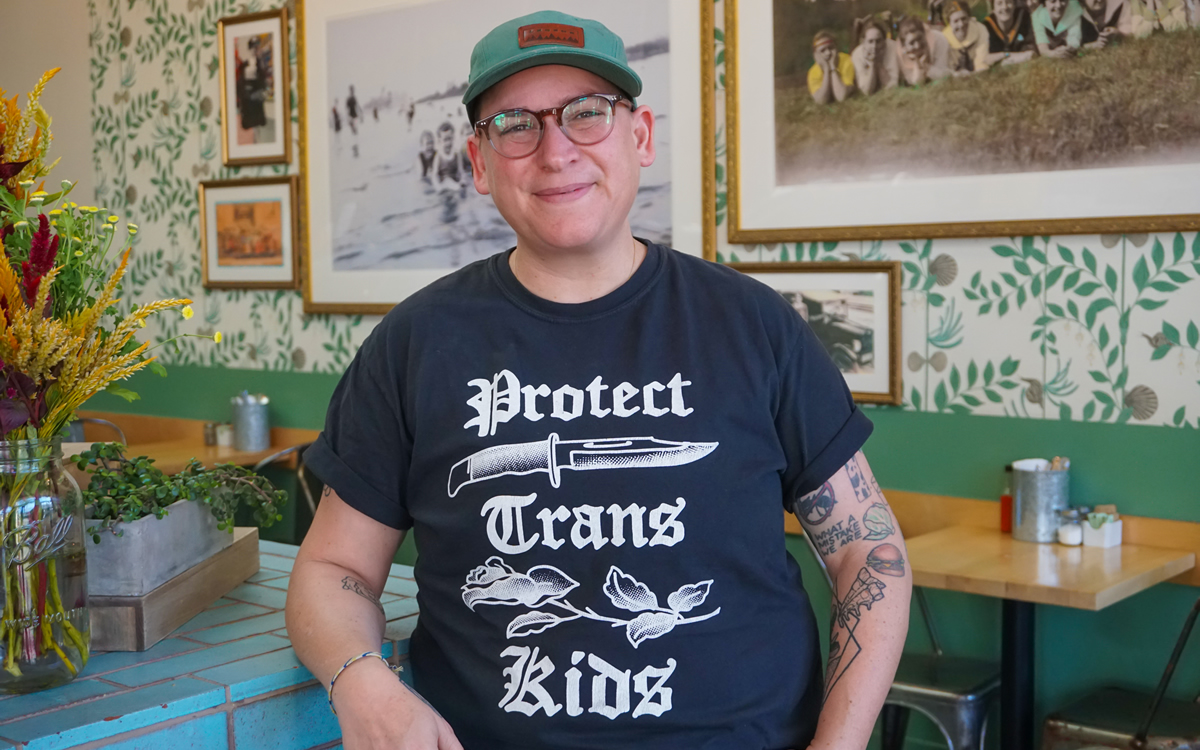 Just as a meal is more than a sum of its ingredients, restaurants are more than just furniture, fire, and food.
For Catie Randazzo, working in restaurants was "the first place that I felt I could be my true authentic queer self. Randazzo, who uses they/them pronouns, went from staffing the local Dairy Queen in Columbus, Ohio at 16 to starring in HBO's recent "The Big Brunch," hosted by Dan Levy (it aired in November). Randazzo, who now calls Los Angeles home, has taken the spotlight in stride: a chef, leader, and role model in equal parts.
Randazzo, who began in the service industry in several chain restaurants, says that "growing up in a Pentecostal household, it's where I finally felt free. The chains provided consistency, efficiency, and the meaning of a restaurant family." After graduating from culinary school, they worked in Portland and New York City before returning home to Columbus to open their own food truck.
"I moved home in 2013 to open my first solo venture, a food truck called Challah! that did riffs on classic Jewish street food. I fell in love with Jewish food and culture while living in New York," they say. "I wanted to celebrate it. It is still an influence in my cooking today, and it always will be. It's kind of funny though, former Pentecostal, a queer kid, does Jewish food, but it works."
Randazzo then opened and gained acclaim for their first brick and mortar restaurant, Ambrose and Eve, a modern American restaurant. It closed in 2020 due to complications from the pandemic. Yet it was there at Ambrose and Eve that Randazzo earned the titles Best Chef 2019 and 2020 from The Columbus Underground, Best New Restaurant 2019 from Columbus Monthly, and recognition from the New York Times and Chicago Tribune. Randazzo was being seen for cooking prowess, and leadership outside the kitchen.
"Ambrose was magical. I was able to create a safe space for my staff, where they could be themselves, and insert their ideas to grow as bartenders, cooks, and servers," Randazzo notes.
As the pandemic shuttered restaurants everywhere in 2020, Catie became a trusted fixture in Columbus, lending support to local nonprofits including Star House, a drop-in center for displaced youth; and helped establish Service!, alongside other local chefs focused on feeding and supporting service industry staff. Randazzo also volunteered mentoring queer children who wanted to become chefs, and at youth drop-in shelters.
When a friend sent Randazzo a note about applying for "The Big Brunch," "I was still mentally recovering from the loss of my restaurant. But the more I read about the premise of the show, the more I thought I should apply. I also had only been out as non-binary for a few months and was nervous to put myself out there like that. Also, it's Dan Fucking Levy. Like, come on."
On "The Big Brunch," 10 chefs from diverse backgrounds fought to win $300,000 from the judges: Levy, chef Sohla El-Waylly and restaurateur Will Guidara. Through the show, Randazzo dug deep, and made major life changes – moving to Los Angeles and taking up the mantle as executive chef of Huckleberry Bakery & Café in Santa Monica.
"That show, my castmates, the whole experience changed my life. I feel confident again. I got sober. I found a new version of myself that I am in love with. I met a girl. I moved to LA. I got a fucking kick-ass job doing what I love. I had been lost for so long, and it feels like I am home. I hope that through the show, people can hear my story, and it may help and guide them to stand up, speak out, and be themselves."
Today in LA, diners at Huckleberry can get a taste of how Randazzo sparkled in The Big Brunch – their signature approach to unique, seasonally inspired food, and their penchant for telling stories through nostalgia. A couple dish highlights: a veggie quiche from the farmer's market, and cereal milk pancakes inspired by weekend breakfasts made by their father.
Randazzo promises to continue their trajectory. "I think my work supports the need for queer safe spaces just by being visible. Sometimes, just having someone see you can make all the difference."